By Ken Silva pastor-teacher on Jun 3, 2011 in AM Missives, Current Issues, Features, Rick Warren, Southern Baptist Convention, Word Faith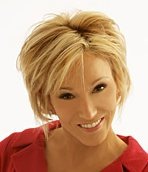 Here at the online apologetics and discernment Apprising Ministries, I've been following the aftermath of the dubious decision made by Dr. John Piper to have Purpose Driven Pope Rick Warren as the keynote speaker at the DG 2010 conference Think: The Life of the Mind & the Love of God.
Piper-Warrengate grew warmer when it was pointed out elsewhere that:
Despite the countless and detailed warnings that have gone out over the last decade about Rick Warren and his distortion of the Gospel of Jesus Christ, John Piper prepares to deliver his followers to the platform at Saddleback Church in an act of ultimate spiritual betrayal on April 29 and 30, 2011.[1] )
What's being referred to by this betrayal is the below:
Piper-Warrengate had only been simmering, but it was Piper himself who turned up the heat when John Piper Interviews Rick Warren At Saddleback. With this in mind then, being a Southern Baptist (for now) pastor, as well as a former Roman Catholic and one of the leading critics of arguably the most visible pastor in the largely pretending to be Protestant Southern Baptist Convention, I've shown you many curious proclamations and associations made by Rick Warren.
For example, there's the following in Rick Warren And Purpose Driven Roman Catholics, Rick Warren, LaVerne Adams, And Chuck Pierce's Global Spheres, and Rick Warren, Cindy Trimm, Paula White & The Law Of Attraction. In fact, just the other day in John Piper, Rick Warren & Foster-Willardism I reminded you that doctrinal lines continue to blur within mainstream evangelicalism because of the chameleon-like teachings of Rick Warren.
While Warren's certainly not alone in his compromise his prominent position inside the visible church, which Warren's Fuller fellow John Piper is now working to increase, allows him a huge forum from which to inflict his damage upon the genuine Gospel of Jesus Christ. You say, "Maybe; but what's this to do with pastrix Paula White?" I'm glad you have an inquiring mind; you see, because of Warren's aforementioned curious associations and endorsements her ilk slither closer to the mainstream.
You might remember in Rick Warren And Heresy I told you that Warren has pontificated, "I see absolutely zero reason in separating my fellowship from anybody"[2]. That's an important statement by Rick Warren, which ought to give someone—now actively advancing his man-centered ministry—like John Piper serious cause for real concern. Seriously? No reason to separate fellowship from anybody; not even people who preach another gospel like the Emerging Church guru Brian McLaren?
Well, against this backdrop, the other day in Word Faith Heretics Like Creflo Dollar Draw Nearer To Evangelical Acceptance I brought out again that Warren has officially placed his PD papal blessing upon PD/SD pastors like Judah Smith, Perry Noble, and his disciple Steven Furtick, another one of the Popes of the Carolinas:
This in not guilt-by-association; rather, it is guilt-by-endorsement. That's an important difference because I'm methodically building this case concerning rather questionable discernment on the part of John Piper and Rick Warren as would a lawyer. Warren's the one who opened the door for me to further examine the ministries of "these pastors" because he's just told us, "I LOVE these pastors & deeply believe in their ministries." This is to recommend them; i.e. to endorse them.
So what these men teach, and who they endorse, etc., now goes to the credibility of Rick Warren for his pointing us to them; and further to that of John Piper because he has pronounced Rick Warren Doctrinal And Sound. Each of those pastors Warren deeply believes in regularly share the platform with and/or recommend prominent teachers aligned with the Word Faith Movement e.g. Jentezen Franklin, the nafarious Hillsong heretics, and smiling Joel Osteen.
As it concerns Warren himself, in pieces like Rick Warren Presents Us Our Destiny Doctor and Rick Warren, Dr. Destiny, And Dr. Cindy Trimm I told you that he brought to our attention pastrix LaVerne Adams, who bills herself as The Doctor of Destiny. Remember, Adams testifies that it was Warren who took it upon himself to seek her out when he:
just happened upon one of my articles in the African American Pulpit, while going to be the first Caucasian preacher at Ebenezer Baptist Church in Atlanta on Dr. Martin Luther King's Day 2009. His prompting to reach out to me for counsel affirmed my calling and destiny as spiritual advisor to great people.

Ours is truly a divine connection as I have always been impressed with his ministry and literary work. And now our destinies have been miraculously aligned and driven with purpose.[3]
I brought out before that there does seem to be some kind of connection between these two as we've also noted that when her self-published book dropped 10/10/10, it just so happened to be the day when Rick Warren would kick off his own Decade of Destiny shtick at his highly influential Saddleback Church.
Warren actually did the foreword to pastrix Adams' book, which is chock full of classic Word Faith positive confession/prosperity preaching, yet he tells us:
focusing on ourselves will never reveal our life's purpose. In her book, Driven By Destiny, Dr. LaVerne Adams provides a very practical plan not only determining what your God-given destiny is, but also provides a way to help move you forward in fulfilling your destiny.[4]
You need to understand that this is the very definition of endorsement as Warren recommends to us the musings of Adams because supposedly she teaches a "very practical plan" that's allegedly going to "help move" us into our "God-given destiny."
High praise indeed; and thus we have every right to then examine Adams' own mentors in order to find out who it is that instructed and informed the Destiny Doctor and helped shape her doctrine. In other words, we need to call witnesses that go toward Adams' own credibility.
One of which is Dr. Cindy Trimm, whom Dr. Destiny LaVerne Adams tells us is a mighty "prayer general" who was brought into her life by God:
as a catalyst to move me into a realm of power and faith that delivered me into a [*cue Twilight Zonetheme*] deeper dimension of my divine destiny… As an ambassadorial mouthpiece for God, Dr. Trimm's dynamic style, cutting-edge prayer strategies, and kingdom technologies has profoundly aligned me to take dominion and prosper in every area of my life.

Because of her unique passion to see me empowered to reach my fullest potential my life is royally positioned as a resource that advances the establishment of the Kingdom of God.[5]
And not only that, but who knew; Trimm is also "an ambassadorial mouthpiece for God" with such "kingdom technologies" that our Divine Destiny Doctor pastrix Adams is now so fine-tuned and "aligned" she's able "to take dominion and prosper."
If you're familiar at all with WF mythology you'll immediately recognize its vacuous verbiage. Essentially Trimm is a female version of Word Faith mogul and Oneness Pentecostal heretic T.D. Jakes as you can see in the video clip below:
The key point to remember here is that Rick Warren has clearly recommended the ministry of pastrix LaVerne Adams, who teaches exactly the same disgusting display of WF blasphemy as Trimm spews above.
And you should begin to see that by doing so Warren is lending his credibility to, and sending many to experience the spurious teaching of, these kinds of WF spiritual snake oil salesmen.
Once again, not at all guilt-by-association; as it doesn't matter if Warren even knows Cindy Trimm, he's recommending to us pastrix Adams who teaches the very same things.
By doing so, and with his blessing of the PD/SD pastors I mentioned before, these WF flakes—once relegated to the shadows at the edge of church visible—are now slowly gaining entrance into mainstream evangelicalism.
T.D. Jakes has led the charge; there he is in the clip below at the The Global Leadership Summit 2010 of Willow Creek:
It's all part of the New Downgrade No-Controversy, which brings us around to nortorious Word Faith pastrix Paula White, and as I showed you in Rick Warren, Cindy Trimm, Paula White & The Law Of Attraction White also happens to be good friends with Cindy Trimm; they are peas in the corrupt WF pod.
As I close this out, for now, following is an example from pastrix Paula White concerning the kind of legalistic lunacy in the Lord's Name that's right now moving much closer to your evangelical church than you even know.
Here's White's latest promotional email Don't Miss Your Divine Appointment June 12th!, which I received today: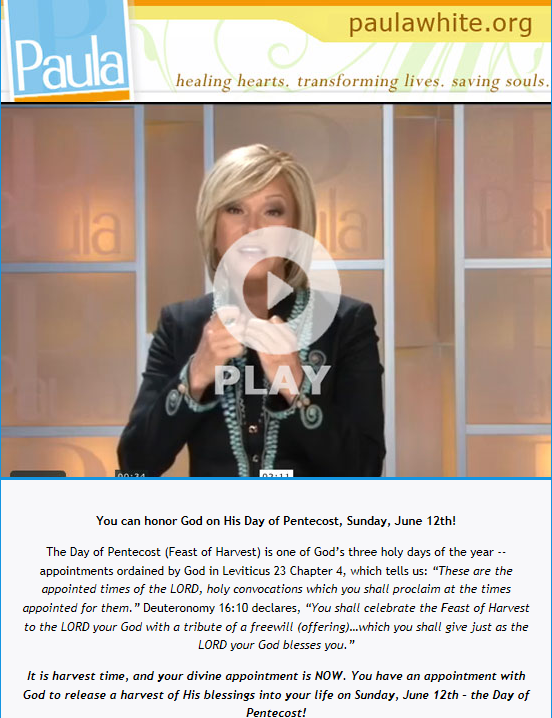 When you click play you're taken to the Day of Pentecost page of pastrix Paula White's website and video teaching below where, in a fashion quite typical today in WF circles, she attempts to bring you under the Law and uses Pentecost as the backdrop to beg for bucks:
[W]hat Pentecost really is on the Divine calendar is 50 days after Passover—where there is a gathering—is the harvest of wheat. We know the process of wheat, that it comes forth and it's useable as fine flour.

So it really is the place where we're sending and signfying a signal for the harvest. That the seed of sacrifice that we're going to give toYou God is the recognition that harvest is ready to come to our life…

God's saying, simply, "Honor Me." And as you do—you're not giving to get something—but as you do you cannot help but for God's pattern, and God's principles, and God's promises, to be released in your life.

Will you please press that donation button right now and say, "Pastor Paula I don't want to miss an opportunity." (1:51-2:17; 2:46-3:05)
This is classic heretical Word Faith prosperity preaching; and it's taught by T.D. Jakes, by Jentezen Franklin, and by Cindy Trimm. It's also taught by LaVerne Adams, our Destiny Doctor whom Rick Warren made a point to contact and to do the foreword to her self-published book, which he then recommended to us.
As I said before in Decade Of Destiny With Rick Warren, to paraphrase Dr. John Piper: I'm gonna need help to know why we should feel anything but bad about his personal decision to open the door for Rick Warren into the Reformed camp, especially so when it's becoming patently obvious that he promotes, whether inadvertantly or not, these kinds of false teachers.
Day of Pentecoste from PWM on Vimeo.
_______________________________________________________________________________
End notes:
[1] http://tiny.cc/lywxy, accessed 6/3/11.
[2] http://tinyurl.com/y5dfo7u, accessed 6/3/11.
[3] Dr. LaVerne Adams, Driven By Destiny: 12 Secrets to Unlock Your Future [Dr. LaVerne Adams, 2009], ix.
[4] Ibid., xi.
[5] Ibid, ix.
See also:
RICK WARREN, LAVERNE ADAMS, AND CHUCK PIERCE'S GLOBAL SPHERES
RICK WARREN, DR. LAVERNE ADAMS, AND DR. MARK CHIRONNA
MAN-CENTERED METHODS OF RICK WARREN ALA ROBERT SCHULLER
RICK WARREN THE THEOLOGICAL CHAMELEON
JOHN PIPER, RICK WARREN & FOSTER-WILLARDISM
CHARISMATIC QUASI-PROSPERITY PREACHER JUDAH SMITH