By Ken Silva pastor-teacher on Jan 3, 2011 in Current Issues, Features, New Apostolic Reformation, Rick Warren, Word Faith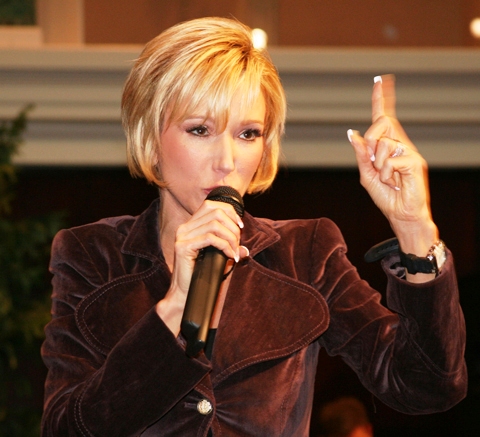 The Lord reigns; he is robed in majesty; the Lord is robed; he has put on strength as his belt. Yes, the world is established; it shall never be moved. (Psalm 93:1)
A Most Positive Confession: Soli Deo Gloria!
While rumors of an alleged affair with top level Word Faith heretic Benny Hinn, which you can read about in Benny Hinn Admits His Relationship With Paula White, do seem behind her, there now appears to be a crack in Without Walls International Church.
More on that in a moment; but first, the online apologetics and discernment work Apprising Ministries last discussed leading Word Faith heretic pastrix Paula White in Rick Warren, Cindy Trimm, Paula White & The Law Of Attraction when I showed you via a video clip White teaching, along with her pastrix pal Dr. Cindy Trimm:
Trimm: So words actually change molecular structure, cellular structure–

White: (interrupting) Right.

Trimm: And it travels on a path.  We call it a frequency; and it needs amplitude, and it needs a tower, in order to be transmitted.

White: Um-hmm.

Trimm: And we become the tower, and our vocal chords becomes the amplitudes, so whatever we speak then it returns back to us on the same frequency we send it out.  So if you're sending out negative words—

White: (interrupting) Right.

Trimm: Then negative occurrences are going to happen.

White: Right. (Online source)
Pastrix White's friend Cindy Trimm even goes so far as to literally teach the Law of Attraction in her book Commanding Your Morning, which she's promoting on her friend Paula White's program above:
But what does this have to do with Purpose Driven Pope Rick Warren? I'm glad you asked; in posts such as Dr. Laverne Adams And Rick Warren Driven By Destiny? and Rick Warren Teaching The Law Of Attraction? I introduced you to a spiritually whacked Word Faith flake who goes by the name:
Our "Doctor of Destiny"LaVerne Adams, pastrix of a church self-help center called Cathedral of Praise, has apparently even developed creative powers complete with the destiny ability to actually speak things into existence:
Where Rick Warren fits into this equation is on 10/10/10 Dr. Destiny drops a self-published book called Driven By Destiny: 12 Secrets to Unlock Your Future (DBD). And, the apparently angling to be universal bishop of the visible church, Rick Warren wrote the foreword; but I'm afraid that it gets even weirder than Warren writing a foreword to a self-published book by a nondescript pastrix. You see, the Doctor of Destiny informs us that Warren actually sought her out:
His prompting to reach out to me for counsel affirmed my calling and destiny as spiritual advisor to great people. Ours is truly a divine connection as I have always been impressed with his ministry and literary work. And now our destinies have been miraculously aligned and driven with purpose.[1]
This really struck me as rather an odd thing for Rick Warren to do, but it is yet another example of just how far away from Reformation theology mainstream evangelicalism is becoming. The main point here is Warren is guilty of choosing to approach Adams to endorse her teachings; this is crystal clear from the evidence; and you need to understand the aforementioned Trimm is Adams' own mentor, who did the prologue to Adams' DBD.
Concerning her disciple pastrix Adams Trimm tells us:
Dominionism/Kingdom Now Theology Would Explain Promoting The Sovereignty Of Man
All of this is guilt by endorsement because—as you can see above—Adams, Trimm, and Paula White all teach that our spoken words have creative power, i.e. classic Word Faith positive confession:
Trimm: It's like giving permission to, ah, negative powers to bring to you negative experiences.  But conversely, if you're releasing positive words in your life, it comes back as a positive experience.  So we are really architects of our own future.

White: So true. [On-screen caption reads: Positive words release positive things into your life.] Cindy, it-it is so vital, as we want to build a successful life; a good life, a god life, that we cannot ever see the implementation of it without the application of words… Like you just, said we're creating–we're sending to the universe–and we're sending to every, very single out there saying, speaking those death words of ourself.  So we have to begin a transformation.  How does that transformation start?

Trimm: Well, firstly you have to be able to admit that we are the architects of our future. (Online source)
The question you need to ask yourself is: Why would PDL pope Rick Warren, arguably the most influential pastor in the Southern Baptist Convention—itself the largest Protestant denomination in the country—purposely reach out to someone teaching this sovereignty of man, which is polar opposite to the Reformation principle of sola Deo gloria? Now, it's against this backdrop that I bring you an example of how this kind of science fiction theology refutes itself; if one only pulls their head out of the spiritual sand long enough to exercize some sort of discernment.
In a recent piece in TheLedger.com from Lakeland Florida called Without Walls Church Plans To Form New Congregation we're informed:
The leaders of Without Walls Central Church have announced they will establish an independent congregation at the end of this month, leaving the massive 9,000-seat Lakeland sanctuary where they have been worshiping. The move, announced by senior pastors Scott and Cindy Thomas to the congregation during worship on Nov. 28, would leave the sanctuary in the hands of Without Walls International Church in Tampa, the megachurch that bought the facility in North Lakeland in 2005 for $8 million to establish a satellite congregation…

Also on New Year's Eve, International church senior pastor Paula White is scheduled to lead a worship service at the Central church sanctuary to mark the transition. Neither the Thomases nor White wanted to comment further, citing a confidential agreement, but both sides said through spokespersons that the split is "amicable."

But the former senior pastor of Without Walls International, Paula White's ex-husband Randy White, denounced Scott Thomas in an interview with The Ledger for what he said was breaking an employment contract and violating trust that he and International church leaders had placed in him. "He's making it look like this is with Paula's favor and blessing. What Scott is doing is so unethical," he said. (Online source)
O please; I don't think that a woman who's in violation of God's Word usurping the position of elder in Christ's visible church has any place speaking about ethics. That aside however, as the architect of her own future, pastrix White's apparently not been releasing positive words in her life because this doesn't seem to be coming back as a positive experience here. Alas, instead it begins to look like our Word Faith wizard must have been giving permission to negative powers to bring to her such negative experiences.
If you're following such fools, do yourself a favor and hear what the Lord actually says:
Understand, O dullest of the people! Fools, when will you be wise? He who planted the ear, does he not hear? He who formed the eye, does he not see? He who disciplines the nations, does he not rebuke?

He who teaches man knowledge—the Lord—knows the thoughts of man, that they are but a breath. (Psalm 94:8-11)
Man isn't the architect of anything but the sinful ruin of his own life; but God be praised for His Gospel of repentance and the forgiveness of sins in Jesus' Name.
________________________________________________________________________________
Endnotes:
[1] LaVerne Adams, Driven By Destiny: 12 Secrets to Unlock Your Future [Dr. LaVerne Adams, 2009], x.
[2] Cindy Trimm, Commanding Your Morning: Unleash the Power of God In Your Life [Charisma House: A Strang Company: 2007], 5, 6.
HT: Christian Research Service
See also:
SOUND THE ALARM ON PAULA WHITE
PAULA WHITE: IS SHE, OR ISN'T SHE?
ONE SIMPLE QUESTION FOR BENNY HINN AND PAULA WHITE
RICK WARREN, DR. DESTINY, AND DR. CINDY TRIMM
RICK WARREN PRESENTS US OUR DESTINY DOCTOR
RICK WARREN, LAVERNE ADAMS, AND CHUCK PIERCE'S GLOBAL SPHERES
RICK WARREN, DR. DESTINY LAVERNE ADAMS, AND "APOSTLE" CHUCK PIERCE