By Ken Silva pastor-teacher on Oct 21, 2010 in AM Missives, Current Issues, Features, Rick Warren, Southern Baptist Convention, Word Faith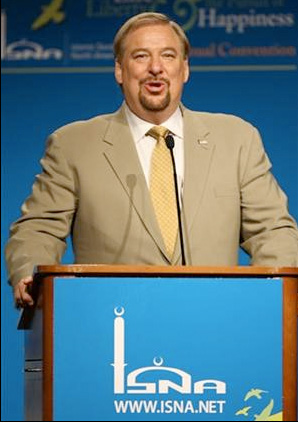 As part of my online apologetics and discernment work here at Apprising Ministries, in pieces like John Piper On Rick Warren and Rick Warren, LaVerne Adams, And Cindy Trimm, I've been documenting for you some of the recent activity of Purpose Driven Pope Rick Warren of the highly influential Saddleback Church.
It all began when Dr. John Piper made the dubious decision to make the PDL Pope the keynote speaker at the recently concluded DG 2010 conference Think: The Life of the Mind & the Love of God.
One of the more curious Warren moves is writing the foreword to Driven By Destiny: 12 Secrets to Unlock Your Future (DBD) by pastrix Dr. LaVerne Adams.
We're told that pastrix Adams is a "certified life coach and motivational speaker [who] specializes in coaching celebrities and high powered professionals in need of spiritual guidance and emotional support"[1], who's also known as The Doctor of Destiny:
Notice that her DBD was released on 10/10/10, which also happens to be the day Rick Warren kicked off his own Decade of Destiny shtick at his highly influential Saddleback Church:
There really does seem to be some kind of connection between these two; and even pastrix LaVerne Adams herself has written of her relationship with Rick Warren: "Ours is truly a divine connection… And now our destinies have been miraculously aligned and driven with purpose.[2] I've already told you that I happen to have this particular work and it's filled with the whacked Word Faith mythology of pastrix Adams; and this is why in articles like Rick Warren, Dr. LaVerne Adams, And Dr. Mark Chironna and Rick Warren, LaVerne Adams, And Cindy Trimm we've been making the time to look at the fruit of ministries which formed her Word Faith properity theology.
With Rick Warren endorsing the work of pastrix Adams we have every right to examine her teachings because they are being recommended to the Body of Christ by one of the most influential pastors in the entire visible church, who himself has recently been pronounced "doctrinal and sound" by one of the most respected names in evangelicalism, Dr. John Piper. I've demonstrated that both Mark Chironna and Cindy Trimm are big names within the Word Faith movement such as you'll see nightly on the haven of heresy known as Trinity Broadcasting Network. Now we look at another person pastrix Destiny Doctor LaVerne Adams wanted to make sure to acknowledge concerning her spiritual development.
She informs us that:
The prophetic ministry of Dr. Chuck Pierce has literally transformed my existence in very practical ways. With his prayer focuses and timely prophecies, I was able to cycle out of some very dysfunctional patterns and make stride toward my apostolic and prophetic calling to the nations. In addition, we are honored that Cathedral of Praise Community Church and International Kingdom Strategy Center, where I have served as the senior pastor since 1997, is recognized as a "Church of Zion."

This connection with Glory of Zion International strengthens our resolve to actively see the powerful prophetic flow of deliverance transform people's lives and help them reach their fullest potential and expand God's Kingdom. This significant connection is also vital to helping me realize the magnitude and international scope of my identity.[3]
Later, under the subheading Destiny Clues, pastrix Adams also tells us:
The ministry of Chuck Pierce helps me understand how to recognize the seasons of my life so that I can cooperate with the divine timing of God. In addition I have discovered the dysfunctional vicious cycles that kept me from my destiny and have learned to break them through prophetic decree and prayer focuses.[4]
Just who is Chuck Pierce you wonder? Well, I'm glad you asked; first of all, Dr. Chuck Pierce does have "a D. Min. from the Wagner Leadership Institute":
Note that Pierce is "President of Global Spheres, Inc.," which is "an apostolic ministry for apostolic, prophetic and intercessory leaders" whose "leadership team" includes C. Peter Wagner, who informs us:
On my 80th birthday, August 15, 2010, I officially turned over [Global Harvest Ministries] GHM to Chuck Pierce of Denton, Texas. Instead of continuing GHM, Chuck organized Global Spheres, Inc. (GSI), a new wineskin for apostolic assignment which will carry Doris and me into the future. Chuck is President and I am Apostolic Ambassador.[5]
Pierce is also "President" and Apostle[6] of the Glory of Zion Outreach Center that pastrix Adams is "honored" to "recognized" by; and in addition, "Apostle" Pierce was part of "the Lakeland Outpouring Apostolic Team"; you know, of the infamous false prophet Todd Bentley. In her post A Lakeland Update From C. Peter Wagner AM correspondent Chrystal Whitt quotes from an mass mailed email update where C. Peter Wagner tells us:
As I have told you in other emails, after I moderated the meeting at which Todd Bentley was aligned and commissioned, I received over three thousand emails.  Many of them expressed dismay and concern over issues that had surfaced during the Outpouring itself and during the commissioning.  I carefully cataloged these and simultaneously pulled together a group of apostles which I called the Lakeland Outpouring Apostolic Team.  The team included Stephen Strader, Steve Strang, David Cannistraci, Ché Ahn, Lee Grady, Joe Askins, Jeff Beacham, Chuck Pierce, and John Arnott besides myself…

Meanwhile, God began speaking to Dutch Sheets, whom many of you know is my pastor at Freedom Church here in Colorado Springs, and who has been recognized as an apostle to our nation.  Dutch felt that God was giving him an assignment to deal with many of the issues that I had on my list, and others as well, from a proactive, rather than a reactive posture as I had been doing.

After consulting with John Kilpatrick, Dutch approached me with the possibility of making some changes.  I gladly received his suggestions and, frankly, I was greatly relieved.  While I chaired Todd's alignment ceremony in obedience to a direct word from God, I did not have the same clear assignment from God to deal with the issues. (Online source, emphasis mine)
I think you should be able to see we're in a very bad spiritual neighborhood here with men who 1) have elected themselves Apostles, 2) claim to be receiving direct revelation from God, and 3) whose discernment is so far off they bought Todd Bentley's act as genuine. I ask again: Why is Rick Warren promoting pastrix Dr. Destiny LaVerne Adams who's closely associated with this spiritual motley crew? But I'm afraid that it now gets even worse concerning "Apostle" Chuck Pierce as my good friend Dr. Orrel Steincamp tells us in Chuck Pierce, The Kabbalist Apostle and Heir Apparent for the NAR:
It should be noted that Chuck Pierce has denied being involved with Kabbalah.[7] But even so, in his piece The Roots And Fruits Of The New Apostolic Reformation Bob DeWaay tells us:
This article explores the idea of apostles in the church throughout church history. In it I will show that the restoration/Latter Rain idea that fuels the New Apostolic Reformation (NAR) is unbiblical and dangerous to the well-being of Christians who become part of it. First we will review how the early church understood apostles in church history. Then we will examine the Roman Catholic Church's teaching about apostolic authority. From there we will examine the ideas of a 17th-century mystic given new life in the Latter Rain movement, and now the NAR.

At a 1996 Fuller Seminary conference hosted by C. Peter Wagner, a movement that Wagner previously labeled "post-denominational" became the New Apostolic Reformation. [8] Besides Wagner himself is another person prominent in the movement—Bill Hamon—who is strongly endorsed by Wagner. Hamon is important, as we will see, because his ministry goes all the way back to the early 1950's and began on the heels of the Latter Rain Movement…

Church history has shown that whenever new claimants to the office of apostle have arisen, so have false teachings. The teachings of many such persons today, as we have seen, are shocking in the extremity of their error. Yet C. Peter Wagner claims that churches that he terms "apostolic" in this new sense are part of the fastest growing segment of the church in the world today.[9] Perhaps he is right; but if he is, this is proof of massive end time apostasy and not the revival he claims it to be.

The only binding authority in the church is that of Scripture. God does not bind us to mixture, error, or the musings of men. The false apostles and prophets of the NOLR and NAR have no power over the true, blood-bought church of God. Prophets that are less than inerrant have nothing to sell but fear: "When a prophet speaks in the name of the Lord, if the thing does not come about or come true, that is the thing which the Lord has not spoken. The prophet has spoken it presumptuously; you shall not be afraid of him" (Deuteronomy 18:22). The grandiose claims that span from Leade, to Warnock, to Branham, to Paulk, and to Hamon have never come to pass, and they never will. There will be no virgin born, many-membered man-child, Elijah company, new breed of man, new incarnation of the Christ on earth or any other such blasphemy. The role these terms describe is that of antichrist. (Online source)
Now that we know all of the above concerning pastrix Dr. LaVerne Adams's severe lack of discernemnt concerning "Apostle/Prophet" Dr. Chuck Pierce, we also have very real reason to wonder about the discernment of PDL pope Rick Warren. In Chris Rosebrough, Rick Warren, And LaVerne Adams I placed within the actual segment where Rosebrough—whom Rick Warren dubbed a pirate who does nothing—provides Biblical commentary during his review of a sermon by pastrix Adams called God's GPS.
Once again, I echo his sentiments:
Dr. Laverne Adams, [is] the lady who Rick Warren sought out;…this is the woman who authored the book about your divine destiny that Rick Warren wrote the foreword to—you know, put his stamp of approval [on]…it comes back to my question: Why would Rick Warren write the foreword to this woman's book? That's an endorsement of her and her teaching. Why would Rick Warren—you see, this isn't "guilt by association," this is guilt by endorsement.

What is Rick Warren doing promoting this woman?… It's not like I'm saying,  "Oh, what is Rick Warren doing associating with LaVerne Adams?" No, no, this is guilt by endorsement. Why is Rick Warren endorsing the teaching of Dr. LaVerne Adams?
In closing this, for now, below are two short video clips of Chuck Pierce in action. The first begins with another false prophet, Cindy Jacobs of Generals International: Achieving Societal Transformation Through Intercession And The Prophetic; Pierce begins his "prophesy" at :039 in. The other video is a clip from an appearance by Chuck Pierce on the program of his "dear friend" the nafarious Word Faith pastrix Paula White. This also serves to give you further example of the kind of people Rick Warren has now opened the door for by his ridiculous endorsement of pastrix Dr. LaVerne Adams.
Again I'll paraphrase Dr. John Piper: I'm gonna need help to know why we should feel anything but bad about his decision to expose Rick Warren to the Reformed camp when he promotes these kinds of fools.
Cindy Jacobs and Chuck Pierce
Paula White and Chuck Pierce
 
________________________________________________________________________________
Endnotes:
[1] Dr. LaVerne Adams, Driven By Destiny: 12 Secrets to Unlock Your Future [Dr. LaVerne Adams, 2009], 287.
[2] Ibid., ix.
[3] Ibid., emphasis mine.
[4] Ibid., 275., emphasis mine.
[5] http://www.globalharvest.org/, accessed 10/21/10.
[6] http://www.gloryofzion.org/outreach_0.htm, accessed 10/21/10.
[7] http://tiny.cc/9fqz4, accessed 10/21/10.
[8] Bill Hamon, Apostles Prophets and the Coming Moves of God [Destiny Imagine: Shippensburg, PA, 1997], 10.
[9] http://tiny.cc/ebeif, accessed 10/21/10.
See also:
RICK WARREN, DR. DESTINY, AND DR. CINDY TRIMM
SADDLEBACK CHURCH, RICK WARREN, AND SPIRITUAL DISCIPLINES
RICK WARREN, SADDLEBACK CHURCH, AND SPIRITUAL DISCIPLINES
STEVE GLADEN, SADDLEBACK CHURCH SMALL GROUPS, AND QUAKER MYSTIC SPIRITUALITY
RICK WARREN AND PURPOSE DRIVEN ROMAN CATHOLICS
IS THIS DOCTRINAL AND SOUND DR. JOHN PIPER?
TODD WILKIN OF ISSUES, ETC. REVIEWS LATEST RICK WARREN SERMON