By Ken Silva pastor-teacher on Oct 15, 2010 in AM Missives, Current Issues, Features, Rick Warren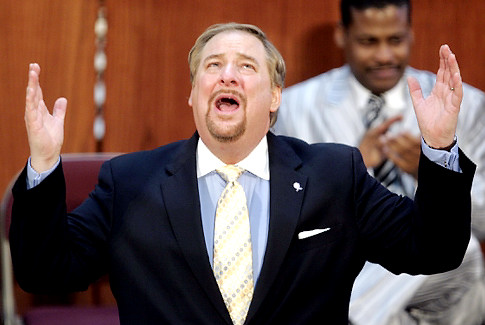 As part of my online apologetics and discernment work here at Apprising Ministries, in pieces like John Piper On Rick Warren and Rick Warren, Dr. Destiny, And Dr. Cindy Trimm, I've been documenting for you some of the recent activity of Purpose Driven Pope Rick Warren of the highly influential Saddleback Church. It all begins when Dr. John Piper made the dubious decision to make Purpose Driven Pope Rick Warren the keynote speaker at the recently concluded DG 2010 conference Think: The Life of the Mind & the Love of God.
Up until that point I'd not been following Warren all that closely for quite some time, but I wasn't going to sit idly by after Dr. Piper has said things such as the following concerning the sinfully ecumenical Rick Warren, who's as Reformed as quasi-universalist Emerging Church rock star pastor Rob Bell. You may recall this from a transcription of Dr. Piper's video defense of his invitation to Warren:
Then in a panel discussion immediately after Warren's video message for DG 2010 Dr. Piper said:
With this in mind then, I'm pleased to point you to an excellent review of Rick Warren's last sermon done by Rev.Todd Wilken of the fine:
Wilken begins his review, which you can download and listen to here:
Churches are full of the "How to" sermon; I mean, if you were to walk into a church and try and determine what the message of—the central message of Christianity was—by the average sermon in the Big Box church, you would probably—after listening a Sunday or two—determine that the central message of Christianity is self improvement.

Your life is okay, but it can be better; maybe your life is kind of bad, but it can be better, and here are several—or perhaps many—simple steps that you can take to improve things. Now sometimes God is included in the mix, you do this, God will do that. Actually, that is kind of the theme of the sermon we're going to review here in this first hour of Issues, Etc.

Greetings, and welcome, I'm Todd Wilkin. Thanks for tuning us in; we're coming to you live this Wednesday afternoon, October the 13th. We're going to be reviewing a sermon preached by pastor Rick Warren of Saddleback Comnmunity Church titled "Your Choice: Blessed or Stressed." It's actually the beginning of the sermon series titled The Decade of Destiny; part of their spiritual growth seminar that they do every year around this time.
No doubt, the King of the Self-Help sermon would be PDL Pope Warren; and after-all, as I showed you e.g. in Rick Warren And Purpose Driven Roman Catholics, he's even bigger than the entire Protestant Reformation.
As a matter of fact, Todd Wilken mentioned that the Warren sermon he's reviewing kicked off something I showed you in Decade Of Destiny With Rick Warren:
Well now, of course, what I'm about to tell you was just one of those odd coincidences; we know it couldn't possibly be related. ;) But oddly enough, Rick Warren launched his DoD on 10/10/10, the very same day that a book called Driven By Destiny: 12 Secrets to Unlock Your Future (DBD) dropped, which was written by a spiritually whacked Word Faith pastrix named LaVerne Adams, who bills herself as:
And wouldn't you know it, the foreword to the Divine Destiny Doctor's book is done by none other than Rick Warren:
For more about the outright Word Faith positive confession heresy pastrix LaVerne Adams, aka the Destiny Doctor, spews I refer you to Rick Warren Presents Us Our Destiny Doctor. Here I'll simply point out that Adams tells us her book is about helping us to:
explore the three facets of your destiny found in your past, present, and future. As you align yourself with God's dream for your life, please remember that destiny is about being at the right place, at the right time, doing the right thing with the right people, with the right agenda and the right attitude![1]
Very Rick Warreneque, which is not surprising when we consider Dr. Destiny tells us that the church where she's pastrix, though she's currently on sabbatical to work her book, went through "a process of re-visioning." During this time of "strategic planning sessions" Dr. Destiny tells us that they "spent a significant time studying 'The Purpose Driven Church' by Dr. Rick Warren."[2]
Perhaps this is one of the reasons why Warren would seek her out; in any event Adams informs us that, even though she's in rebellion against the word of God usurping the position of elder, it was Rick Warren who approached her when he:
just happened upon one of my articles in the African American Pulpit, while going to be the first Caucasian preacher at Ebenezer Baptist Church in Atlanta on Dr. Martin Luther King's Day 2009. His prompting to reach out to me for counsel affirmed my calling and destiny as spiritual advisor to great people.

Ours is truly a divine connection as I have always been impressed with his ministry and literary work. And now our destinies have been miraculously aligned and driven with purpose.[3]
So apparently it was the destiny of Rick Warren to affirm pastrix Adams' Destiny Doctoring; and to ensure that we'd hear the arrogant ravings of Dr. Destiny in her sermon segment below from You Tube channel DrLaVAdams, where she is preaching as pastrix of this local church in violation of the Bible. Well, I do have to agree;  someone certainly is dreaming in all this mess, but it most assuredly is not God.
________________________________________________________________________________
Endnotes:
[1] Dr. LaVerne Adams, Driven By Destiny: 12 Secrets to Unlock Your Future [Dr. LaVerne Adams, 2009], xxv
[2] Ibid., 150.
[3] Ibid. , x.
See also:
RICK WARREN BRINGS LOVE ON RECORD
RICK WARREN WANTS US TO LEARN FROM HENRI NOUWEN
SADDLEBACK CHURCH, RICK WARREN, AND SPIRITUAL DISCIPLINES
THE INADEQUATE GOSPEL OF RICK WARREN
CHARISMATIC QUASI-PROSPERITY PREACHER JUDAH SMITH
PERRY NOBLE SAYS YOU'RE A JACKASS