By Ken Silva pastor-teacher on Oct 16, 2010 in AM Missives, Current Issues, Emergence Christianity, Emergent Church, Features, Homosexuality/"Christian", Jay Bakker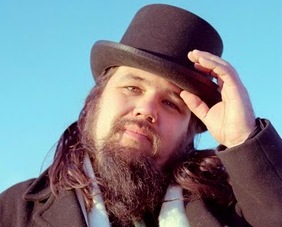 But this people has a stubborn and rebellious heart; they have turned aside and gone away. They do not say in their hearts, 'Let us fear the Lord our God.' (Jeremiah 5:23-24)
Pretending To Be Christians Even Though They Don't Believe What Christians Believe
Apprising Ministries has told you e.g. in Jay Bakker Reflects The Sad Condition Of The Visible Church that gay-affirming "pastor" Jay Bakker heads up a rather rapscallion, and largely Biblically illiterate, bunch in the sinfully ecumenical neo-liberal cult of the Emerging Church who've crowned themselves Outlaw Preachers. He's also leader of a support group called Revolution NYC, which is trying to pass itself off as a church. Bakker's appearance at the lastest apostasia-palooza of the Emergent Church, the recently concluded Big Tent Christianity: Being and Becoming the Church (BTC), was his coming out party in the EC.
BTC featured a veritable who's who of heresy including the unholy Emergent Church trinity of apostates, Living Spiritual Teacher and EC guru Brian McLaren, universalist EC pastor Doug Pagitt, and his friend Tony Jones, the progressive "theologian in residence" at the Emergent Solomon's Porch headed by Pagitt. You should know that the upgraded Emerging Church 2.0 now has in place its new postmodern form of "big tent" Progressive Christianity—a Liberalism 2.0—sometimes referred to as Emergence Christianity.
So Bakker, who shouldn't even be teaching Sunday School—let alone pastoring a church—is tip of the spear for the coming EC advance of their pro-gay agenda to convince your young evangelicals that the deviant and sinful lifestyle of having sexual relations with another of the same sex, i.e homosexuality, is a viable one for the regenerated Christian. With this in mind then, we're not surprised today by this tweet from Jay Bakker:
The link takes us to the HuffPost piece How Religion Is Killing Our Most Vulnerable Youth by Gene Robinson, the overseer of Episopal churches in New Hamphire, where I was raised and currently reside. More on this next time when I set the ol' "Bishop" straight; but here I'll show you there's a bit more back story as to why Bakker tweeted, which we pick up with the below from the Homopressive Jay Bakker:
If you don't remember, I talked about Open Door Community Church (ODCC) in Jay Bakker Receives Award; I told you ODCC is "a non-denominational Christian church" supposedly "serving Little Rock and Central Arkansas," headed by Rev. Randy McCain (w/married partner below) as pastorm and Sheryl Myers as associate pastrix:

However, this not really a church in any Biblical sense of the word; what it really functions as is a support group for those who unrepentantly pracitice the deviant and sinful lifestyle of homosexuality, which should be obvious considering it's leader. You'll also see Jay Bakker lovingly pictured on the Guest Speakers button on the ODCC website:
But what's so sad here is you look at his smiling face, all the time knowing that on his present course, Jay Bakker will be judged as a pastor attempting to lead LGBT people, for whom Christ died, away from Jesus and into sin. Although not billed Bakker, along assistant *cough* "pastor" Vince Anderson (pictured above), were at ODCC once again for its annual fall conference:
Unfortunately, what we're dealing with here are people claiming to be Christian, who just do not believe what the Bible says. For example, "Rev. Vince" put up a post yesterday called You Are Not Alone as encouragement that people practicing homosexuality may know there are people who care about them. We agree this is a good thing; but look closely and you'll see the lie:
Yes Vince, every life is sacred; that's why I admonish you to stop lying to these LGBT people because the Bible is crystal clear that we are not all children of God. Seriously Vince and Jay, can't you read; God's Word tells us that someone who has not been regenerated remains a slave of sin (cf. Romans 6:16-20). So while we are God's offspring in the sense of being His creations, the non-Christian is still by nature children of wrath, like the rest of mankind (Ephesians 2:3). The Bible unambiguously states that all who receive Jesus who believed in his name, he gave the right to become children of God (John 1:12); simple logic tells you that if you need to become something, then you were not that thing before. Salvation is by God's grave alone, through faith alone, in the finished work of Christ on the Cross alone.
By "affirming" unrepentant men and women continuing to openly commit sexual immorality as they live the deviant and sinful lifestyle of having sexual relations with another of the same sex i.e homosexuality, Jay Bakker and Vince Anderson are actually withholding the freeing power of God's Gospel from these sacred lives. And by doing so, despite all their pious blather about love and grace, the fact remains that these so-called pastors are leaving the precious LGBT people locked away in the chains and darkness of their own personal prison cell of sin. So I ask again: Why No Condemnation For Christians Who Are Homopressive?
May the Lord grant Bakker and Anderson repentance for their sin of lying to the LGBT community—and for their inexpressible cruelty towards them—as Jay Bakker and Vince Anderson continue withholding the Gospel repentance and the forgiveness of sins in the Name of Jesus Christ from LGBT people, thereby condemning them to Hell. And that very dark and threatening same-sex storm—now rapidly approaching hurricane force—continues gaining strength while looming just off the coast of your own local church.
See also:
THE NEW DOWNGRADE AND ITS APOSTLES OF UNBELIEF
WHAT JAY BAKKER WISHES THE BIBLE SAID ABOUT HOMOSEXUALITY
BUT DO EMERGENCE CHRISTIANITY AND BRIAN MCLAREN REALLY LOVE GAY PEOPLE? 
THE SIN OF HOMOSEXUALITY IS DIFFERENT 
COUNTRY SINGER AND DEVOUT CHRISTIAN CHELY WRIGHT COMING OUT AS A LESBIAN
GAY CHRISTIAN SINGER JENNIFER KNAPP OUT ON LARRY KING LIVE
GAY CHRISTIAN RAY BOLTZ: "I DON'T BELIEVE GOD HATES ME ANYMORE"