By Ken Silva pastor-teacher on Apr 27, 2010 in AM Missives, Current Issues, Emergence Christianity, Emergent Church, Homosexuality/"Christian", Jay Bakker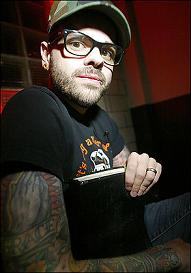 preach the word; be ready in season and out of season; reprove, rebuke, and exhort, with complete patience and teaching. (2 Timothy 4:2, ESV) 
Don't Look Now But The Biblical Wheels Have Come Off 
In the Apprising Ministries post Gay Christian Singer Jennifer Knapp Out On Larry King Live I reminded you that there is indeed a same-sex storm gathering hurricane force, which is right now, looming only slightly off the horizon of the mainstream evangelical community. I also shared, once again, why the Lord moved me to begin covering the issue of a growing acceptance within evangelicalism that the deviant and sinful lifestyle of having sexual relations with another of the same sex, i.e homosexuality, is a viable one for the regenerated Christian.  
The imagery I've been using is that of fire bases in Vietnam, which were temporary artillery encampments there to provide fire support and quarters for ground operations near the front lines. Being so close to the front, in the dark of night many times enemy forces would try and move in for a sneak attack. That's why periodically flares were shot high above the area to light up the night sky in order to monitor any possible movement of enemy troops. And even in this spiritual war Satan's seducing spirits sneak around in the darkness with their didaskaliais daimonion (doctrines of demons). 
Well, I'm using the issue of homosexuality to light up the sky with the Word of God to give you a chance to see the wide, and very rapid, advance of the egregiously ecumenical Emerging Church—which is a cult of neo-liberalism now firmly within mainstream of the visible church. As I've pointed out its primary goal has been to attack Sola Scriptura. Well, its been very successful in doing so through spreading corrupt Contemplative Spirituality/Mysticism responsible for creating the current evangelical fad of practicing what's merely refried mysticism-lite of apostate Roman Catholicism. 
Now consider that, in their lust for number$, for nearly a decade pretending to be Protestant mainstream evangelical churches have used their Young Adult and Youth ministries as spiritual guinea pigs by using the materials of sinfully ecumenical Emerging Church teachers. And so, now that Jennifer Knapp is one of the first more mainstream Christians to come out, the reaction is very telling concerning the Word of God in the Bible. Jesus led me onto this subject of homosexuality to teach that its practice is sin; and here's why, because this is just about a crystal clear as it gets in Scripture and yet, the debate's begun…again. 
Postmodern Progessivism Is Following The Same Pattern As Modern Liberal Theology 
Mainline denominations, who long ago gave in to the Cult of Liberalism and kicked out the proper Christian spirituality of Sola Scriptura, are still being ripped apart by the highly divisive homosexual lobby; one by one, they'll all fall. Mainstream evangelicalism, this is your wake-up call; prepare for the very same debates within your own halls. It's going to be a huge surprise, and soon, when evanjellyfish—unity at all costs—leaders find out that most professing Christians don't actually hold to Sola Scriptura at all. And so what are you then left with; doing what is right in your own eyes ala Judges 17:6. 
And the EC is already making acceptance of this sin of sexual immorality for the Christian an issue. Tip-of-the-spear for this area of attack upon proper biblical Christianity is  gay-affirming "pastor" Jay Bakker of Revolution:NYC. You may recall that Bakker also heads up a rather rapscallion bunch of largely biblically illiterate and self-described Outlaw Preachers (OP). In addtion, as I pointed out in Jay Bakker And The "Evangelical" Network Bakker's slated to speak his message of homopression for something called The Evangelical Network at this year's Embrace conference coming up April 29. 
In The Emerging Church TransFORM East Coast Apostasia-Palooza you'll find out about the inaugural East Coast Gathering of the TransFORM Network, which I've pointed out in was created by Steve Knight, who's closely aligned with Emergent Village. Involved with this event you will notice the names of a number of OPs, which is a part of TransFORM; and affirming LGBTQ people is in integral part of their "big tent" progressive Christian theology. Rather than it dying, we're now going to be dealing with the Emerging Church 2.0—a neo-liberal cult—with a newer, more clearly delineated, Progressive Christianity. 
You'll also see in Big Tent Progressive Christianity As Liberalism 2.0 that Bakker, who's good friends with EC guru Brian McLaren and EC progressive theologian Tony Jones, will be a featured speaker at an important EC conference in September called Big Tent Christianity: Being and Becoming the Church. Make no mistake, Bakker's star is on the rise within the EC, and his whole shtick is spreading the myth that the practice of homosexuality isn't always sinful. Against this backdrop I tell you that today Jay Bakker tweets: 
A discussion about my latest sermon. http://bk.ly/rsU (Online source) 
The above link takes us to the link to Bakker's sermon When the Law Gets in the Way of Love, which he preached yesterday concerning Jennifer Knapp's appearance on Larry King Live. I'll provide more specifics concerning Bakker's sentimental sermon another time; however, in closing this for now, I'll simply highlight the comment I left and the response which came from someone named Paulo: 
Ken Silva Posted April 27, 2010 at 10:22 am | Permalink 

FYI, here's the proper biblical Christian position: https://www.apprising.org/2010/04/25/gay-christian-singer-jennifer-knapp-out-on-larry-king-live/ 

Paolo Posted April 27, 2010 at 10:59 am | Permalink 

In the spirit of embracing differences of opinion, we're going to leave this link up, but with a caveat or two. Ken Silva has been unfairly critical of Revolution in the past and his attacks on Jay have, on many occasions, crossed the line. We will not be approving any further comments from this man and we cannot vouch for anything that this link leads to. Please proceed with caution. (Online source) 
We're just going to have to agree to disagree concerning my supposedly being  "unfairly critical" and the alleged "attacks" on Bakker; and what "line" it is that's been crossed wasn't specified. But what I'm doing with Jay Bakker is right in line with Titus 1:9 pertaining to the position in which Jesus chose to place me — He must hold firm to the trustworthy word as taught, so that he may be able to give instruction in sound doctrine and also to rebuke those who contradict it. And, as long as Jay Bakker continues to try and preach false doctrine within the church, then he can rest assured that I will continue my attempts in correcting and rebuking him. 
See also: 
WHAT JAY BAKKER WISHES THE BIBLE SAID ABOUT HOMOSEXUALITY 
OUTLAW PREACHERS KHAD YOUNG AND JAY BAKKER DON'T LOVE ENOUGH 
THE SIN OF HOMOSEXUALITY IS DIFFERENT 
BUT DO EMERGENCE CHRISTIANITY AND BRIAN MCLAREN REALLY LOVE GAY PEOPLE? 
HOMOPRESSION IS AT LEAST AS BAD AS HOMOPHOBIA