By Ken Silva pastor-teacher on Apr 18, 2010 in AM Missives, Current Issues, Homosexuality/"Christian", Jay Bakker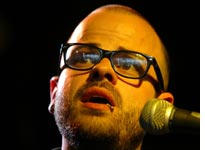 Apprising Ministries has alerted you to a rather rapscallion bunch of largely biblically illiterate and self-described Outlaw Preachers (OP) who've come slithering up all around gay-affirming "pastor" Jay Bakker. OPs are still somewhat in the shadows of the neo-liberal cult of the Emerging Church and include such EC luminaries as self-described "Queer Affirming" ELCA "pastor" Nadia Bolz-Weber and Adele Sakler of the EC LGBTQ group Queermergent.
Not long ago OP posse leader Jay Bakker tweeted:
What the Bible Says – And Doesn't Say – About Homosexuality: http://bit.ly/hCfa8 via @addthis (Online source)
The link takes us to What the Bible Says – And Doesn't Say – About Homosexuality by Rev. Mel White, who's co-founder of the aggressively pro-gay group Soulforce. This lengthy article by White, filled with straw men, red herrings, and tired liberal/progressive arguments long ago dismissed, made the rounds if the of the Twittersphere courtesy of the OPs back in August of last year. There's a bit more background in the prior AM post Chris Rosebrough Thoroughly Debunks Mel White.
In that piece I also included the audio segment below from the Fighting for the Faith program Christian apologist Chris Rosebrough, which originally aired on Pirate Christian Radio. Within you'll hear Rosebrough painstakingly—and Biblically—tear apart White's wishful musings thus revealing these doctrines of demons perpetrated through seducing spirits for exactly what they are: Did God really say?
See also:
JAY BAKKER IS GOING TO HAVE TO GROW UP
OUTLAW PREACHERS KHAD YOUNG AND JAY BAKKER DON'T LOVE ENOUGH
EMERGING CHURCH AND ADELE SAKLER TRANSFORM GAY AGENDA IN EVANGELICALISM
CORRECTING BRIAN MCLAREN "ON FAITH" AND HOMOSEXUALITY
BUT DO EMERGENCE CHRISTIANITY AND BRIAN MCLAREN REALLY LOVE GAY PEOPLE?