By Ken Silva pastor-teacher on Mar 4, 2010 in AM Missives, Brian McLaren, Emergence Christianity, Emergent Church, Homosexuality/"Christian", Jay Bakker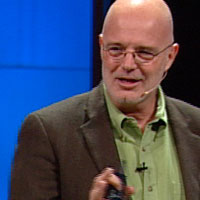 Earlier today Apprising Ministries told you that Brian McLaren responded to Scot McKnight's review of his book. McLaren, an influential leader in the Emergent Church (EC), is busy making the rounds promoting his latest book  A New Kind of Christianity (ANKoC) where he may have made a tactical error in clearly laying out his updated version of old liberalism, which is really simply Liberalism 2.0 as a new postmodern form of Progressive Christianity.
Over at the On Faith Panelists Blog McLaren has worked in a plug for his book while responding to The Church and the Sex Question. Before we get to that I'm going to correct some misinformation where McLaren is billed at that blog as "pastor and intellectual leader of 'emerging church,' a Christian evangelical movement that seeks new ways to worship and understand the gospel in postmodern era." We need to be clear here, the Emerging Church (EC) is not an "evangelical movement" because it is as sinfully ecumenical as the liberal mainline denominations.
By this I mean that the EC, as does liberalism in general, recognizes the apostate Roman Catholic Church as a legitimate expression of the Christian faith despite the fact that at her Council of Trent, countering the teachings of the Protestant Reformers raised up by Jesus, the Church of Rome placed its anathema upon the very Gospel of Jesus Christ itself. [1] The evangelical movement always has always held to Protestantism preaching that salvation is through God's grace alone, by faith alone, in the finished work on the Cross of Christ alone.
With this understood I can now correct McLaren's own misrepresentations in the On Faith piece concerning what Dr. Walter Martin (1928-1989), author of the classic textbook The Kingdom of the Cults, would so often refer to as "the historic, orthodox Christian faith." Now, while I do not necessarily agree with everything that Dr. Martin taught, I bring this up because no less an evangelical Protestant icon as Billy Graham himself told us that Walter Martin was, "the most articulate spokesman for evangelical Christianity that I know." Sadly, there is no voice like Martin's today.
In the On Faith post McLaren begins talking about "public controversy about gays in church, military, or courthouse," and then he states the obvious that "very personal and painful struggles" affect "not just for gay people" but also "those who know and love them." Then McLaren says, "I know, because I've been there." Well, so have I; in fact this very subject directly involves my own paternal family. What McLaren tells us next is actually true, "I come from an Evangelical background"; and so he did, McLaren has indeed departed from his prior evangelical Protestant position.
McLaren then goes on:
most of my good friends sincerely and passionately hold the strict conservative view on homosexuality with which we all were raised. They can't understand why I don't stand side by side with them on this issue any more. To some, I've become a traitor, to others, a casualty in the culture wars, to others, frankly, a problem and an embarrassment. (Online source, emphasis mine)
Choosing to ignore his playing the martyr, let me correct McLaren's misinformation concerning what I highlighted above. The "strict conservative view on homosexuality" is more accurately stated as the biblical view on homosexuality. A couple of things have come emerging with McLaren's statement above: 1) he is using the terminology of the progressive/liberal, and 2) McLaren is admitting that he is now apostate concerning the biblical, and evangelical Protestant, position concerning those having unrepentant sexual relations with another of the same sex i.e homosexuality.
Previously in Jesus Defines Marriage For Red Letter Christians I showed clearly from the Bible that Jesus defines marriage as strictly between a male and a female; and by doing so, He's saying that from God's standpoint any homosexual activity will always be outside of the marriage covenant. And, since the Bible condemns all sexual activity outside of marriage as sin, therefore homosexuality is found among the sexual immorality that Christians are specifically told by God, our Creator, to flee from (e.g. see—1 Cor. 6:15-20).
Leaving aside McLaren's reference to his book ANKoC, I'll point out that in the On Faith piece McLaren does well in personalizing how the issues surrounding homosexuality can be quite painful. McLaren talks about his days as a local pastor and how "a steady stream of church members, their children, and their guests made appointments with me"; apparently sharing that they, or someone close to them, was homosexual. As a pastor myself, and as one in the field of online apologetics and discernment, I can tell you that every one I know would also feel the hurt along with these people.
However, what McLaren says next is really a tactic which results only in causing obfuscation:
All my life I had been told that homosexuality was simply a sinful choice, a yielding to an especially evil temptation… As contrary evidence mounted, I began to wonder which was the anomaly and which was the norm – what I had been taught by authority figures I loved and respected, or what I was seeing in people I also loved and respected? (Online source)
If McLaren held to the biblical evangelical Protestant doctrine of original sin he'd realize that, in the end, all sin is considered a choice by God; in other words, fallen mankind does have freedom of choice, but in our unregenerate nature we will always choose to sin. Without a doubt we are to be loving and kind to everyone. However McLaren has introduced a red herring; in the case of homosexuality, to the Bible-believing Christian it really doesn't matter why one may be attracted to members of the same sex; it matters that they are, just the same as with any sin.
What needs to be understood at this point is that sin separates the unregenerate from God, which is why we preach the Gospel of repentance and the forgiveness of sins in the name of Christ Jesus. Sin, period, is bad; however, the Bible does set sexual sin apart from other sin because it involves one's own body. [2] Brian McLaren has every right to come "to a resolution" that he feels can "be true to God, the Bible, and to my gay neighbors," etc; but what he must not be allowed to do is then try and pass this new version of progressive/liberal theology off as evangelical Christianity.
As one who's been following the neo-liberal cult of the Emerging Church for over half a decade now I'm warning you that the EC is already advancing its agenda to convince us that practicing a homosexual lifestyle is acceptable for the Christian. Closing this for now, with its open embrace of "gay affirming" ministers like McLaren's friend Jay Bakker, and the promotion of Adele Sakler heading up the EC Queermergent group, you need to understand there's a same-sex storm gathering hurricane force which is right now looming only slightly off the horizon of the mainstream evangelical community.
________________________________________________________________________________
Endnotes: 

1. For more the interested reader is referred to Has The Roman Catholic Church Really Changed?, accessed 3/4/10.
2. I cover this further in The Sin Of Homosexuality Is Different, accessed 3/4/10.
See also:
QUICK WORD ON SIN OF HOMOSEXUALITY
BUT DO EMERGENCE CHRISTIANITY AND BRIAN MCLAREN REALLY LOVE GAY PEOPLE?
ENCOURAGEMENT CONCERNING THE EMERGING CHURCH AND JAY BAKKER
RICK BRENTLINGER OF GAY CHRISTIAN 101 AND KEN SILVA
ACTIVELY-GAY "BISHOP" GENE ROBINSON SAME-SEX ACTS ONLY UNNATURAL FOR NON-GAYS