By Ken Silva pastor-teacher on Mar 4, 2010 in Brian McLaren, Current Issues, Emergence Christianity, Emergent Church, Features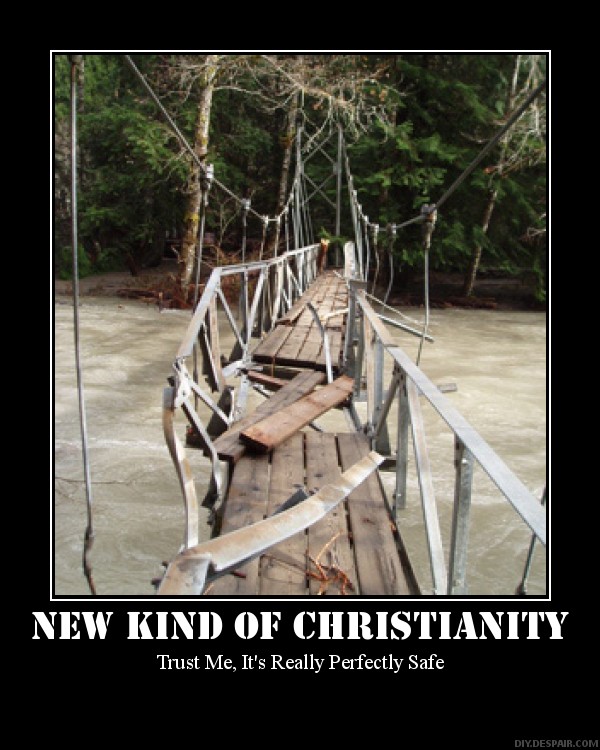 Apprising Ministries showed you yesterday in Brian McLaren Has Moved Away From "Ancient-Future" Faith yet another former supporter of  Emerging Church (EC) leader Brian McLaren recognizing that in his latest book A New Kind of Christianity (ANKoC) McLaren's clearly layed out his updated version of old liberalism, i.e. a new form of Progressive Christianity. Of this Liberalism 2.0 EC sympathizer John H. Armstrong, president of ACT 3, said:
Brian McLaren has moved away from…orthodoxy… Brian's agenda will bring spiritual illness to man. (Online source)
Like I pointed out in my earlier post, it's one thing when Christians like respected Reformed blogger Tim Challies says of McLaren's latest book, "it has taken him into outright, rank, unapologetic apostasy" [1]; or that pastor Kevin DeYoung of The Gospel Coalition tells us McLaren's Christianity is "liberalism dressed up for the 21st century" [2], or Ingrid Schlueter, host of Crosstalk America, shares her view that with this latest book McLaren has now revealed that he "is the second coming of Harry Emerson Fosdick." [3]
Now EC supporters might feel they have an ax to grind; however, when people who're part of the supposed "conversation" of the Emergent Church like respected EC theologian Scot McKnight level the same charge of liberalism concerning McLaren's not-so-new Christianity, those following such as McLaren should pay close attention. In his recent review of ANKoC for the new evangelical staple Christianity Today magazine McKnight said:
One thing about this book is clear: Orthodoxy is not central… [Brian McLaren] has fallen for an old school of thought…it's a rehash of ideas that grew into fruition with Adolf von Harnack and now find iterations in folks like Harvey Cox and Marcus Borg. (Online source)
Of course online apologetic and discernment ministries have been telling the church this for years now. Consider for a moment that McLaren's message is so watered down and polluted that he's now able to be listed in the interspiritual Living Spiritual Teachers Project as teaching a "faith" compatable with others in the project such as uber-liberal Marcus Borg, Quaker mystic Richard Foster, the Dalai Lama, and even New Age guru Marianne Williamson. That ought to be enough to cause more than a little concern.
Against this backdrop I point you now to Reviews: A New Kind of Christianity … Christianity Today, Part 1, which is Brian McLaren's response to Scot McKnight's CT review. But be forewarned; you are about to enter the deepest depths of the wild world of Progressive Christianity with its Humpty Dumpty language where words mean whatever these progressive/liberals want them to mean. I give you the following example as I close this out for now; Brian McLaren actually has the nerve to say:
Some might actually make a case that my book is deeply evangelical. For example, it seeks to honor the authority of the Bible over the authority of creeds and traditional interpretations, while affirming the creeds and respecting tradition. Second, it calls for repentance over some facets of Christian history in light of the Scriptures. (Online source)
I'm suddenly reminded of the story about a large bridge in England that's allegedly for sale…
________________________________________________________________________________
Endnotes: 

1. http://www.challies.com/book-reviews/a-new-kind-of-christianity, accessed 3/3/10.
2. http://thegospelcoalition.org/blogs/kevindeyoung/files/2010/02/Christianity-and-McLarenism.pdf, accessed 3/3/10.
3. http://www.crosstalkblog.com/2010/03/brian-mclaren-an-old-kind-of-liberal/, accessed 3/3/10.
See also:
BRIAN MCLAREN INVITES YOU ON HIS QUEST TO DESTROY CHRISTIANITY
BRIAN MCLAREN A NEW KIND OF CHRISTIAN?
MEET MENTORS AND METHODOLOGY OF BRIAN MCLAREN
PHILIP CLAYTON WITH "BIG TENT" CHRISTIANITY IN THE EMERGING CHURCH
EMERGING CHURCH AND PROGRESSIVE CHRISTIAN THEOLOGY
TONY JONES, THE EMERGING CHURCH AND PROGRESSIVE CHRISTIANITY
THE NEW CHRISTIANS WITH CHRISTIANITY WORTH BELIEVING—NO SOLA SCRIPTURA: YES, WOMEN PASTORS AND QUEER CHRISTIANS