By Ken Silva pastor-teacher on Mar 3, 2010 in AM Missives, Current Issues, Features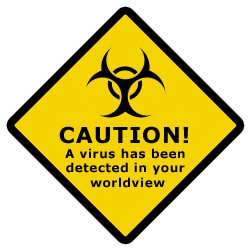 Apprising Ministries has told you about Purpose Driven/Seeker Driven Popes Of TheCarolinas like Perry Noble and his disciple Steven Furtick, who are the next generation fruit of Leadership Network's propped-up Purpose Driven Pope Rick Warren. As a matter of fact Noble has really come of age now after being a featured speaker for his mentor Rick Warren at his recently concluded Radicalis conference, which you can see e.g. in Rick Warren Wants Us To Know Peter Scazzero.
Yesterday Noble made news again in the Christian Post story S.C. Pastor Exposes 'Practical Atheists' among Christians where Lillian Kwan tells us, "Most Americans claim belief in God but many are living as 'Christian atheists,' according to some pastors." She then goes on to inform us of Noble's latest pontifications:
"I'm sick and tired of the fact that people can attend church for ten to 20 years and never change," said NewSpring Church Senior Pastor Perry Noble. "Here's the deal: we believe in Jesus enough to get us out of hell but not actually enough to change the way we live and that's a problem in the church," the S.C. pastor said Sunday to his mega-congregation.

Noble launched a new series titled "Practical Atheist," borrowing the term from fellow pastor Craig Groeschel of LifeChurch.tv who preached on a similar series years back and has a book on the subject coming out this month. (Online source)
If you're at all familiar with the methodolgy employed by these Purpose Driven/Seeker Driven pastors, particularly those like Noble in the cult-like church planting group, you'll know it's not at all uncommon for them to "borrow" each other's terms, and even entire sermons. What's important to understand here is that this Purpose Driven/Seeker Driven movement, along with it's sister movement the Emerging Church, are both rooted in the semi-pelagian (at best) Church Growth Movement vomited out into the visible church from Fuller Theological Seminary.
While we might assume the motivations of the CGM were pure the end result is a version of Christianity which relies on the ingenuity of men to come up with pragmatic means in order to try and bring people into church. Now the pastor, as CEO in the Purpose Driven/Seeker Driven model, must "cast vision" as they make their best attempt to predict the popular trends within our capricious culture. And so, to stay on the cutting edge, such as these are forced to be "clever" and "titillating"; but instead, they have largely become more and more sophomoric.
Kwan tells us, "Practical atheist, or Christian atheist, is defined as someone who believes in God but lives as if He doesn't exist." And further:
Groeschel calls himself a recovering Christian atheist. He says in The Christian Atheist that "Christian Atheism is a fast-spreading spiritual pandemic which can poison, sicken, and even kill eternally." (Online source)
While to the uninformed Noble and Groeschel may sound clever, the truth is, the Body of Christ was forced to confront The Gospel of Christian Atheism and T.J. Altizer in the 1960's. In other words, this kind of linguistic nonsense has already been dealt with; and they don't get to redefine it. Sadly the new kind of Christianity of Emergent Church leaders like Brian McLaren, who along with others adhering to Progressive Christianity jettison proper Christian doctrine in favor of their social reformer Jesus, is actually a lot closer to Christian Atheism than Noble and Groeschel may even know.
The whole Purpose Driven/Seeker Sensitive shtick itself depends on a new pietism that's being passed off as genuine Christianity within evangelicalism today. The root of problem with all of this is those who are involved don't believe in the all-sufficiency of Scripture so they feel they have to "help" God with what is actually known as progressive sanctification. We might simply refer to it as a confusion of Law and Gospel; the preaching of what you need to do, as opposed to what Jesus has already done. It's really not surprising then that we see evangelicalism moving away from Reformation theology.
In The Stealth Offensive Of Neo-Liberalism Into Evangelicalism I drew your attention to the January/February 2010 eJournal from 9 Marks of Mark Dever, which observes "some striking similarities between the ecumenical movement of the 20th century and evangelicalism today." I highly recommend this issue because it deals well with the new evangelical liberalism slithering throughout the church visible today. Specific to my point above concerning the Purpose Driven/Seeker Driven pastors like Noble and Groeschel let me point you to the following from 9 Marks' Jonathan Leeman.
Leeman actually defines the type of liberalism I'm talking about in his Editor's Note when he says:
In general, the danger of liberalism, which we define broadly as gospel-denial within the church, occurs when we allow the world's demands to ring a little too loudly in our ears. It occurs when we let the world dictate the terms of our beliefs or practices. (Online source)
That is at the corrupt heart of the Church Growth Movement, from which sprang both the idea of meeting supposed "felt needs" by the Purpose Driven/Seeker Driven sector, as well as the Kingdom Now/"missional" repainted social gospel of the Emerging Church. Where both of these groups meet is the man-centered message pulling on the heartstrings to make a decision to accept the "better life" Jesus offers and/or join Him in His "mission" to make the world the way God "dreams" for it to be. As a result, what we now have is a church full of what I call mental Christians.
By that I mean people who have intellectually made a "decision" to become a "Christ-follower" after being convinced to "follow the way of God in Jesus" but who may never have been regenerated in the first place. These would be confused and deceived people who think they're Christians; however having never been born again, i.e. literally recreated spiritually by God, no matter how much they may try they have no real ability to live as Jesus. In my opinion, we're seeing this vividly now; and such is the sad state of apostatizing evangelicalism that's never really renounced its humanism.
No, these poor people are not atheists at all; rather, they're simply victims of movements more interested in trying to please the world than in preaching the genuine Gospel of Jesus Christ.
See also:
SBC PROTESTANT PASTOR RICK WARREN DOUBLE-MINDED ON THE REFORMATION AND ROMAN CATHOLICISM
DR. ROD ROSENBLADT CALLS RICK WARREN'S MAN-CENTERED THEOLOGY "ROMAN CATHOLIC"
DAN SOUTHERLAND AND CULT-LIKE HOSTILE TAKEOVER TACTICS OF PURPOSE-DRIVEN/SEEKER-DRIVEN CHURCH TRANSITIONING
PERRY NOBLE SAYS YOU'RE A JACKASS
STEVEN FURTICK CALLS JOEL OSTEEN GREAT MAN OF GOD
BRIAN MCLAREN INVITES YOU ON HIS QUEST TO DESTROY CHRISTIANITY