By Ken Silva pastor-teacher on Mar 5, 2010 in AM Missives, Brian McLaren, Current Issues, Emergence Christianity, Emergent Church, Features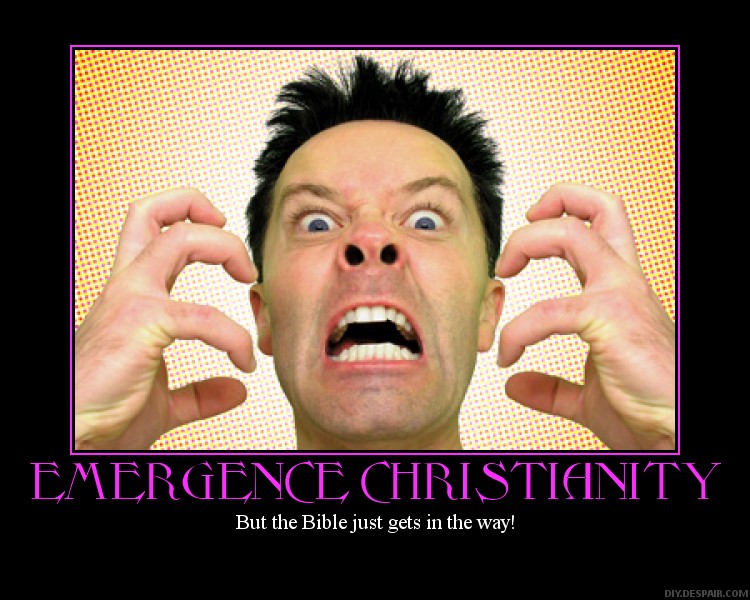 Jim Trageser of North Country Times begins his February 5, 2010 piece Popular author McLaren to address local Episcopal conference by asking "What is an evangelical leader doing talking to a bunch of Episcopalians at a Methodist church?" Well, only in the postmodern world of Humpty Dumpty language could Brian McLaren even remotely be considered "an evangelical leader."
But that aside, Trageser informs us that McLaren, who is a leader in the neo-liberal cult of the Emerging Church, has now decreed that the Protestant Reformation has been done away with:
For popular Christian author Brian McLaren, Episcopalians, Methodists and his own evangelical brethren —- along with Catholics, Baptists, Lutherans, Eastern Orthodox and every other branch of many-splintered Christendom —- are all part of the larger, universal Christian Church. (Online source)
Not only are the Eastern Orthodox and the Roman Catholic Church "part of the larger, universal Christian Church" according to Emergent Church leader now, but it seems McLaren's generous orthodoxy has even expanded to include the non-Christian cult of The Church of Jesus Christ of Latter-day Saints (the Mormons). Trageser quotes McLaren as telling us:
"The thing that gives me hope is that there's an attitude among Christians on the ground where so many of us are sick of the kind of debates and fights that cause Christians to vilify one another." McLaren said even churches such as the Church of Jesus Christ of Latter-day Saints, which many mainstream Christian denominations consider outside the Christian fold, should be welcomed. (Online source)
And there's even more; over at his blog Mike Clawson, an "aspiring church historian" in the Emerging Church, tells us:
Brian McLaren has graciously offered to answer some of the questions I have for him about his latest book, A New Kind of Christianity, which I reviewed here last week. (Online source, italics his)
You may recall from the Apprising Ministries post A Conversation About The Emerging Church With Mike Clawson And Ken Silva we have a bit of history; and you might also remember that Mike's wife Julie Clawson was one of the "voices" at the EC apostasia-palooza Christianity 21, which was put on by EC universalist pastor Doug Pagitt and his theologian in residence Tony Jones back in October of last year.
What's interesting to note here is the following among Mike Clawson's questions for Brian McLaren. Clawson first sets McLaren up so the EC leader can give the usual Emergent Church line that they don't claim to have it all figured out blah, blah, blah—just try and disagree with one of them—and then Clawson asks:
And more importantly, wouldn't that imply a rather pessimistic view of the Holy Spirit and her work of guiding the church throughout the past 20 centuries? (Online source, underline mine)
It's actually very common now in EC circles to hear about their "holy spirit" who's feminine. And it's very telling that in his answer McLaren never does not correct Clawson. If I was asked that question, as a pastor-teacher, I am under obligation to correct that misinformation because Jesus tells us very clearly Whom He was going to send to guide His Church:
"But I tell you the truth, it is to your advantage that I go away; for if I do not go away, the Helper will not come to you; but if I go, I will send Him to you. And He, when He comes, will convict the world concerning sin and righteousness and judgment; concerning sin, because they do not believe in Me; and concerning righteousness, because I go to the Father and you no longer see Me; and concerning judgment, because the ruler of this world has been judged."

 "I have many more things to say to you, but you cannot bear them now. But when He, the Spirit of truth, comes, He will guide you into all the truth; for He will not speak on His own initiative, but whatever He hears, He will speak; and He will disclose to you what is to come. He will glorify Me, for He will take of Mine and will disclose it to you. All things that the Father has are Mine; therefore I said that He takes of Mine and will disclose it to you." (John 16:7-15, NASB)
Then He, God the Holy Spirit, alerts us in 2 Corinthians 11:4 — For if someone comes and proclaims another Jesus than the one we proclaimed, or if you receive a different spirit from the one you received, or if you accept a different gospel from the one you accepted, you put up with it readily enough. You need to understand that there are other Jesuses, different spirits, and different gospels.
And I think that it's well past time for evangelical leaders to finally put out of their camp once and for all such as these in the Emerging Church preaching another Jesus who's largely but a social reformer, who follow some other feminine spirit,  and who have another gospel where even unregenerate non-Christian cultists and apostate religious systems are Christians.
See also:
BRIAN MCLAREN INVITES YOU ON HIS QUEST TO DESTROY CHRISTIANITY
IF YOU TRULY LOVE "JESUS" THERE ARE NO BOUNDARIES FOR THE "CHRIST-FOLLOWERS"
YOU LOVE JESUS; GOOD FOR YOU, BUT WHICH ONE?
CHRISTIANITY 21: EMERGING VOICES OF A PSEUDO-CHRISTIAN FAITH
THE NEW CHRISTIANS WITH CHRISTIANITY WORTH BELIEVING—NO SOLA SCRIPTURA: YES, WOMEN PASTORS AND QUEER CHRISTIANS
APPRISING MINISTRIES WITH A PEEK AT THE COMING SOTERIOLOGY OF EMERGENCE CHRISTIANITY