By Ken Silva pastor-teacher on Apr 21, 2010 in AM Missives, Emergence Christianity, Emergent Church, Features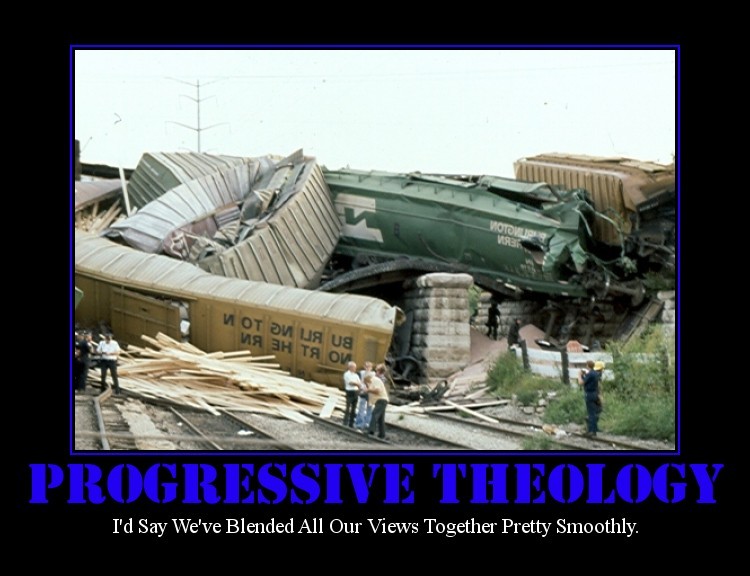 This is a little bit of a follow up to the Apprising Ministries article Missing Memo On The Death Of The Emerging Church?
Although some may see this as a sign of the beginning of the Apocalypse I actually agree with Emerging Church guru Brian McLaren when he says, "In my view, reports of the conversation's demise are greatly exaggerated. In some cases, they represent wishful thinking; in other cases, a limited frame of reference."
And your key to what's happening is found in what he says next "what we call 'the emergent conversation' may in fact be chapter 3 or 7 or 123 of a much longer storyline." [1]
It's important to realize that the Emergent Church was first and foremost a full-on attack against the original cult of liberalism aka modern theology; and its "big tent" version of Progressive Christianity, a Liberalism 2.0 sometimes referred to as Emergence Christianity, has won out. This brings us to an article today at Religion Dispatches by Daniel Schultz called Trend Watch: "Progressive Christian".
Schultz, who is himself a minister in the United Church of Christ, begins by asking the question: Is the Spirit moving in Christianity, or will "Progressive Christianity" be last year's handbag? Then he says:
I've been noticed a boomlet of sorts in the use of the phrase "progressive Christianity." It seems like many more people are willing to embrace that descriptor than have in recent years. (Online source)
As someone whose job it is to monitor Intel concerning the church in the still developing mission field of online apologetics and discernment ministry I have seen the same thing as Schultz. As I see it, the main thrust of his helpful article is about his concern that this progressivism not be " just [about] their politics" but be more "about who we are or who we are meant to be as church." Says Schultz:
That's important because of course we're not talking about God-flavored political progressivism, but about Progressive Christianity. If that perspective is to make it very far as a theological perspective, it's going to have to develop beyond being nice and liberal. "Honest grappling with the questions" is a good start, as is "radical hospitality," but there's more to it than that. There always is.

The ideas will need to be fleshed out and communicated as faith claims if  "Progressive Christianity" is ever going to mean anything more than "hey, not all Christians are reactionary jerks." (Online source)
Then Schultz will likely be happy about an upcoming EC conference called Big Tent Christianity: Being and Becoming the Church, which I'll get to in a moment. First, actually Schultz was quoted in an article yesterday Do No Shared Christian Convictions Remain? by Dr. Philip Clayton, whom I've introduced you to e.g. in Philip Clayton With "Big Tent" Christianity In The Emerging Church. After quoting what Schultz said in a prior post Dr. Clayton offers:
The symmetry between Rev. Schultz's piece and those whom he's attacking is perfect. Schultz rejects dialogue with evangelicals because they're too far to the right. This drives him further to the left, and now he doesn't want to be found in any tent they are in.

The whole exchange shows even more strongly how urgent it is to reclaim a Big Tent Christianity, a centrist return to "just Christian" in word and action. The two poles are driving each other ever further apart, spawning ever deeper hostilities. (Online source)
And this is why the EC is not dead; it's even now working on cobbling together its new form of progressive/liberal theology through the work of progressive theologians like Dr. Clayton and his uber-liberal theologian friend Harvey Cox. In fact, Dr. Clayton's speaking about the aforementioned Big Tent Christianity: Being and Becoming the Church (BTC) with Brian McLaren in the video below, as well as when he says:
Does the exchange [between liberals and evangelicals] make me worry that the public conference on "Big Tent Christianity" that we're planning for Raleigh, NC on September 8-9 is a mistake? No, it seems even more urgent than before to invite the combatants to lay down their weapons and to look for something deeper and more enduring in Jesus' call to the kingdom of God. (Online source)
When we examine the roster of teachers for BTC we get another indication that the Emerging Church is far from dying as it's a veritible who's who around the EC. We find both Dr. Clayton and McLaren on "Today's "Big Tent": Being and Becoming the Church"; Red Letter Christian and historian Diana Butler Bass and Phyllis Tickle, the Empress of Emergence, to teach us "Transcending Left/Right Thinking"; heretical progressive/liberal theologians Tony Jones and Harvey Cox on "Frontier Thinking of Big Tent", and gay-affirming EC "pastor" Jay Bakker sharing about "Ministry with Those in the Margins".
Then, in addtion, there's also the heretical Greg Boyd, a leading proponent of Open Theism, oddly enough teaching "Tell the Good News for the Future" and we're told that, "Participants also include" head of the EC OOZE Spencer Burke, a Christian universalist; Wesley Granberg-Michaelson, who's general secretary of the Reformed Church in America and a proponent of corrupt Contemplative Spirituality/Mysticism, along with the heretical EC pastor and universalist Doug Pagitt. We're also informed that Dr. Clayton's group has even received "a generous grant from the Ford Foundation" for its work.
And then there's the inaugural East Coast Gathering April 30th of the TransFORM Network, with all the EC luminaries. So it's pretty clear that the church had best be prepared to deal with an Emerging Church 2.0 spreading, as a spiritual cancer, its postmodern version of progressive/liberalism in a big tent Emergence Christianity incorporating e.g. elements of neo-Gnosticism, neo-paganism, Integral Theory and Emergence Theory. It isn't going to go away; and furthermore, it's very likely to have already been injected into the Young Adult and Youth ministries of your mainstream evangelical church.
In other words, this Emerging Church 2.0 is much closer to you than you may even know, and the rejection of Sola Scriptura by evangelicalism insures its spread. And here's the heart of the matter:
Join us to celebrate the blessed tie that binds. Join us to celebrate "one Lord, one faith, one baptism". Join us to celebrate what God's Spirit is doing in and through the Church today! (Online source)
Sounds great right; "one Lord, one faith, one baptism". It's biblical; Ephesians 4:5—so what's wrong with that? Nothing. However, just as it's always been, it's all about how one answers the question: Just Who is this one Lord Jesus? As I told Dr. Clayton, who appears to me to be a very nice and sincere person, in our pleasant exchange in the combox of his Do No Shared Christian Convictions Remain?:
Philip,

You say: "Ken Silva and I would agree…" And then you said: "We both think that your beliefs about Jesus — and, I hope, how you live out those beliefs — are the most important topic to discuss."

I would say you're correct in that; and I'm not looking to disagree, however to believe wrong concerning Who Jesus is renders how you live out those wrong beliefs of no account re. soteriology.

We don't decide who's "in" and who's "out"; one's beliefs do that, prior to regeneration everyone's already out. The critical question is: How does one get "in" in the first place. (Online source)
For you see, without that bad news, the Gospel of repentance and forgiveness of sins in Jesus' Name makes no sense.
_________________________________________________________________________
Endnotes
1. http://tinyurl.com/25kd2tp, accessed 4/21/10.
See also:
DIANA BUTLER BASS ON CHRIS ROSEBROUGH, INGRID SCHLUETER, AND KEN SILVA IN SIN
BRIAN MCLAREN AND HIS NEW EMERGING PROGRESSIVE THEOLOGY
THE EMERGING CHURCH, PHILIP CLAYTON, AND NEW PROGRESSIVE THEOLOGY
THE PROGRESSIVE RESURRECTION OF ROB BELL
THE EMERGING CHURCH AND THE NEW PROGRESSIVE THEOLOGY ON OTHER RELIGIONS
THE EMERGING CHURCH AND THE NEW PROGRESSIVE THEOLOGY ON CHRIST