By Ken Silva pastor-teacher on Apr 15, 2010 in AM Missives, Brian McLaren, Current Issues, Emergence Christianity, Emergent Church, Features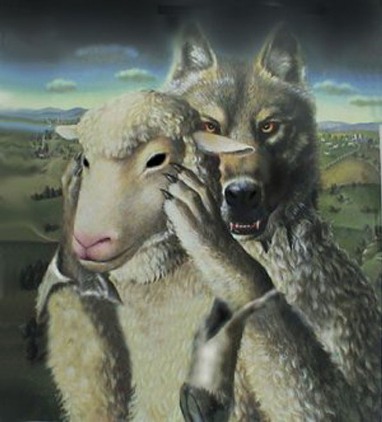 Apprising Ministries has been warning you concerning the "big tent" version of Progressive Christianity [read: universalism] still being cobbled together by the likes of uber-liberal Harvey Cox along with his friend panentheist progressive/liberal theologian Dr. Philip Clayton, himself friends with Emerging Church guru Brian McLaren.
We know from Scripture that the enemy controling the seducing spirits using such as these is already driving them all toward a Global religion anyway; and because of this, we'll be seeing them cross pollinating more and more. In fact, consider the following names below who are all endorsing The Future of Faith, which is the latest book by liberal theologian Harvey Cox. 
Note that you have a progressive/liberal Roman Catholic, the president of an obstensibly evangelical seminary, three Red Letter Christians—who also each adhere to that new progressive Christian theology I mentioned above—which McLaren's laying out in his latest book, and a pantheist New Age mystic; and they are all enamored with this "resurrection of a new global Christianity."
You'd be wise to prepare for some very rough spiritual waters, which unfortunately, lie dead ahead:
Harvey Cox is the most important liberal theologian of the last half century because he could see around corners…. The Future of Faith is, quite simply, a beautiful book and a Cox classic.
—E. J. Dionne Jr., author of Souled Out
 
The Future of Faith is insightful, provocative, and inspiring—I found myself uttering a hearty evangelical 'Amen' at many points!
—Richard Mouw, president of Fuller Theological Seminary and author of Calvinism in the Las Vegas Airport
This important book has not only helped me understand the past, present, future of this amazing phenomenon called Christianity . . . it has also motivated me to keep working to help make actual the possible future Cox envisions.
—Brian McLaren, author of A New Kind of Christian

The Future of Faith is a tour de force. As passionate and challenging as his classic, The Secular City, Cox's new book invites the faithful, the skeptical, and the fearful intp a spirit-filled version of Christianity that can renew a hurting world.
—Diana Butler Bass, author of A People's History of Christianity

Cox brings the eye of an historian and the heart of a theologian to explain where we've come from and where we're going. The Future of Faith is an essential guide to that future.
—Jim Wallis, president of Sojourners and author of The Great Awakening

Harvey Cox has been a voice of both reason and faith in our cynical times. Now, he offers a fresh vision for the resurrection of a new global Christianity that will restore our faith both in ourselves and in the divine.
—Deepak Chopra, author of Jesus: A Story of Enlightenment
See also:
DIANA BUTLER BASS ON CHRIS ROSEBROUGH, INGRID SCHLUETER, AND KEN SILVA IN SIN
BRIAN MCLAREN AND HIS NEW EMERGING PROGRESSIVE THEOLOGY
THE EMERGING CHURCH, PHILIP CLAYTON, AND NEW PROGRESSIVE THEOLOGY
THE PROGRESSIVE RESURRECTION OF ROB BELL
 THE EMERGING CHURCH AND THE NEW PROGRESSIVE THEOLOGY ON OTHER RELIGIONS 
THE EMERGING CHURCH AND THE NEW PROGRESSIVE THEOLOGY ON CHRIST