By Ken Silva pastor-teacher on Mar 19, 2010 in Current Issues, Emergence Christianity, Emergent Church, Features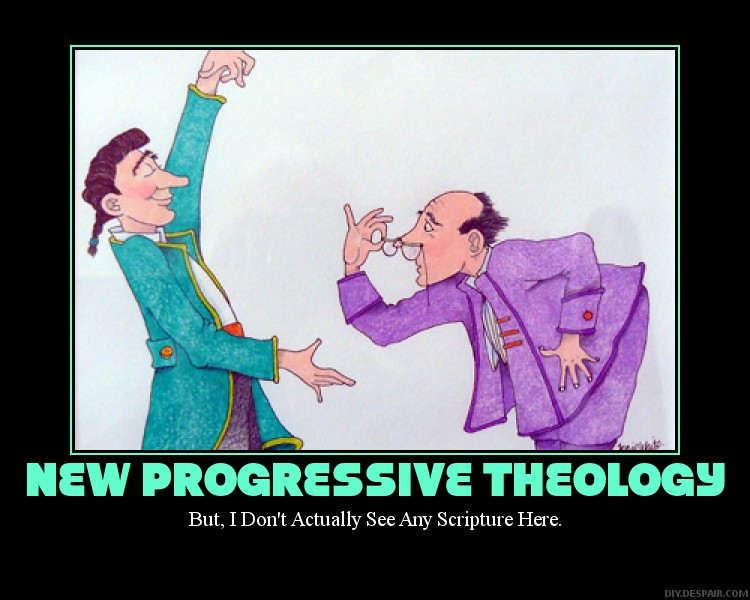 For the time is coming when people will not endure sound teaching, but having itching ears they will accumulate for themselves teachers to suit their own passions, and will turn away from listening to the truth and wander off into myths. (2 Timothy 4:3-4, ESV)
The Emporer's Clothes
Apprising Ministries has been tracking the Emerging Church for you as it continues coming out of the closet, and in more ways than one, with its new version of Progressive Christianity—Liberalism 2.0—that's now being cobbled together e.g. by folks like progressive/process theologian Dr. Philip Clayton along with the Emergent Church trinity of Brian McLaren, universalist pastor Doug Pagitt, and his own progressive theologian in residence Tony Jones.
With McLaren's new book A New Kind of Christianity and the recently concluded heresy-fest Theology After Google (TAG) the Emerging Church 2.0 have now begun their latest offensive against the historic, orthodox, Christian faith. The goal now is to advance their new de-formation of progressive/liberal theology called Emergence Christianity right into the very heart of largely spiritually obtuse mainstream evangelicalism.
In much the same way as what the late Dr. Walter Martin had dubbed circa 1985 the Cult of Liberal theology once infected the mainline denominations a few decades ago people involved with the neo-liberal cult of the Emerging Church slowly took over the leadership positions within mainstream denominations, its related seminaries, and pumped out relentless revisionist propaganda through evangelical publishing houses to begin their indoctrination.
The EC, which is another arm extending from the same Druckerites who launched the Purpose Driven/Seeker Driven movement, most specifically targeted Young Adult and Youth groups through "alternative worship" that included the virus of corrupt Contemplative Spirituality/Mysticism (CSM) under the guise of the so-called Spiritual Formation of neo-Gnostics like Living Spiritual Teacher and Quaker mystic Richard Foster and his spiritual twin Dallas Willard.
Remember, Brian McLaren did tell you that Foster and Willard were "key mentors" in the EC; and so they were, helping unload their romanticized version of Roman Catholic Counter Reformation spirituality that serves to short out one's critical thinking skills. Scott Hodge Shares His Love For Julian Of Norwich shows how far this CSM has spread because he's one of the fast rising stars of the Druckerite Purpose Driven/Seeker Driven movement ala Perry Noble and his disciple Steven Furtick.
And yet there's Hodge, ostensibly a mainstream evangelical Protestant, paying homage to an apostate (at best) ascetic Roman Catholic mystic as a fine example of seeking direct experience with "God." What I'm doing now is beginning to show you glimpses of where this latest EC offensive and their goal of further transforming Christian theology, to use Philip Clayton's term, which comprises the title of his latest book. In fact, behind TAG was Clayton's Transforming Theology project:
Some churches and denominations possess robust and potentially revolutionary theologies but are rather less active in successful in bringing about the changes that their beliefs imply. Others are deeply involved in transformative action but seem to have trouble formulating exactly what are the distinctively Christian beliefs that motivate these actions…

 [A] part of the website, and of our overall project, is dedicated to those Christians who are writing and working in powerful and accessible ways to transform church and world. We are identifying these men and women, publicizing their work, making their books available to bloggers and to the media, recording interviews with them that can be downloaded as podcasts — in short, creating a network of theologians whose work is transformative. (Online source)
In closing this out, for now, I'll tell you that the videos I placed here below feature some of the progressive theologians associated with this "overall project" working "to transform church and world." These "Christian thinkers" are responding to the question: "What Did God Do in Christ That We Couldn't Do for Ourselves?" I do believe you'll find their answers most interesting.
Part One

Part Two

See also:
THE NEW CHRISTIANITY OF BRIAN MCLAREN AND THE EMERGING CHURCH 
BRIAN MCLAREN INVITES YOU ON HIS QUEST TO DESTROY CHRISTIANITY
THE EMERGING CHURCH, PHILIP CLAYTON, AND NEW PROGRESSIVE THEOLOGY
LIBERALISM 2.0 THE NEW PROGRESSIVE CHRISTIAN THEOLOGY
THE NON-GOSPEL OF THE EMERGING CHURCH 2.0
CALLID KEEFE-PERRY, KEN SILVA, AND THEOLOGY AFTER GOOGLE
THE EMERGING CHURCH PUSHING PROGRESSIVE THEOLOGY IN GOOGLE ERA