By Ken Silva pastor-teacher on Mar 19, 2010 in AM Missives, Brian McLaren, Current Issues, Emergence Christianity, Emergent Church, Features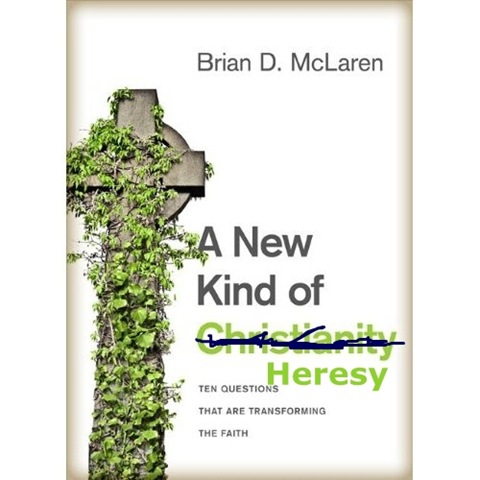 The actual headline for this short report from Baylor University is: Christian Author to Speak at Intersections Lecture, but Emerging Church guru Brian McLaren is no brother of mine. Baylor student newswriter Lillyan Baker tells us:
Dr. Brian McLaren, a Christian author, speaker, blogger and networker, will present his lecture "Beyond Absolutism, Pluralism, Relativism" at 7 p.m. Monday, March 22, in the Alexander Reading Room on the Baylor campus.

The event, which is free and open to the public, is part of the Intersections Lecture Series, which is hosted by Baylor's Honors College and the department of student activities. Intersections explores the connection between faith, culture and theology through topics such as faith related to art, literature, politics and more… (Online source)
Concerning McLaren as "author, speaker, blogger and networker," I'd also add heretic. The fact is, his A New Kind of Christianity begins laying out systematically the postmodern form of progressive/liberal theology aka Emergence Christianity—Liberalism 2.0—McLaren personally believes; and because he's done so we can now clearly see that Brian McLaren has now departed from anything even remotely resembling the historic, orthodox, Christian faith.
See also:
THE NEW CHRISTIANITY OF BRIAN MCLAREN AND THE EMERGING CHURCH 
BRIAN MCLAREN INVITES YOU ON HIS QUEST TO DESTROY CHRISTIANITY
LIBERALISM 2.0 THE NEW PROGRESSIVE CHRISTIAN THEOLOGY
THE NON-GOSPEL OF THE EMERGING CHURCH 2.0
THE EMERGING CHURCH, PHILIP CLAYTON, AND NEW PROGRESSIVE THEOLOGY
CALLID KEEFE-PERRY, KEN SILVA, AND THEOLOGY AFTER GOOGLE
THE EMERGING CHURCH PUSHING PROGRESSIVE THEOLOGY IN GOOGLE ERA