By Ken Silva pastor-teacher on Dec 8, 2009 in Current Issues, Features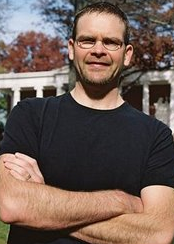 Perry Noble, lead vocalist pastor of NewSpring Church, says that the Christian who wants to go deeper into God's Word is a "jackass." He also quotes John Maxwell telling us the following pietistic foolishness that supposedly "most Christians are educated way beyond their level of obedience anyway."
In Hip Pastor Blasts Those Who Want To Go Deeper in God's Word over at The Crosstalk Blog Ingrid Schlueter shows how seriously off-track this man-centered seeker-sensitive movement, built as it is on cult-of-personality pastors, has become when she brings out:
Rock star pastor Perry Noble of NewSpring Church in Anderson, South Carolina, says you are a jackass if you're sick of shallow seeker sermons and want to go deeper into God's Word. Yes, you read that sentence correctly.

Noble has led the nation's lemming pastors into new frontiers of circus church. Who would have ever thought to use AC/DC's Highway to Hell as a church prelude before Noble hit the scene? (source)
You may recall that yesterday Apprising Ministries ran the post Dr. James Duncan On Pirate Christian Radio To Discuss Issue With Perry Noble's Newspring Church wherein Duncan, Associate Professor of Communication at Anderson University, lays out what he first told us about in Holy rage at the 'Spring at his Pajama Pages blog.
Duncan elaborates for us:
how NewSpring insiders attempted to corrupt my family, sabotage an adoption, destroy my career, and ruin my reputation. This campaign, which became the subject of a police investigation, was conducted with the knowledge and encouragement of NewSpring's senior leadership. (Online source)
That PCR program mentioned above is now archived here in Perry Noble's Employees Assassinate the Character of a Critic. My friend Chris Rosebrough also happens to be the Curator of the Museum of Idolatry at his website A Little Leaven.
In introducing this video clip of Perry Noble, who as you'll see in Rick Warren Radicalis will be sharing the platform at Saddleback Church in February with Warren and Mark Driscoll,  Rosebrough informs us:
Here is Pastor Goat Herder Perry Noble speaking to a group of 2,000 pastors and explaining to them about the Jackasses in the church who are complaining about the shallow seeker-driven sermons and want to go deeper in God's Word. (Online source)
See also:
PERRY NOBLE PAYS HOMAGE TO RICK WARREN AND TELLS HIS CRITICS "THEY CAN KISS MY…"
PERRY NOBLE REBUKES ROB BELL!?
BRAD COOPER OF PERRY NOBLE'S NEW SPRING CHURCH WITH A VERY FOUL-MOUTHED REFERENCE TO "WORSHIP"
PURPOSE-DRIVEN POPES OF THE CAROLINAS HAVE SPOKEN
PERRY NOBLE SOUNDING NOT SO NOBLE