By Ken Silva pastor-teacher on May 3, 2010 in Current Issues, Features, Homosexuality/"Christian"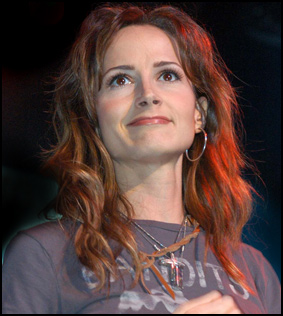 That's the headline from the report I cite from the pro-gay website Truth Wins Out:
I'm sure this will surprise no one who's involved in the country music world, as country music is much like Christian music, in that it's full of closeted gay people.  But many country fans may be surprised to find out that Chely Wright is a lesbian… (Online source)
TMZ is the one who broke the story Saturday in Chely Wright — She's Coming Out. Over this past year Apprising Ministries has been covering gay-affirming "pastor" Jay Bakker of Revolution:NYC and as I told you in Jay Bakker Reflects The Sad Condition Of The Visible Church, make no mistake, Bakker's star is on the rise within the sinfully ecumenical Emerging Church—which is a cult of neo-liberalism now entrenched firmly within mainstream of the visible church.
In fact, Bakker is tip-of-the-spear pushing for acceptance within evangelicalism that the deviant and sinful lifestyle of having sexual relations with another of the same sex, i.e homosexuality, is a viable one for the regenerated Christian. This is a key EC point of attack as it continues its assault upon proper biblical Christianity; and Bakker's whole shtick is spreading the myth that the practice of homosexuality isn't always sinful.
And while Wright is the first fairly well-known Country music artist to come out, it's the reports concerning her apparently also claiming to be a "devout Christian" which forms our concern here in making you aware of this story. This is because the pro-LGBTQ website The Bilerico Project informs us further:
The internet has been full of rumors and ideas about who would be coming out on the cover of People magazine next week and TMZ has the inside scoop. Country singer Chely Wright, 39, will come out of the closet publicly and announce that she's joining the board of Faith In America…

Known as a devout Christian, the close association with Faith In America is a natural fit for the country superstar. "Her life experiences drew her to the work FIA is doing," Mitchell Gold, Faith In America's founder, told me. "She knows this is a big part of the change we need."

"Chely has made a commitment, like me, that not one more kid should go through what we went through. We often talk about having the right messengers deliver the messages of equality to various audiences," Gold said. "Well, now we have one – a shining star – that will touch an audience I dare say none of us could ever dream to. I think this is going to be significant."

Cathy Renna, a lesbian public relations guru who's assisted many celebrities in coming out, also thinks that Wright's disclosure will make a positive impact. "Chely Wright's coming out is impactful in ways that most activists, coastal and blue state dwellers and cynics just will not get: this is a major country star who is true to her faith and wiling to talk about the pain caused by the closet and the religious bigotry she has experienced," Renna said…
(Online source)
Mainstream evangelicalism, which in practice does not adhere to Sola Scriptura, had better brace itself for the onslaught of the pro-gay agenda the Emergent Church has already been preparing for having embedded itself within your Young Adult and Youth Groups for years now.
See also:
WHAT JAY BAKKER WISHES THE BIBLE SAID ABOUT HOMOSEXUALITY 
GAY CHRISTIAN SINGER JENNIFER KNAPP OUT ON LARRY KING LIVE
THE SIN OF HOMOSEXUALITY IS DIFFERENT 
BUT DO EMERGENCE CHRISTIANITY AND BRIAN MCLAREN REALLY LOVE GAY PEOPLE? 
HOMOPRESSION IS AT LEAST AS BAD AS HOMOPHOBIA  
RICK BRENTLINGER OF GAY CHRISTIAN 101 AND KEN SILVA