By Ken Silva pastor-teacher on Sep 15, 2010 in Current Issues, Features, Rick Warren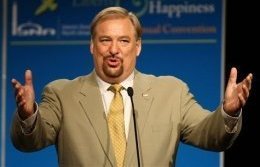 Apprising Ministries draws your attention to the following tweet from Purpose Driven Pope Rick Warren, who's been pronounced "doctrinal and sound" by Dr. John Piper who is giving Warren a forum within the Reformed camp as keynote speaker at the Desiring God Conference 2010:
Rck Warren is bestowing his PD/SD blessing upon the men who are appearing at the conference below, which is tomorrow. PDL Pope Warren himself was originally scheduled for the Evening Session but had to bow out:
See also:
RICK WARREN WANTS US TO LEARN FROM HENRI NOUWEN
KAY WARREN, HENRI NOUWEN, AND CONTEMPLATIVE SPIRITUALITY
SADDLEBACK CHURCH, RICK WARREN, AND SPIRITUAL DISCIPLINES 
NEW CALVINISM'S MARK DRISCOLL ENCOURAGES CONTEMPLATIVE SPIRITUAL DISCIPLINES?
ACTS 29 NETWORK AND REFORMED COUNTER REFORMATION SPIRITUALITY?
PERRY NOBLE SAYS YOU'RE A JACKASS