By Ken Silva pastor-teacher on Oct 3, 2010 in AM Missives, Current Issues, Features, Rick Warren, Word Faith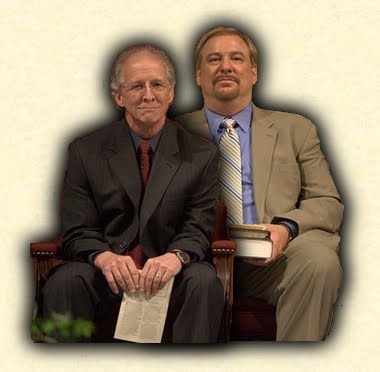 For the time is coming when people will not endure sound teaching, but having itching ears they will accumulate for themselves teachers to suit their own passions, and will turn away from listening to the truth and wander off into myths.
(2 Timothy 4:3-4)
Discerning By Niceness
By carrying posts like Desiring God Selling Bible Study Method Of Rick Warren!?, Rick Warren—Scripture Twisting Is Not 'Doctrinal And Sound', and Rick Warren: Piper Approved!, Apprising Ministries showed you what some of the finest writers in online apologetics and discernment ministry had to say after Dr. John Piper featured Purpose Driven Pope Rick Warren as a keynote speaker at the DG 2010 conference Think: The Life of the Mind & the Love of God.
Now Ed Stetzer, one of the new breed postmodern New Calvinists like Dr. Piper, whined about alleged "angry Calvinists," which is essentially applied to any people who dare criticize those who are elected as Evangelical Untouchables:
Well Dr. Stetzer will really have his hands full trying to rebut Biblically the work of Rosebrough, Pack, and Neades above concerning Rick Warren with his people-pleasing pragmatism and multi translation-paraphrase Play-Doh Bible he shapes any way he wishes. Now that Warren's won the day within the neo-Reformed camp what you're about to see slithers even closer into the mainstream of evangelicalism behind the wide-ranging reach of Rick Warren.
Are you ready for a date with destiny in some New Apostolic Reformation; it's not as far-fetched as you might imagine. I've been showing you lately that Seducing Spirits Are Sounding The Same; take for example, the below is from the puff piece promoting a 2008 book written by well known Word Faith preacher, and regular TBN shill, Jentezen Franklin:


(Online source, emphasis mine)
I use Franklin as an example, because as I showed e.g. in Charismatic Quasi-Prosperity Preacher Judah Smith, PDL Pope Warren has officially placed his blessing upon the Purpose Driven/Seeker Driven ministries of the men below in the following tweet: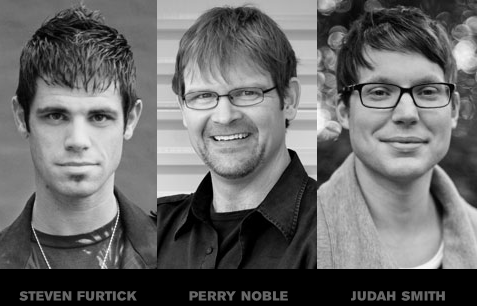 (Online source)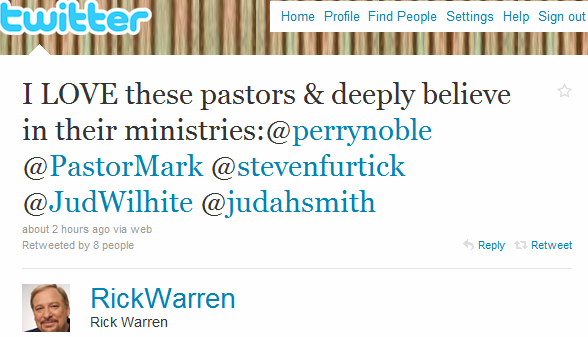 (Online source)
You need to know that pastor Perry Noble, one of the Popes of the Carolinas along with his disciple Steven Furtick, has already had JentezenFranklin teach his own church via video:
PD.SD pastor Furtick himself was actually a featured speaker this year at Jentezen Franklin's Forward 2010 Conference:
As was another PD/SD Warrenite, charismatic pastor Judah Smith:
Well, here's Franklin again from August of this year:
Be sure that you don't sacrifice your "i must" for an "i want to" because sometimes your "i want to" is in direct contradiction with your purpose, and the destiny, and the plan god [sic] has for your life. (Online source)
The Myth Of The God-given Dream As Your Date With Divine Destiny
Another indication of the Word Faith movement moving more mainstream comes when Warrenite Steven Furtick gushed about his meeting with Word Faith mogul Joel Osteen in September of a year ago. Notice this PD/SS mainstream evangelical pastor even calls this heretical Word Faith pastor "a great man of God":
Well, after an unbiblical appeal for people to make a decision to "accept Jesus," following is the bit of myth to which Joel Osteen then directs them:
Okay you say, "but what does this have to do with Rick Warren?" Hey, easy there sensitive seeker, maybe you recall Dr. Laverne Adams And Rick Warren Driven By Destiny? and Rick Warren Teaching The Law Of Attraction? where we brought to your attention another spiritually whacked Word Faith flake who goes by the name:
Our Doctor of Destiny is fond of musing man-centered mythology like:
But you say, "I still don't see any connection to Rick Warren." Well then, you should have driven slower seeker, and then you'd see my purpose; did you know that Dr. Destiny has a book coming out on the 10th of this month: 10/10/10.
She does, and the foreword to the Divine Destiny Doctor's book is done by none other than Rick Warren:
Earlier I had said I found it rather curious that Southern Baptist pretending to be Protestant pastor Rick Warren would help promote the work of a woman pastrix who's in violation of God's Word; well, considering all of the blurring of doctrinal lines above, coupled with the following, it's making perfect sense: They're all following the same deluded doctrine.
Consider Pastor Rick Unveils Plan for Decade of Destiny and Challenges the Men of Saddleback where we find:
Interesting; this Destiny-fest kicks off the day Destiny Doctor's book drops…you know, the one that Rick Warren did the foreword for:
Then yesterday Pastor Rick Warren posted his latest edition of:
Where he announced:
I don't know about you, but it sure looks to me like there's a deeper connection here between Rick Warren and the Doctor of Destiny Laverne Adams than immediately meets the eye. Pastrix Adams is with an organization "under the direction of Bishop David Evans"; and David Evans himself is a well known Word Faith heretic and regular on the Trinity Broadcasting Network, a veritible haven of heresy.
And so, the convergence continues as alliances are being made among people whom, just a few short years ago, we'd never even have imagined would occur. Well, to paraphrase Dr. John Piper: I'm gonna need help to know why we should feel anything but bad about his quite dubious decision to expose Rick Warren to the Reformed camp when it patently obvious that he promotes these kinds of false teachers.
See also:
INFLUENCES: RICK WARREN AND C. PETER WAGNER OF NEW APOSTOLIC REFORMATION
RICK WARREN WANTS US TO LEARN FROM HENRI NOUWEN
RICK WARREN ON FLAVORING MAN-PLEASING SERMONS
IS THIS DOCTRINAL AND SOUND DR. JOHN PIPER?
PERRY NOBLE SAYS YOU'RE A JACKASS
STEVEN FURTICK A PROPHET OF GOD?
REDEFINING THE CHURCH: THE CHURCH GROWTH MOVEMENT'S UNBIBLICAL DEFINITION OF THE CHURCH