By Ken Silva pastor-teacher on Sep 29, 2010 in Current Issues, Features, Rick Warren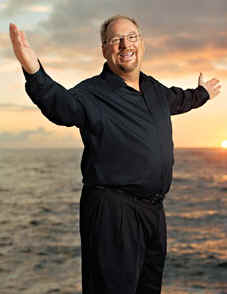 Apprising Ministries reminds you that, having been pronounced "doctrinal and sound" by Dr. John Piper, Purpose Driven Pope Rick Warren is set to be a keynote speaker at the DG 2010 conference Think: The Life of the Mind & the Love of God beginning Friday.
As an example of some of the Church Growth Movement wisdom Warren regularly dispenses I point you to this tweet from Rick Warren Ministry Toolbox a little earlier today:
The link goes to Flavoring your sermons for impact by Rick Warren where the PDL Pope shares in his bull:
The Bible says in Colossians 4:6 (RSV), "Let your speech always be gracious, seasoned with salt." When you cook a meal, the flavoring is not the meat, but it sure makes the meat taste better.  The same is true for your sermons. (Online source)
Um, well unfortunately this is the fallacy of the false analogy; cooking a meal is a natural thing that we prepare, preaching from God's Word is a supernatural thing, which He must empower. As Dr. John MacArthur has pointed out, this verse reminds us that:
Just as salt not only flavors, but preserves corruption, the Christian's speech should act not only as a blessing to others, but as a purifying influence of the decaying of the world.[1] 
Next Warren quotes:
Chuck Swindoll [who] says: "If you think that the gathering of biblical facts and standing up with a Bible in your hand will automatically equip you to communicate well, you are deeply mistaken. You must work at being interesting. Boredom is a gross violation. Being dull is a grave offense. Irrelevance is a disgrace to the Gospel. Too often these three crimes go unpunished and we preachers are the criminals." (Online source)
Wow. That's just about as close to denying the all-sufficiency of God's Word as it gets. Warren really lays the Law down thru Swindoll, "You must work at being interesting. Boredom is a gross violation. Being dull is a grave offense." Where do we find this in the Bible regarding preachers of God's Word?
Answer: Nowhere. However, we do find:
And I, when I came to you, brothers, did not come proclaiming to you the testimony of God with lofty speech or wisdom. For I decided to know nothing among you except Jesus Christ and him crucified. And I was with you in weakness and in fear and much trembling, and my speech and my message were not in plausible words of wisdom, but in demonstration of the Spirit and of power, that your faith might not rest in the wisdom of men but in the power of God. (1 Corithians 2:1-5)
Sadly, it seems to me that much of the church visible has largely ignored the proper proclaimation of God's Word in favor of these man-centered methods Rick Warren shares above in his ode to self post. 
As we assess the shape of the Christian faith today, rather than bringing in people-pleasing pragmatists like Rick Warren to share his myths about the Mind of God, I offer that instead we'd be much better off if we'd get back to doing this:
I charge you in the presence of God and of Christ Jesus, who is to judge the living and the dead, and by his appearing and his kingdom: preach the word; be ready in season and out of season; reprove, rebuke, and exhort, with complete patience and teaching.
(1 Timothy 4:1-2)
________________________________________________________________________________
End notes:
[1] John MacArthur, The MacArthur Bible Commentary [Nashville: Thomas Nelson, 2005], 1745
See also:
RICK WARREN WANTS US TO LEARN FROM HENRI NOUWEN
STAFF OF SADDLEBACK CHURCH RECOMMEND MYSTIC HENRI NOUWEN
IS THIS DOCTRINAL AND SOUND DR. JOHN PIPER? 
THE INADEQUATE GOSPEL OF RICK WARREN
DR. LAVERNE ADAMS AND RICK WARREN DRIVEN BY DESTINY?
INFLUENCES: RICK WARREN AND C. PETER WAGNER OF NEW APOSTOLIC REFORMATION