By Ken Silva pastor-teacher on Sep 22, 2010 in Current Issues, Features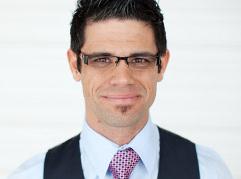 By day this Purpose Driven/Seeker Driven Pope of the Carolinas, now also an author, Steven Furtick—disciple of Carolina Pope Perry Noble—is now a more mild mannered (kinda sorta) pastor; but by night he becomes a rompin' stompin' Old Testment-type prophet of audacious behavior faith as he recently tweeted:
So this begs the following question concerning prophet pastor Steven Furtick, who's discernment is so far off that he's even called Word Faith heretic Joel Osteen "a great man of God."
I wonder, have the people at his Elevation self-help center really thought this through? If God gave Furtick "an awesome revelation" for this past Sunday's sermon, then we must now have some new Scripture.
Or does God now somehow "speak" in an unauthoritive manner? Well, having kicked out sola Scriptura for contemplative mysticism, such is the future of fickle evangelicalism: Dueling revelations.
See also:
STEVEN FURTICK CALLS JOEL OSTEEN GREAT MAN OF GOD
PERRY NOBLE SAYS YOU'RE A JACKASS