By Ken Silva pastor-teacher on Jun 14, 2010 in Contemplative Spirituality/Mysticism, Current Issues, Features, Rick Warren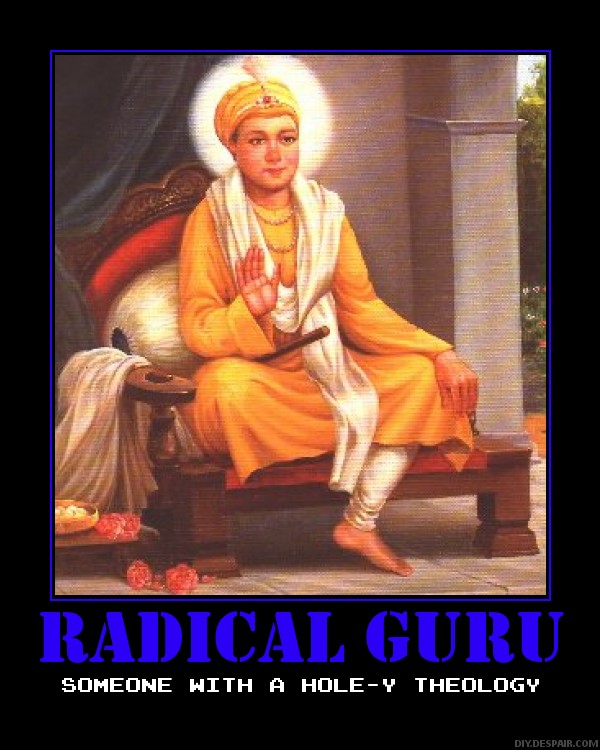 Apprising Ministries correspondent Christine Pack of Sola Sisters shows you, again, in her post Saddleback Promotes "Christianized" Mantra Meditation what I first showed you e.g. in Southern Baptist Pastor Rick Warren And Saddleback Church Openly Recommend Contemplative Spirituality/Mysticism. Here we'll see another example of it with Steve Gladen, who's "now the Pastor of Small Groups at [the] Saddleback Church" [1] of Purpose Driven Pope Rick Warren.
On Gladen's webpage at The Spiritual Growth Center of Saddleback Church we're told, "Here are some of the books that shaped Steve's life." [2] For our purposes here we show you that two of these books which "shaped Steve's life" were written by the Living Spiritual Teacher and Quaker mystic Richard Foster; who along with Southern Baptist minister Dallas Willard—his spiritual twin—were "key mentors" [3] of the neo-liberal cult of the sinfully ecumenical Emerging Church, which had been the main carrier of the spurious spirituality they've been pawning off for years as so-called Spiritual Formation.
Please think along with me here; Foster's "Christian" message, which is a direct fruit of his own practice of corrupt Contemplative Spirituality/Mysticism (CSM), is now so drastically diluted that he's listed as one of the gurus Living Spiritual Teachers Project at the interspiritual website Spirituality & Practice right alongside such as Deepak Chopra, the Dalai Lama, Brian McLaren, Thich Nhat Hanh, Eckhart Tolle, and Marianne Williamson. And note that both of these books by Richard Foster are also sold at Saddleback's Pavilion:
The Pavilion was the first construction project included in the Extending the Vision emphasis. Construction of the Pavilion took place this winter and spring, and it opened in early May. Located on the patio outside the Worship Center , the Pavilion provides a permanent space for the sale of tapes, books, Bibles and music. (Online source)
So the first book Gladen was shaped by is Foster's ode to corrupt Contemplative/Centering Prayer (CCP), a form of neo-Gnosticism which flowered in the antibiblical monastic traditions of apostate Roman Catholicism; and now—with an assist from men like Gladen and Rick Warren—this meditation in an altered state of consciousness is slithering throughout the SBC (Slowly Becoming Catholic), an allegedly evangelical Protestant denomination. Actually mystics Frederic and Mary Ann Brussat who run the interspiritual website Spirituality & Practice reviewed Prayer: Finding The Heart's True Home:
there are thought-provoking and heart-stirring quotations from St. Augustine, John Wesley, Brother Lawrence, Soren Kierkegaard, Thomas Merton, and many more. (Online source)
In Contemplative Spirituality Of Richard Foster Rooted In The Eastern Desert And Thomas Merton I showed you guru Foster's fascination with the Golden Buddha of CSM Thomas Merton, an apostate (at best) Roman Catholic monk whose own life-long devotion to CSM/CCP made him much more like the Buddha than the Christ; you can read his nauseating idolatry for yourself in Thomas Merton And The Buddhas. In his book Prayer, which helped shaped Saddleback Church pastor Steve Gladen, Foster foments:
Contemplative Prayer immerses us into the silence of God. How desperately we in the modern world need this wordless baptism… Contemplative Prayer is the one discipline that can free us from our addiction to words. Progress in intimacy with God means progress toward silence… It is recreating silence to which we are called in Contemplative Prayer…
A Warning And A Precaution
At the outset I need to give a word of warning,… Contemplative Prayer is not for the novice. I do not say this about any other form of prayer… Contemplative prayer is for those who have exercised their spiritual muscles a bit and know something about the landscape of the spirit. In fact, those who work in the area of spiritual direction always look for signs of a maturing faith before encouraging individuals into Contemplative Prayer…
I also want to give a word of precaution. In the silent contemplation of God we are entering deeply into the spiritual realm, and there is such a thing as a supernatural guidance. While the Bible does not give us a lot of information on that, there are various orders of spiritual beings, and some of them are definitely not in cooperation with God and his way! … But for now I want to encourage you to learn and practice prayers of protection. [4]
This couldn't be clearer that what we're actually dealing with here is a new form of Gnosticism where the "initiated" and "enlightened" ones, who are the superior Christians "who work in the area of spiritual direction" (when was this ever part of Protestant practice), are looking for those disciples "who have excercised their spiritual muscles" enough for initiation; that's because CCP "is not for" every Christian. And this asceticism-lite Pietism leads us to Gladen's next soul-shaping book:
Ah yes, Richard Foster's magum opus Celebration Of Discipline (CoD). Well, Dr. Gary Gilley gave us a very concise—but dead on target—review of this classic book, which would eventually spawn what's become The Cult of Guru Richard Foster. Dr. Gilley informs us:
Written over twenty-five hears ago, and proclaimed by Christianity Today as one of the ten best books of the twentieth century, the influence of Celebration of Discipline is all but incalculable. Foster is a Quaker, so his spiritual life is grounded in the subjective "inner light" presupposition of the Friends. He is highly steeped in the Roman Catholic mystics, drawing from dozens of them for his theology. More than that, Eugene Peterson informs us that Foster has "'found' the spiritual disciplines [in the mystics] that the modern world stored away and forgot" (p. 206). Foster's views are also formed by Quaker mystics and even secular thinking, most surprisingly Carl Jung, self-confessed demon-possessed psychologist. 

Without question these extra-biblical sources are behind Foster's understanding of the Christian life. That is not to say that he does not refer to Scripture and occasionally interpret it correctly. However, it is astounding to see how often he mutilates the Word of God (e.g. pp. 16, 17, 55, 83, 114, 156, 170, and 177). (Online source)
Following below is what Dr. Gilley had to say about Foster and CoD in his excellent five series called Mysticism:
Celebration of Discipline alone, not even referencing Foster's other writings and teachings and ministries, is a virtual encyclopedia of theological error.  We would be hard pressed to find in one so-called evangelical volume such a composite of false teaching.  These include faulty views on the subjective leading of God (pp. 10, 16-17, 18, 50, 95, 98, 108-109, 128, 139-140, 149-150, 162, 167, 182); approval of New Age teachers (see Thomas Merton below); occultic use of imagination (pp. 25-26, 40-43, 163, 198); open theism (p. 35); misunderstanding of the will of God in prayer (p. 37); promotion of visions, revelations and charismatic gifts (pp. 108, 165, 168-169, 171, 193); endorsement of rosary and prayer wheel use (p. 64); misunderstanding of the Old Testament Law for today (pp. 82, 87); mystical journaling (p. 108); embracing pop-psychology (pp. 113-120); promoting Roman Catholic practices such as use of "spiritual directors," confession and penance (pp. 146-150, 156, 185); and affirming of aberrant charismatic practices (pp. 158-174, 198). (Online source) 
O, but other than all of that, CoD is a great book. So in closing this, for now, I find that a couple of key questions have come emerging: Why does Rick Warren—arguably the most influential pastor in the entire Southern Baptist Convention—want his flock at Saddleback Church to learn Christian spirituality from a false teacher of corrupt Quaker mysticism and anti-Reformation ecumenicism like Richard Foster? And why is it that ostensibly Reformed men like Dr. John Piper and Steve Camp think Rick Warren is a faithful pastor who's in line with Reformation theology as doctrinal and sound?
________________________________________________________________________________
Endnotes:

[1] http://tinyurl.com/2avdojy, accessed 6/14/10.
[2] http://tinyurl.com/3xmfgdv, accesses 6/14/10.
[3] Emergent Church guru Brian McLaren himself informs us of this: http://tinyurl.com/2fu2k8n, accessed 6/14/10.
[4] Richard Foster, Prayer: Finding The Heart's True Home [New York: Harper Collins, 1997], 155, 156, 157.
See also:
IS THIS DOCTRINAL AND SOUND DR. JOHN PIPER?
RICK WARREN DECEPTION ALREADY INVADING REFORMED CAMP
USING CONTEMPLATIVE/CENTERING PRAYER AS "CHRISTIAN" MEDITATION
CONTEMPLATIVE SPIRITUALITY OF RICHARD FOSTER ROOTED IN THE EASTERN DESERT AND THOMAS MERTON 
DALLAS WILLARD ENCOURAGES CONTEMPLATIVE/CENTERING PRAYER
LEONARD SWEET, FRANK VIOLA, AND THE THIRD WAY
THE BIBLE DOESN'T GIVE US A SET OF TECHNIQUES TO HEAR INNER VOICES AND CALL THESE TECHNIQUES "PRAYER"