By Ken Silva pastor-teacher on Aug 10, 2010 in AM Missives, Current Issues, Features, Word Faith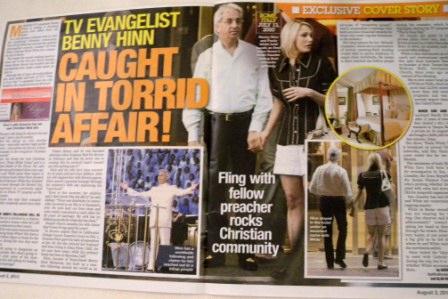 *UPDATE* See JACK HAYFORD TO REMARRY WF HERETIC BENNY HINN TO EX-WIFE
After a report of an alleged affair between top level Word Faith heretics Benny Hinn and Paula White surfaced in The National Enquirer, in posts such as Paula White: Is She, Or Isn't She? and Benny Hinn And Paula White Side By Side here at Apprising Ministries, I've been doing what I can to point you to the facts; as obscure as they appear to be.
In order for you to be able to evaluate this issue for yourself, just the other day AM correspondent Chrystal Whitt of Slaughter of the Sheep posted the videos of Hinn's "defense" of his relationship with pastrix White in Benny Hinn Defends Himself Against National Enquirer. And now Charisma, flagship magazine for the charismatic movement, has today released Benny Hinn Admits 'Friendship' With Paula White But Tells TV Audience It's Over.
After the Enquirer "pictured them holding hands in Rome on July 13" Charisma reporter Adrienne S. Gaines informs us that at a "crusade in Oakland, Calif." Benny Hinn "admitted" to his "having a 'friendship' with fellow" Word Faith mogul Paula White "while he's still married". Gaines then explains that Benny Hinn "says the relationship is over" and continues:
"A friendship did develop," Hinn said of White in Oakland on July 30. "Hear this: No immorality whatsoever. These people out there are making it sound like we had an affair. That's a lie." Hinn invited his daughters Natasha and Eleasha on stage in Oakland on July 30 and asked the crowd to pray for him, his estranged wife, Suzanne, and their four children. He said he and his wife had problems in their marriage for years and "could no longer exist in the same house."

Hinn's wife, Suzanne, filed for divorce in February after the couple had been separated for four years, but it has not been finalized. Hinn aired segments from the Oakland crusade and made additional personal comments on his This Is Your Day program on TBN Aug. 5, the day after his 31st wedding anniversary. A ministry executive said the program will air on other networks this week, including on Daystar Friday.

Hinn told the crowd in Oakland that the Vatican made him a Patron of the Arts and invited him to visit Rome. He said patrons are asked to find donors to help maintain the Vatican's art collections, and he wanted White to become a donor. "I let her come with me to Rome so she can donate money," Hinn said. "That was stupid on my part. And for that I do ask forgiveness."

The National Enquirer published photos in its Aug. 2 issue of Hinn walking hand-in-hand with White in Rome. The article, which released July 23, claimed the two spent three nights in a five-star hotel Hinn booked under a false name… (Online source)
You can read the rest of Gaines' report concerning an alleged affair between Benny Hinn and Paula White right here.
HT: Christian Reserach Service
See also:
BENNY HINN AND PAULA WHITE: COLLUSION OF RESPONSES
UPDATED: REPORTS OF BENNY HINN AND PAULA WHITE AFFAIR (PICTURES INCLUDED)
*UPDATED* BENNY HINN AND PAULA WHITE RESPOND TO "FALSE AND MISLEADING" NEWS
STATEMENT BY BENNY HINN CONCERNING PAULA WHITE DISAPPEARS
PAULA WHITE RESPONSE CONCERNING BENNY HINN DISAPPEARS
BENNY HINN AND PAULA WHITE SIDE BY SIDE
PAULA WHITE: IS SHE, OR ISN'T SHE?