By Ken Silva pastor-teacher on Jul 25, 2010 in Current Issues, Features, Word Faith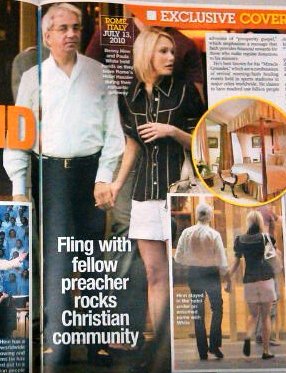 *UPDATE* STATEMENT BY BENNY HINN CONCERNING PAULA WHITE DISAPPEARS
Yesterday the online apologetics and discernment work Apprising Ministries carried Reports Of Benny Hinn And Paula White Affair, where AM correspondent Chrystal Whitt of Slaughter of the Sheep informed us:
The National Enquirer is currently reporting that Benny Hinn and Paula White are having an affair.  I know, I know, it's the Enquirer and they're unreliable.  There's one catch…. they've got pictures of Hinn/White going into and out of a hotel in Rome holding hands.  I bought an issue when a fellow researcher called and told me about this story and I have seen the pictures.  Is it true?  I don't know.  But, judging from the photographs, Hinn may have some explaining to do!… (Online source)
Via a tip from Steve Lumbley of Apostasy Watch I also told you that The Toronto Star had also run Married Toronto preacher Benny Hinn romantically linked to healer, with the "healer" being Paula White. TS told us:
There's a new televangelist soap opera. Reports this week suggest a still-married Benny Hinn is now romantically involved with Paula White, another television preacher with a colourful past… Neither Hinn nor White could be reached for comment Friday. (Online source)
Well, both have commented today. First, there's Pastor Benny Responds to False and Misleading News Reports where Hinn tells us:
As you may be aware, the National Enquirer recently released a dishonest and misleading article which falsely characterized my friendship with Paula White. The publication, which is known for its bias against religious figures, misleads readers regarding the ministerial friendship I have had with Paula White for over 20 years.

As you know, my wife, Suzanne, filed for divorce at the beginning of this year… In late May of this year, Paula White came to tape a This Is Your Day broadcast with me. Although I had not seen her for years, she was an encouragement to me and shared helpful advice out of her own painful experience. As a result, I will not deny that the friendship has strengthened, and, while it has remained morally pure at all times, I have enjoyed the company of someone who has also gone through the trauma of a painful and public divorce…

The article also indicated that on a recent trip to Italy we met secretly and stayed together. This could not be further from the truth and is absolutely false! The truth is that we traveled independently to the region for respective ministry duties. I was invited by Vatican officials to visit the Vatican to discuss future ministry opportunities there. Paula was likewise invited to have meetings in the region, and, although we spent time together, we were never alone and were in the constant company of staff and family members.

That notwithstanding, I have become increasingly aware that the optics of this friendship have caused others to draw conclusions that are incomplete and unfounded. And because of my preeminent priority to my ministry and calling, Paula and I have concluded that we should avoid the appearance that our friendship is biblically impure or violates Scripture in any way. Paula and I also recognize that being seen in such settings is unwise, and we have independently determined that we will have no further social relationship until such time as my divorce has concluded and only if we feel direction from the Lord to do so. 
(Online source)
If nothing more, it is confirmation that Hinn and White were together and the photos in the Enquirer piece are genuine. However, it seems rather odd that Roman Catholic "Vatican officials" would extend "future ministry opportunities there" at the Vatican to the notorious Word Faith heretic. And it would also appear an unusal coincidence that, at the exact same time, White was allegedly "invited to have meetings in the region" as well. The question is, by whom; the Vatican?
That's what pastrix Paula White's release Pastor Paula Responds To False And Misleading Article would have us believe; wherein she also admits she was indeed with Hinn:
Last Friday, the National Enquirer released a dishonest and misleading article which falsely characterized my friendship with Pastor Benny Hinn… I publicly profess and forcefully renounce assertions that the recent trip to Italy to meet with Vatican officials suggests that the friendship is in any way improper or morally impure .We traveled independently to the region for respective ministry duties and, while there, spent time together along with others…

I value my friendship with Pastor Benny and remain supportive with a deep respect of him, his family and his ministry. My relationship with Pastor Benny is genuine and pure and should not be taken out of context. (Online source)
While we cannot speak to the exact "context" of the relationship between Benny Hinn and Paula White, I personally find it rather difficult to believe that Vatican officials are extending ministry opportunities to Word Faith hucksters, with one in rebellion against God's Word claiming, as a woman, to be a pastor. And could the following tweet by Phil Cooke, whose bio simply says A Catalyst for Change, shed some light on the proper context of the relationship of Hinn and White:
In light of the above concerning Benny Hinn and Paula White, both of whom are "controversial TV evangelists," this is—at the very least—an interesting bit of information. And if you don't know, Impel Ministry—an online magazine where church leadership and millennials converge—informs us that Phil Cooke:
is a writer, speaker, filmmaker, & media consultant. He's appeared on MSNBC, CNBC, CNN, and his work has been profiled in the New York Times, The Los Angeles Times, and The Wall Street Journal.His production and consulting company Cooke Pictures, advises many of the largest and most effective non-profit and faith-based media organizations in the world. Also, as a founding partner in the commercial production company TWC Films, he also produces national advertising for some of the largest companies in the country – giving him a unique perspective on both religious and secular media issues.

TWC Films produced two TV commercials for Super Bowl 2008 and unveiled the Chevrolet Volt in the national broadcast of the opening ceremonies of the 2008 Olympics in China. His online blog at philcooke.com features insight into issues of media and faith, and his book: Branding Faith: Why Some Churches and Non-Profits Impact the Culture and Others Don't is changing the way non-profit and religious organizations use the media to tell their story. He's lectured at universities like Yale, University of California at Berkeley, UCLA, and is an adjunct professor at the King's College & Seminary, and Biola University in Los Angeles. (Online source)
HT: Christian Research Service
See also:
POINTS TO PONDER: TODD BENTLEY, BENNY HINN, RICK JOYNER, AND FALSE TEACHERS
RISING WORD FAITH STAR MANASSEH JORDAN IMITATING BENNY HINN
E. BERNARD JORDAN: MASTER FALSE PROPHET
JOSH MCDOWELL AND PAULA WHITE: "WON'T YOU LET ME TAKE YOU ON A SEA CRUISE!"
CAN YOU BE AN EVANGELICAL CHRISTIAN AND DENY GOD?
CHRISTIAN RESEARCH SERVICE ON THE PROPHETIC MOVEMENT
WOMAN "PASTOR" AND HER PRAYER SHTICK DRAWING MEDIA ATTENTION