By Ken Silva pastor-teacher on Jul 26, 2010 in Current Issues, Word Faith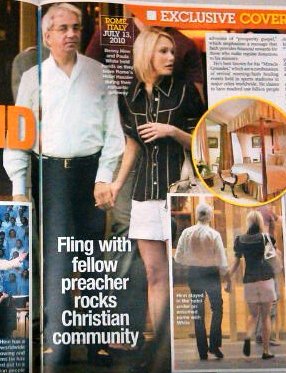 Apprising Ministries pointed out yesterday that Benny Hinn And Paula White Respond To "False And Misleading" News where the National Enquirer and The Toronto Sun were reporting that Benny Hinn and Paula White are having an affair.  
The Tampa Tribune reports today in Paula White, Benny Hinn deny National Enquirer report:
Without Walls International Church senior pastor Paula White and worldwide televangelist and faith healer Benny Hinn posted statements on their websites denying a National Enquirer report that they've become romantically involved. (Online source)
Now my friend Bud Press of Christian Research Service alerted me that while the statement by pastrix Paula White—Pastor Paula Responds To False And Misleading Article—remains at her website, the one by Benny Hinn (seen below)—Pastor Benny Responds to False and Misleading News Reports— is now gone:
The question would be, why? Interestingly enough, in Benny Hinn Issues an Urgent Word… Asking for Money AM correspondent Chrystal Whitt tells us of another statement by Hinn:
Benny Hinn's ministry has posted a video on his website asking for money, and he says it's urgent.  Hinn claims he is facing a deficit of $2 million.  He lives in a multi-million dollar mansion, but he has a need for $2 million more… (Online source)
See also:
POINTS TO PONDER: TODD BENTLEY, BENNY HINN, RICK JOYNER, AND FALSE TEACHERS
RISING WORD FAITH STAR MANASSEH JORDAN IMITATING BENNY HINN
E. BERNARD JORDAN: MASTER FALSE PROPHET
JOSH MCDOWELL AND PAULA WHITE: "WON'T YOU LET ME TAKE YOU ON A SEA CRUISE!"
CAN YOU BE AN EVANGELICAL CHRISTIAN AND DENY GOD?
CHRISTIAN RESEARCH SERVICE ON THE PROPHETIC MOVEMENT
WOMAN "PASTOR" AND HER PRAYER SHTICK DRAWING MEDIA ATTENTION