By Ken Silva pastor-teacher on Sep 3, 2010 in AM Missives, Current Issues, Features, Word Faith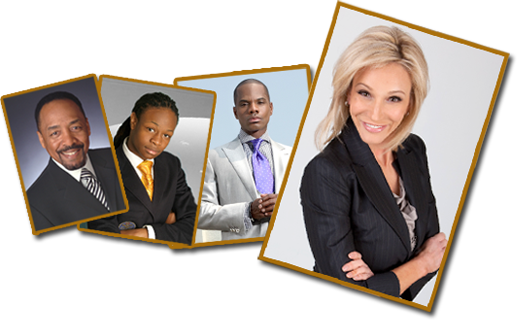 But false prophets also arose among the people, just as there will be false teachers among you, who will secretly bring in destructive heresies, even denying the Master who bought them, bringing upon themselves swift destruction. And many will follow their sensuality, and because of them the way of truth will be blasphemed. And in their greed they will exploit you with false words. Their condemnation from long ago is not idle, and their destruction is not asleep. (2 Peter 2:1-3)
Stranger And Stranger Spiritual Bedfellows Are Joining Forces And Becoming Mainstream 
Among the issues Apprising Ministries covers is the heretical Word Faith movement as it continues heading toward acceptance within the mainstream of evangelicalism; and as I mentioned previously, people Joyce Meyer and Joel Osteen with man-centered self-esteem messages ala Robert Schueller are actually tip-of-the-spear for deeper WF heresies. 
Take for example the tweet below from Purpose Driven/Seeker Driven evangelical pastor Steven Furtick, a disciple of Perry Noble and one of the Popes of the Carolinas, showing how Osteen has won him over as Furtick gushed about his meeting Osteen. Notice that this PD/SS mainstream evangelical pastor calls this heretical Word Faith pastor Joel Osteen "a great man of God":
Further, Furtick's latest project is working the Word Faith-like shtick of his forthcoming book Sun Stand Still, where in a style quite reminicent of well known Word Faith preacher Jentezen Franklin, Furtick dares us to "ask God for the impossible"; I suppose we shouldn't be surprised when we consider Steven Furtick was one of the speakers at Franklin's recently concluded Forward 2010 Conference. As I've been showing you, doctrinal lines continue to be erased with great rapidity in The Ecumenical Church Of Deceit (ECoD).
Sadly, today there are so many in the apostatizing evangelical community who are burying their heads within the spiritual sand of whatever offshoot—rooted in the semi-pelagian Church Growth Movement—it is that highjacked their particular brand of Christian sandbox. All part and parcel in what G. Richard Fisher of the fine discernment ministry Personal Freedom Outreach has called The Superstitious Church of the 21st Century; and because of the evil influence of postmodernity people now follow feelings instead of Scripture, so pastor Fisher correctly points out that:
We have been fighting and will continue to fight battles which we thought were won or put to rest in the first three centuries of the Church's history. What used to be commonplace in the world of the occult and in the world of hyper-liberalism is now common in the world of both Charismatic and Evangelical Christianity.

There has been an incredible paradigm shift in the world of Christianity. This shift has been so radical that the Church of Jesus Christ is beginning to resemble the culture of Athens found in Acts 17. Luke speaks out in verse 21 and describes the confusion in this way: "For all the Athenians and foreigners who were there spent their time in nothing else but either to tell or hear some new thing." Luke then concludes in verse 22 by quoting the Apostle Paul as saying, "in all things you are very religious." Indeed, the god of novelty was reigning in Athens…

The parallels to our own age are stark and frightening. Just pick up a copy of Charisma magazine and glance at its advertisements and its promotional items. It is Athens all over again — with a vengeance… (Online source)
Following is a case in point, which you'll quite likely find in Charisma magazine. Pastrix Paula White's latest fantasy-filled heresy-fest:
Sound the Alarm…Your Divine Date with Destiny! Join Senior Pastor Paula White as she welcomes Bishop David Evans, Prophet Manasseh Jordan, and Kirk Franklin to Without Walls International Church for three nights, September 7 – 9, 2010 at 7:00 pm.
(Online source)
Considering so-called "Bishop" David Evans will be there,  "Divine Date with Destiny" is an interesting choice of words. You might remember my post Rick Warren Teaching The Law Of Attraction where I told you about America's MegaPastor has written the foreword to a new book by "Life Coach" and pastrix Dr. LaVerne Adams, who also is known as the *cough* "Divine Destiny Doctor." More evidence of this growing ECoD as it is rather curious in the first place that Southern Baptist—pretending to be Protestant—Purpose Driven Pope Rick Warren would help promote the work of a woman pastrix who's in violation of God's Word.
Leaving this aside, we note that at her Divine Destiny Doctor website "Dr. V," as Adams is also known, she's currently advertising the opportunity for:
"YOUR DATE WITH DESTINY"
with Dr. V! and Tasha Smith
of Tyler Perry's"Why Did I Get Married, Too?"
on 10-10-10
at 5:00 pm
at The Mansion
Voorhees, New Jersey (Online source)
For Profit They Make Up Superstitious Stories Through Which They Deceive You
Apparently meeting our "destiny" has something to do with the ol' "Bishop" because pastrix Dr. Divine Destiny, "dynamic preacher, teacher, and transformational speaker" who specializes in "coaching celebrites and high-powered professionals in need of affirmation, spiritual guidance and support," also happens to be "a member of the Abundant Harvest Fellowship of Churches under the direction of Bishop David Evans."[1] Evans himself is pastor of Bethany Baptist Church as well as Prelate—Abundant Harvest Fellowship of Churches, though oddly enough his personal ministry is based in Voorhees,[2] and his motto to follow shows you that he's a purveyor of the usual Word faith heresies: "Faith Acts Like a thing is so, even when it's not so, that it might be so!"
That a couple of years ago Evans would have Word Faith mogul and Oneness Pentecostal heretic T.D. Jakes in to help celebrate his 18th year as pastor tells us much about Evans' methods, and stature, within the Word faith movement:
Bishop David G. Evans, one of today's most prophetic and provocative pastors, is preparing to celebrate his 18th year as pastor. Evans, pastor of the 27,000-member Bethany Baptist Church in Lindenwold, New Jersey, is setting the standard in ministry. With a weekly broadcast, The Power of Revelation, airing on BET, TBN and Streaming Faith, he's one of the best-selling authors in Christendom… Bishop T.D. Jakes, pastor of Dallas' The Potters House, will be joining Bishop David G. Evans as the preacher for the 7PM service.
(Online source)
We're told rather superstitiously that our "Divine Date with Destiny" at the entertainment center Without Walls International Church run by "Senior Pastor" Paula White features "dynamic, anointed and prophetic speakers" who'll magically "propel you into your Destiny!" We're informed that, in addition to Evans, among these false prophets—profit would be a more accurate word—will be:
The "Young Prophet," Manasseh Jordan [who] has been ministering since the age of 8 and carries with him the perfect example of hope, healing and restoration. Prophet Manasseh appears weekly on BET's Morning Inspiration.  (Online source)
Perfection?! Zowie! And here I thought only the God-Man Christ Jesus carried with Him "the perfect example of hope, healing and restoration"; but O no says pastrix White, Jesus needs to move over because "Young Profit" Manasseh's really got it going on alright. However, we really shouldn't be surprised; no siree, not when you consider that YP Manasseh's dad, the Master Profit E. Bernard Jordan considers himself…um-well, god. Bud Press of the respected online apologetics and discernment ministry Christian Research Service tells us in The Prophet, the 'God' and the Heretic that:
Benny Hinn's friendship with E. Bernard Jordan dates back prior to Manasseh Jordan's birth in 1990… E. Bernard Jordan, who answers to "His Grace" and "Master Prophet," claims that "He is not one just to give information, but he is also known to create miracles and circumvent events merely by the power of his speech!" (Ibid., http://www.bishopjordan.com/who_we_are/about_jordan.htm ). 
But what E. Bernard Jordan truly believes about himself can be summed up in one sentence and one paragraph from his 2006 book, The Laws of Thinking: 20 Secrets to Using the Divine Power of Your Mind to Manifest Prosperity:

WHEN YOU DECLARE 'I AM,' YOU BECOME GOD. [p. 2]

I learned much about my faith and the words of the Lord at the feet of the great Reverend Ike, who was and is as charismatic a man as ever stepped to the front of a church. Rev. Ike understood the paradox of man being god. Once, a parishioner, taken aback by what he saw as Rev. Ike's ego, said, "Reverend Ike thinks he's God!" And Rev. Ike turned and shouted, "No! God thinks He is me!" That's a perfect comeback, but also a perfect message. The idea that there is any separation between you and God is patently false. You are God's expression. He cannot exist on this plane without you. That is why you were created. As the son is the expression of the father, you are the expression of God. You are the same. [Hay House Publishers, Inc., p. 30, emp. added, book on file]  (Online source)
Concerning Manasseh Jordan, Press informs us that his father E. Bernard Jordan was mentored by Rev. Ike and now Manasseh himself has been trained by his father. In Rising Word Faith Star Manasseh Jordan Imitating Benny Hinn I told you that  AM correspondent Chystal Whitt, over at the online apologetics and discernment blog Slaughter of the Sheep, does a fine job keeping up with this WF movement day by day. In her post Manasseh Jordan: Self-Promotion is the Key to Success she points out:
The video [contained in her post] ends with a sober warning – "Coming to a city near you." He's not kidding.  His star is on the rise, and the church is ready for such a false prophet as him. I wondered what Benny Hinn would come up with when his star started to fade around the time of the Lakeland un-Revival.  Now I know. I'm just wondering how long it will take the monster he's creating to eclipse him. 

I see two possible scenarios if this kid continues his public rise: 1.) Jordan will outgrow him and have a booming ministry of his own, leaving Hinn behind, or 2.) Hinn will hold onto Jordan's coat tails and ride the train for all it's worth.  He already supposedly prophesied Jordan's birth, by the way.  He's not going to let go too easily.  This gravy train could be very lucrative… (Online source)
Whitt's right; what we're witnessing is a very lucrative gravy train of spiritual snake oil salesmen, who as our opening text tells us, in their greed attempt to exploit you with false words if you listen to them. I strongly suggest that you make it your own destiny to stay far away from the Without Walls International heresy house of horrors run by pastrix Paula White. Better you take the salient advice of pastor Fisher who tells us how we can "successfully keep our balance and confront Athens" as he reminds us:
The early Church is shown to have been committed to doctrine. In Acts 2:42 Luke reports that "they continued in the Apostles' doctrine and fellowship and in the breaking of bread and prayers."

William Evans saw the need to know doctrine as one of the greatest needs of the Church, writing that, "There is probably no greater need in the Christian Church today than that its membership should be made acquainted with the fundamental facts and doctrines of the Christian faith."

John Calvin, long ago, addressed the dangers of denigrating doctrine:

"It is an illusory belief of the enthusiasts that those who keep reading Scripture or hearing the Word are children, as if no one were spiritual unless he scorned doctrine. In their pride, therefore, they despise the ministry of men and even Scripture itself, in order to attain the Spirit. They then proudly try to peddle all the delusions that Satan suggests to them as secret revelations of the Spirit."

What we need is a revival of study and memorization of Scripture. That, followed by practical obedience to its commands, would eliminate the need to fabricate revival with ear-splitting music, bizarre manifestations, altered states of consciousness, and emotional frenzies. (Online source)
________________________________________________________________________________
End notes:
[1] http://www.divinedestinydoctor.com/About_Us.html, accessed 9/3/10.
[2] http://www.davidgevans.com/, accessed 9/3/10.
See also:
PAULA WHITE: IS SHE, OR ISN'T SHE?
PROFIT MANNASEH JORDAN ANNOUNCES "POWERFUL SOUNDCHECK"
ONE SIMPLE QUESTION FOR BENNY HINN AND PAULA WHITE
BENNY HINN ADMITS HIS RELATIONSHIP WITH PAULA WHITE
BENNY HINN AND PAULA WHITE: COLLUSION OF RESPONSES
UPDATED: REPORTS OF BENNY HINN AND PAULA WHITE AFFAIR (PICTURES INCLUDED)