By Ken Silva pastor-teacher on Oct 6, 2010 in Current Issues, Features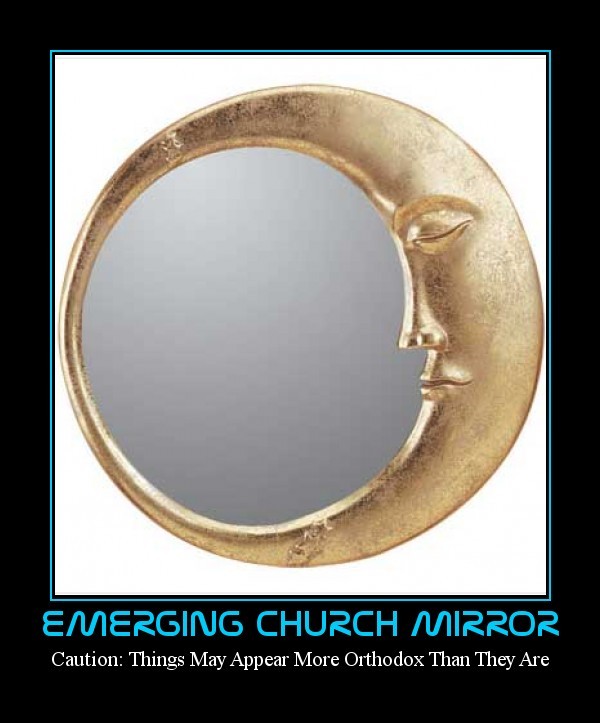 I finally gave in and made a category called Semi-Satire here at Apprising Ministries. Not unlike the Marty Python Flying Circus Church skit concerning the "Holy Ghost Hokie-Pokie" on the Pirate Christian Radio program Fighting for the Faith hosted by Chris Rosebrough, the visible church is becoming a parody of itself.
As such, satire isn't very often all that divorced from the real deal anymore. In my devotional teaching Our Sickle yesterday I reminded you that earlier in the warning post Enemy Troops Steadily Advancing In Church I had lamented we just might be living in the most gelatinous generation of Christians ever; and I do mean ever.
Indeed, I do fear that if this leadership we now have within the church visible today had been around in the days of, say, Sabellius and/or Arius, then likely the only creed we'd even have in the Christian faith would have come from that noted pop "theologian" Rodney King.
Let's all just chant this mantra together now:
*sniff* *sniff* The one hole-y and Roman Catholic Church now quietly, and ever so politely confesses, "Can't We All Just Get Along?"
You see, satire that's almost too real. Now you might remember that not long ago in Seducing Spirits Sounding The Same I used a tweet from Purpose Driven/Seeker Driven pastor Steven Furtick, a disciple of Perry Noble and one of the Popes of the Carolinas. Then I took a quote from Word Faith preacher Joel Osteen, whom Furtick has called a "great man of God," from his book Your Best Life Now; and to each I added a final line, which I took from two differnt tweets by…New Spirituality guru Deepak Chopra.
So close in message that you would never know the difference. How could this happen, you ask; because more and more people today are becoming involved with corrupt Contemplative Spirituality/Mysticism. Instead of following the proper Christian spirituality of sola Scriptura, and testing everything by God's Word (cf. Acts 17:11; 1 Thessalonians 5:21), they are accepting the new non-gospel—summed up as follows:
God loves you so much that He created you for a great purpose. He offers you hope and a wonderful plan for your life. So you need to discover the dream that God has placed in your heart and unlock your destiny.

He wants you to follow the lifestyle of Jesus and learn His ways enabling you to be a co-creator with God because we're the King's kids. Then together we will help Him make the world a better place, just as God dreams for it to be.
And it's against this background that we now shift gears for a little reductio ad absurdum:
*Syrupy Announcer's voice*
 
And now…it's time to play another edition of 'Name That Tweet' with your host, and everybody's favorite, Yuni Versalism…
 
Hey, As-Salāmu`Alaykum and Namaste gang! Ok, now for your postmodern un-prize, who tweeted the following just a bit ago: 

No matter what seems to be going on around you, in your heart you'll know that you can do anything.

Was it: 

A. Joel Osteen
 
B. Rob Bell
 
C. Deepak Chopra
 
D. Rick Warren

*Cue sappy Disneyesque music*

Destiny now awaits you, for you know you are a star…

Now follow your dream, God loves you just as you are…

Hoo-wee, if you said C., Deepak Chopra, you'd be correct:

Thank you so much for playing, and now we leave you with a little song; really little.

Ready now, let's all chant together; real loud and proud: "Me, me, me, me…"
See also:
DECADE OF DESTINY WITH RICK WARREN
TIM KELLER AND CONTEMPLATIVE PASTRIX ADELE CALHOUN
PETER SCAZZERO AS SPIRITUAL BENEDICT ARNOLD
IS SHANE CLAIBORNE A CHRISTIAN-MUSLIM?
PERRY NOBLE SAYS YOU'RE A JACKASS
STEVEN FURTICK A PROPHET OF GOD?