By Ken Silva pastor-teacher on Apr 10, 2014 in Current Issues, Features
Here at Apprising Ministries I'm doing what I can to continue covering The Falling Away Of The Evangelical Church, which is the article that essentially launched this work. Not long after I found fmyself among those who are also pioneering this still developing work of online apologetics and discernment ministry.
Like it or not, as Jesus sends spiritual darkness and 1 Peter 4:17 judgments across a professing Christendom in lust for acceptance of the world, mainstream evangelicalism is well into what I call the New Downgrade No-Controversy. I'm afraid that even the reformed sectors aren't immune to the resulting apostasy.
For example, we have the so-called New Calvinism (NC); which, as I told you the other day in Mark Driscoll Controversy Cover-Up, is emerging as a postmodern form of Calvinism that tries to marry some parts of reformed theology with corrupt counter Reformation spirituality a la apostate Roman Catholic mystics.
In my opinion, the charismania within NC has caused more than its share of confusion. As I see it, this is what would lead John Piper into making the ill-fated decision to bring Purpose Driven Pope Rick Warren into the Desiring God Conference 2010 as the keynote speaker. Unfortunately, it got even a little worse.
Dr. Piper decided to defend his decision and would go on to state:
At root I think [Rick Warren] is theological and doctrinal and sound. (source)
With all due respect to John Piper, as I showed you e.g. in Rick Warren and his Brother, "His Eminence" Timothy Cardinal Dolan, Archbishop of New Yor, at best Warren is a sinful ecumenicist who has repudiated the doctrinal and sound theology of the Protestant Reformation concerning the Gospel of Jesus Christ.
Remember as well that Rick Warren received much training from Leadership Network, as did the aforementioned  Mark Driscoll. Since the first Elephant Room (ER), I've told you about a developing Evangelical Ecumenical Magisterium (EEM) growing up around Driscoll and  his ER co-host James MacDonald.
My point in bringing this up is to warn you that this EEM of cult of celebrity megachurch pastors already has a foothold within young, restless and reformed circles. And it's no surprise that later in 2010 PDL pope Warren placed his blessing upon key members; they are in part his disciples:

(source)
From where I stand, it looks pretty easy for "big time" pastors, who are always rubbing shoulders together at the same conferences, to have their judgment clouded by their friendships. Has this happened in the case of C.J. Mahaney? Obviously, I can't say because I don't frequent the circles he does nor do I know the men he does.
What I can do is remind you that two years ago in C.J. Mahaney & Sovereign Grace Church Bring History, Controversy To New Louisville Launch and Lawsuit Claims C.J. Mahaney's Sovereign Grace Ministries Concealed Sex Abuse Allegations AM began coverage of alleged problems surrounding Mahaney.
C.J. Mahaney founded Sovereign Grace Ministries (SGM), which was once known as People of Destiny International (PDI). PDI was aligned with elements of the the Shepherding Movement. ((http://mb-soft.com/believe/txc/shepherd.htm, accessed 4/10/14.)) In fact, we're told that theologian Alister McGrath:
associated PDI with the shepherding movement and described it as having "informal links with Bryn Jones," the UK house church leader. ((http://bit.ly/1sI1MUG, accessed 4/10/14.))
The above was also referenced in Kerrin's Story, part i over at SGMsurvivers.com, where you'll find other stories of hurt through SGM's policies. And as a Lawsuit Targets Sovereign Grace Ministries And Co-Founder Over New Child Sex Abuse Allegation,"flagship churches" would make the decision "to leave the [SGM] network." ((http://bit.ly/1kwd5hF, accessed 4/10/14.))
You should also know that apparently this situation has remained serious enough that CJ Mahaney Drops Out of 2014 Together for the Gospel Conference Due to Sovereign Grace Lawsuit:
Citing a desire to keep his peers from any "unfair and unwarranted criticism" stemming from a lawsuit filed against Sovereign Grace Ministries, C.J. Mahaney has announced his departure from the biennial Together for the Gospel (T4G) pastors conference he co-founded in 2006 with fellow evangelical Christian leaders Mark Dever, Albert Mohler and Ligon Duncan. (source)
C.J. Mahaney would announce his decision to depart T4G via "a letter dated July 1, 2013, and published on the TG website." ((http://bit.ly/1mZK8KV, accessed 4/10/14.))  While discussing this in his The Photo Promotion of C.J. Mahaney at Together for the Gospel post yesterday Brett Detwiler shared some of Mahaney's letter:
Nine months ago, C.J. issued a statement about withdrawing from the conference.  Here are his remarks.

"After much prayer, reflection and counsel I have decided to withdraw from participation in the 2014 Together for the Gospel conference.  My reason for doing so is simple: I love these men and this conference and I desire to do all I possibly can to serve the ongoing fruitfulness of T4G.

"Unfortunately, the civil lawsuit filed against Sovereign Grace Ministries, two former SGM churches and pastors (including myself), continues to generate the type of attention that could subject my friends to unfair and unwarranted criticism.  Though dismissed in May (and now on appeal), the lawsuit could prove a distraction from the purpose of this important conference.  My withdrawal is not intended to communicate anything about the merits of the suit.  My decision simply reflects the reality that my participation could create a hindrance to this conference and its distinct purpose of serving so many pastors.  My strong desire is to make sure this doesn't happen.  I believe the most effective way I can serve my friends who have supported me, and continue to support me, is by not participating in the 2014 conference." (C.J. Mahaney, July 1, 2013)

C.J. was forced to withdraw from speaking even though one of the four original founders (Al Mohler, Ligon Duncan, Mark Dever being the others).  (source)
Speaking of being one of the founders of an organization, if you don't know, Detwiler was:
one of four founders of Sovereign Grace Ministries who left the church-planting network over differences with President C.J. Mahaney in 2009,… (source)
In the interest of fairness, let me also bring to your attention that last year in Ministry leaders blast whistleblower we find out that SGM "released a statement" concerning Detwiler, which was:
adopted in May by the organization's leaders commending founder C.J. Mahaney and denouncing [the] former associate turned vocal critic of the well-known evangelical leader. (source)
However, the decision by C.J. Mahaney not to speak at T4G does make the following photo a bit curious: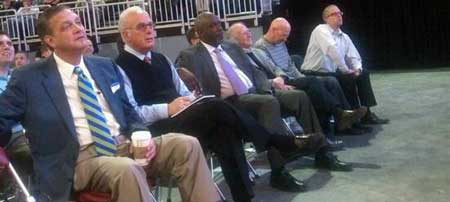 Detwiler also informed us yesterday that:
The Together for the Gospel (T4G) conference is currently going on in Louisville, KY.  This photo [above] shows Al Mohler, John MacArthur, Thabiti Anyabwile, John Piper, C.J. Mahaney, and Kevin DeYoung sitting together in the front row (left to right).  The other men are all speakers.  C.J. is not. (source)
The picture was originally tweeted out by Melton Duncan:

(source)
Now, in light of all of this, I'm going to leave you with the following from Brent Detwiler, who asks what I find to be an interesting question:
C.J. was forced to withdraw from speaking even though one of the four original founders (Al Mohler, Ligon Duncan, Mark Dever being the others).  He may not be an official participant but he is a participant.  That aside, this photo is a clear endorsement of C.J.  It was taken by Melton Duncan and put on the internet.  Melton is Ligon Duncan's brother.

C.J. claims he didn't want to subject his friends to "unfair and unwarranted criticism" or be "a hindrance to this conference."  Really?  Then why in the world did he agree to sit in the front row in front of thousands of people? (source)
Further reading