By Ken Silva pastor-teacher on Jan 22, 2013 in AM Missives, Current Issues, Features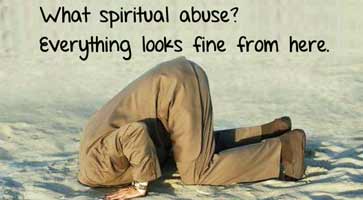 Apprising Ministries believes this is a very important issue that really needs to be brought more out into the light. Unfortunately, it's still largely under the radar within the mainstream of Christendom; and keep in mind that I'm saying this as a pastor myself, because it needs saying.
Recently I've been bringing the subject of growing spiritual abuse within evangelicalism to your attention e.g. in Todd Rhoades On Pastor Chuck O'Neal's Website Attacking "Church Attackers" and Flagship Church Votes To Leave  C.J. Mahaney's Sovereign Grace Ministries.
Should you not think this is a problem, then I'm afraid you haven't been paying attention. For example, there's what's known as the Shepherding Movement, which according to Biblical scholar J S O'Malley is:
a term applied to the teachings and persons coming from the Fort Lauderdale, Florida, Shepherd's Church. Sometimes referred to as the Shepherding Movement, it represents a specialized group within the charismatic movement that arose in the early 1960s. It also has older roots in the Pentecostal movement that began in the United States in 1900.

The principal teachers in the movement have been the leaders of the Fort Lauderdale congregation, including Bob Mumford, Charles Simpson, Derek Prince, Don Basham, Ern Baxter, and John Poole. The official name of their organization is Christian Growth Ministries, and its major publication is New Wine magazine.

The concept of discipling is related to the goal of encouraging and measuring growth in Christian discipleship through the behavioral change that would result from a consistent application of biblical principles to personal and corporate Christian living.

According to Mumford, the shepherd is to nurture discipleship through a three – part program, including baptism by water, discipleship by a man "commissioned by God," and acknowledging the abiding presence of Christ with the shepherd (or disciple marker) and his disciples. Mumford advocates avoiding spiritual independence that would lead to religious anarchy in favor of embracing the yoke of Christ as a symbol of discipleship. (source, bold his)
In their 2004 article The Shepherding Movement Comes Of Age, Christian researchers Lynn and Sarah Leslie bring out its next phase:
There is a new twist in the old Shepherding Movement and it is coming soon to your church, if it hasn't already. This new twist is presented to pastors wrapped in silver gilding, and looks quite reasonable and rational. Should a discerning pastor, or one who steeps himself in the Word, take a second look, the gild disappears and in its place will appear rust and corrosion.

Across the country, parishioners are now being challenged to take oaths, perform vows and sign covenants. These things would have been unheard of in generations past for one simple reason. These things used to be forbidden, or only permitted under the gravest of circumstances.

A few decades ago churches founded their beliefs sturdily upon the rocks of historical creeds, documents that have withstood the test of time and human whim, and which have imparted to each new generation an understanding of the major tenets of the Gospel faith. Now, in our latter days of dumbed-down Christianity, a minimal number of people in the pews know the creeds, have studied them, or even know about them!…

Churches which have come under the influence of Rick Warren, Lyle Schaller, Bob Buford, or any of the other church growth business-model experts, have undergone profound changes. They will have adopted a Mission Statement, Core Values, and Vision, often through a "consensus" and "dialogue" technique.

In order to become a member of these churches, parishioners are required to sign an oath to uphold their church's covenant. The word "covenant," which used to have biblical significance, is now applied liberally to this new church structure, apparently to give it credibility. (source)
As you can see, this movement has spread from questionable charismatic circles into the Seeker Driven camp; however, we also find it in charismatic Reformed circles as well. For example, consider the following from The Washington Times report Keeping their eyes on the cross:
first-time visitors to Covenant Life Church are likely to witness some of what senior pastor C.J. Mahaney, a self-described former pothead who co-founded the church in 1977, calls abundant examples of God's grace on repentant sinners like himself…

Covenant Life Church has proved so successful in harvesting souls for Jesus Christ that it spawned a mini-denomination, Sovereign Grace Ministries [SGM]… C. J. Mahaney leads a "reformed charismatic" movement, with the emphasis on "reformed," which some view as radical by modern evangelical Christian standards. He travels below the radar of the mainstream media,…

Within two years of his "rebirth" at age 18 in the summer of 1972, Mr. Mahaney was co-leader of the largest prayer group in the District during the "Jesus movement"… [He is t]he son of a Takoma Park sheet metal worker and the third of five children in a Roman Catholic home,…

He says God used a newspaper ad to lead him to a prayer meeting of young converts called Take and Give, or TAG. By 1974, at age 20, he was alternating teaching assignments with Larry Tomczak, 24, an intern with the AFL-CIO…

Attendance at TAG skyrocketed to more than 2,000 every Tuesday night. Meetings at Christ Church of Washington on Massachusetts Avenue NW were a boisterous worship laboratory for charismatic gifts of the Holy Spirit primarily prophecy and speaking in tongues paired with Bible-centered teaching…

TAG leaders began meeting as Gathering of Believers in April 1977, two dozen believers crowding into the Tomczaks' D.C. apartment, and in late 1979 made the unpopular decision to end TAG.
The young church met in a succession of Montgomery County schools and community centers, eventually renaming itself Covenant Life… By the late '80s, Mr. Mahaney emerged as senior pastor…

In 1996, Mr. Tomczak stepped down from leadership and left the People of Destiny International family of churches (now Sovereign Grace Ministries) shortly after planting a church in Atlanta. A teen-age son's rebellion had called into question his scriptural fitness as a father and elder.

Mr. Tomczak, 53, who now pastors a 420-member church in Acworth, Ga., later cited differences over doctrine. (source)
It might seem off-base, but this is actually quite necessary background for you to understand why C.J. Mahaney & Sovereign Grace Church Bring History, Controversy To New Louisville Launch and Lawsuit Targets Sovereign Grace Ministries And Co-Founder Over New Child Sex Abuse Allegations.
For you see, The Blackwell Encyclopedia of Modern Christian Thought, edited by respected evangelical theologian Alister McGrath, "associated PDI [now known as SGM] with the shepherding movement and described it as having 'informal links with Bryn Jones,' the UK house church leader." ((http://bit.ly/WTSyBA and see http://bit.ly/VYptcm, both accessed 1-22-13. ))
This was also referenced in Kerrin's Story, part i over at SGMsurvivers.com. You may also find it interesting to note that New Apostolic Reformation (NAR) "Apostle" C. Peter Wagner has told us his "mentor" who helped him "make a paradigm shift" into the "spiritual principles of church growth" was the late "John Wimber." ((C. Peter Wagner, Gen. Ed., The New Apostolic Churches [Ventura: Regal, 1998], 14. In fact, on this same page Wagner informs us he dedicated this book to Wimber.))
Wimber, you'll recall, was "founder of the Association of Vineyard Churches and Vineyard Ministries International." ((Ibid., 14.)) Wagner, who is a leading innovator of the man-centered Church Growth Movement, tells us a key  component of these NAR churches is "a recognition of present-day apostolic ministries." ((Ibid., 19.))
Wagner explains this is:
the reaffirmation, not only of the New Testament gift of apostle, but also of the office of apostle. This is one of the first books I've seen that includes a chapter by one who designates himself "Apostle John Kelly," much like the apostle Paul did in his epistles. ((Ibid., 20.))
This gives you a taste of the absolute arrogance of men like C. Peter Wagner and John Kelly. Then, in its voluminous chapter on the Charismatic Movement under "new church networks," The New International Dictionary Of Pentecostal And Charismatic Movements informs us that:
Other major networks in the U.S. …are Vineyard churches founded by John Wimber,… People of Destiny International [now known as SGM]… CM [charismatic movement], especially in the U.S., tends to produce its own stars: new names and faces that faces that have become prominent in this decade [90's] include Rick Joyner of Morningstar Ministries…and [IHOP's] Mike Bickle of Metro Fellowship, Kansas City…

Wagner includes the following networks in The New Apostolic Churches: Antioch Churches and Ministries, led by John P. Kelly,… Other networks based in the U.S. include… People of Destiny, led by C.J. Mahaney…and the newly formed Morningstar Fellowship, led by Rick Joyner. ((Stanley M. Burgess, Eduard M. van der Maas, Editors, Ed van der Maas, Author, The New International Dictionary Of Pentecostal And Charismatic Movements [Grand Rapids: Zondervan, 2002], p. 507.))
We've now seen fruit and remnants of this shepherding movement slither into the growing glut of self-proclaimed "leaders" constantly congratulating each other for their unbiblical membership covenants. Space allows just one example; consider Do You Trust Your Pilot? by New Calvinist, and Elephant Room co-host, Mark Driscoll.
It sure seems to me, he's all but demanding cult-like obedience. All you need to do is substitute the word "I" for "they" below:
Working for an organization, including a church or ministry, is kind of like a plane in flight. The senior leaders are up front getting data from private channels and have a perspective out the windshield that no one else has…

Assume that they have way more data and training than you. Assume they see stuff out of their window you don't see out of yours. Assume they did the right thing, even if you are wearing your drink, your luggage came flying out of the overhead bin, and you need to buy new underwear to replace the ones you were wearing… (source)
With this in mind then, as food for thought, I'll point you now to a post by Eric Pazdziora called Spiritual Abuse? He begins with some important questions:
Do you think it is possible to be abused spiritually? What does that look like? Can we learn the signs? How can we tell if others have been spiritually abused? How does a person heal when things like prayer, scripture, and music, which many find comforting, have been used to wield damaging blows?

When pulling into a church parking lot brings on anxiety? When opening a Bible and only being able to hear the voice of your leader and his interpretation? When you are swallowed by guilt over drawing healthy boundaries? (source)
Incidentally, Pazdziora works with Recovering Grace:
an online organization devoted to helping people whose lives have been impacted by the teachings of Bill Gothard, the Institute in Basic Life Principles (IBLP), and the Advanced Training Institute (ATI). Recovering Grace provides a unique perspective in that it was founded and is operated entirely by adults who were raised as children in Bill Gothard's Advanced Training Institute. (source)
If you didn't know, Gothard's authoritarian teachings are right in line with the shepherding movement as a whole. Pazdziora now continues giving us some working knowledge concerning the issue of spiritual abuse:
Here are a few definitions to get you up to speed:

Spiritual abuse occurs when someone in a position of spiritual authority, the purpose of which is to 'come underneath' and serve, build, equip and make God's people more free, misuses that authority, placing themselves over God's people to control, coerce or manipulate them for seemingly Godly purposes which are really their own. – Jeff VanVonderen

Spiritual abuse is the misuse of a position of power, leadership, or influence to further the selfish interests of someone other than the individual who needs help. Sometimes abuse arises out of a doctrinal position. At other times it occurs because of legitimate personal needs of a leader that are being met by illegitimate means. Spiritually abusive religious systems are sometimes described as legalistic, mind controlling, religiously addictive, and authoritarian. – David Henke, Watchman Fellowship

Spiritual abuse occurs when a leader, church, or a belief system, whether well intentioned or not, dominates, manipulates, or castigates individuals through fear tactics, mind control, or some other psychological or emotional abuse. – Spiritual Research Network

You see it in cults and in mainstream churches. You see it from televangelists and pastors and elders and priests. You hear about it on the news when another child is molested by a priest or pastor. You don't see it in the faces of the people next to you who once heard and believed that they can't please God unless they're good enough. It's there too.

It's bad because it hurts people.

It's worse because it hurts people and tells them they deserve it.

It's worst because it hurts people and teaches them that God does too.

I think it's no exaggeration to say that Spiritual Abuse is arguably the one of the most pressing moral, theological, and social issues facing the church (the followers of Jesus) today. Spiritual abuse not only leaves people emotionally and psychologically devastated, it turns them away from faith in the God who could be their source of consolation and encouragement.

A church that doesn't address the realities of Spiritual Abuse leaves its message savaged and discredited, often without even realizing it. If people associate you with the hypocrites, the manipulators, the bullies, and the abusers, why should they listen to anything you have to say on any other subject — even the Gospel itself?…

The best way to learn about spiritual abuse is, as with most things, to take the time to read about it. (source)
You can find the resources recommended by Eric Pazdziora and read his helpful post in its entirety right here.
Further reading