By Ken Silva pastor-teacher on Jan 20, 2013 in AM Missives, Current Issues, Features, Steven Furtick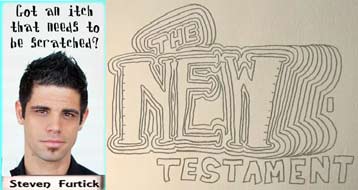 Apprising Ministries has been warning you for a while now that Seeker Driven prophet-leader Steven Furtick Grows In Stature And Closer To The Word Faith Movement.
Sadly, his Elevation Church (EC) is one of the more influential churches in the mainstream of the evangelical community and Steven Furtick himself is actually a sought-after speaker.
Furtick's shtick is marrying Seeker Driven fables with Word Faith mythology; so, it was no surprise last year when we saw Steven Furtick As Televangelist At Lakewood Church Of Joel Osteen.
With this in mind, at his blog Furtick gives us the lowdown on the bait and switch video below:
Back in 2010, we started the year by challenging our church to read through the New Testament together in 30 days. To close out the series, Our Creative team built this fun video that hit on a few of highlights of the New Testament to help catch up anyone who may have gotten behind. (source)
As you'll see, a major highlight missing from the video below is repentance and forgiveness of sins in Jesus Name (cf. Luke 42:45-48):
[mejsvideo src="https://www.apprising.org/wp-content/uploads/2013/01/ElFu.mov" width=640 height=360]
Did you catch that; all we were told in Elevation Creative: New Testament In 60 Seconds is:
[Jesus] loves the whole world. Then He's betrayed; then crucified.

Then He conquers death, giving life to all.
I don't recall seeing universalism taught in the New Testament. Why; because it isn't there. God's Word says:
The true light, which gives light to everyone, was coming into the world. He was in the world, and the world was made through him, yet the world did not know him. He came to his own, and his own people did not receive him. But to all who did receive him, who believed in his name, he gave the right to become children of God, who were born, not of blood nor of the will of the flesh nor of the will of man, but of God…

"For God so loved the world, that he gave his only Son, that whoever believes in him should not perish but have eternal life. For God did not send his Son into the world to condemn the world, but in order that the world might be saved through him. Whoever believes in him is not condemned, but whoever does not believe is condemned already, because he has not believed in the name of the only Son of God…"

Whoever receives his testimony sets his seal to this, that God is true. For he whom God has sent utters the words of God, for he gives the Spirit without measure. The Father loves the Son and has given all things into his hand. Whoever believes in the Son has eternal life; whoever does not obey the Son shall not see life, but the wrath of God remains on him. (John 1:9-13; John 3:16-18; 33-36)
The Gospel is no small matter, in spite of bait and switch techniques of so-called stealth evangelism pioneered by Robert Schueller and perfected by Rick Warren, a mentor of Steven Furtick. The Apostle Paul boldly proclaimed:
For I am not ashamed of the gospel, for it is the power of God for salvation to everyone who believes, to the Jew first and also to the Greek.

For in it the righteousness of God is revealed from faith for faith, as it is written, "The righteous shall live by faith."

For the wrath of God is revealed from heaven against all ungodliness and unrighteousness of men, who by their unrighteousness suppress the truth. (Romans 1:16-18 ESV)
People who do not believe in Christ Jesus remain dead in their sins:
And you were dead in the trespasses and sins in which you once walked, following the course of this world, following the prince of the power of the air, the spirit that is now at work in the sons of disobedience—among whom we all once lived in the passions of our flesh, carrying out the desires of the body and the mind, and were by nature children of wrath, like the rest of mankind. (Ephesians 2:1-3)
If you don't know Jesus and are feeling hopelessly condemned? Good, then you are getting the message; the other side of the Gospel. Now you're ready for the Good News:
Wretched man that I am! Who will deliver me from this body of death? Thanks be to God through Jesus Christ our Lord! (Romans 7:24-25)
Now you know Jesus is your real hope — And Peter said to [those who wished to be saved], "Repent and be baptized every one of you in the name of Jesus Christ for the forgiveness of your sins (Acts 2:38).
And — As it is said, "Today, if you hear his voice, do not harden your heart" (Hebrews 3:15). For Jesus Himself says:
"I thank you, Father, Lord of heaven and earth, that you have hidden these things from the wise and understanding and revealed them to little children; yes, Father, for such was your gracious will. All things have been handed over to me by my Father, and no one knows the Son except the Father, and no one knows the Father except the Son and anyone to whom the Son chooses to reveal him."

"Come to me, all who labor and are heavy laden, and I will give you rest… Truly, truly, I say to you, whoever hears my word and believes him who sent me has eternal life. He does not come into judgment, but has passed from death to life…  For this is the will of my Father, that everyone who looks on the Son and believes in him should have eternal life, and I will raise him up on the last day… All that the Father gives me will come to me, and whoever comes to me I will never cast out." (Matthew 11:25-28; John 5:24; John 6:30,37)
So, will you come?
Further reading