By Ken Silva pastor-teacher on Jan 16, 2013 in AM Missives, Current Issues, Features, Steven Furtick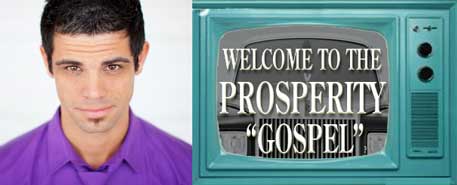 Apprising Ministries has been pointing out for over two years now that there is unquestionably a growing syncretism of heretical Word Faith mythology slithering into the theology of apostatizing evangelicalism.
For example, Joel Osteen Moving One Step Closer To Mainstream Evangelicalism, where Rick Warren is set to share the podium for the Hillsong Church Conference 2013 along with Joel Osteen. ((http://2013.hillsongconference.com/sydney, 1-16-13.))
Seeker Driven prophet-leader Steven Furtick is a classic example of just how far this type of cross-pollination has already spread when we consider that he began this past year with the Code Orange Revival.
It would feature a couple of very high profile Word Faith prosperity preachers in Jentezen Franklin and T.D. Jakes. Jakes, after his being mainstreamed right into evangelicalism at ER 2, needs no introduction. ((See James MacDonald Was A Bit Late In Mainstreaming T.D. Jakes))
However, to give you an idea of who Jentezen Franklin is associated with, a Google search reveals this:

Later that same year we'd then see Steven Furtick As Televangelist At Lakewood Church Of Joel Osteen. As a matter of fact, it's gotten so bad that now Steven Furtick Descends Down To Word Faith Heretic Rod Parsley.
You'll see from this January 3rd tweet Furtick's still seeking Parsley's attention:

(source)
Skubalon is more like it. If you don't know, Rod Parsley is an over-the-top WF snake oil salesman along the order of the flamboyant Benny Hinn as you can plainly see in Word Faith Heretic Rod Parsley With Prayer Cloth Power!
As evidenced by his tweet on the 4th, Furtick is also courting his friend Joseph Prince, fresh from sharing the platform at Hillsong Conference 2012 ((http://bit.ly/O1lfsh, 1-16-13.)) together:

(source)
I told you in Word Faith Prosperity Preacher Joseph Prince that he's an up-and-coming WF heretic who's already a staple at TBN, itself a WF haven of heretics. Yet Steven Furtick is congratulating his deceiving all those people.
Then we come to the tweet last night from Furtick's one-time mentor, the bellicose Perry Noble:

(source)
CRN associate editor Erin Benziger of Do Not Be Surprised… fills us in on what Noble's referring to in Steven Furtick Takes The Code Orange Revival Underground:
Steven Furtick and his Elevation Church kicked off 2012 with a bang. The Code Orange Revival was twelve nights of celebrity preachers, loud worship music and subsequent emotional highs…

It seems that Furtick has revitalized the Code Orange Revival for 2013. This time, however, there is a twist: this "revival" is by invitation only as evidenced by the Code Orange Underground website:


(source)

In order to access this page further, one must enter his email address. Those not on the exclusive invitation list, however, will receive this message:


(source)
Isn't it rather curious that one would wish to withhold revival from some people? I think the immediate question we should be asking is: Why do you need to do something "underground" unless you're trying to hide something?
If you're tempted to think, what difference does all of this make, who's Steven Furtick anyway; better think again. Steven Furtick has graduated to the big time as a headliner for the upcoming:

Furtick, along with his "pastor" Craig Groeschel, will be sharing the platform at this Twelve Conference with both Rick Warren and Bill Hybels, two of the biggest gurus associated with the Church Growth Movement.
We also see John Ortberg, a purveyor of Contemplative Spirituality/Mysticism a la Richard Foster and Dallas Willard, along with Brian Houston, pastor of the nefarious WF outfit Hillsong Church with pastrix Bobbie. ((http://myhillsong.com/senior-pastors-eldership, accessed 1-16-13.))
Here's the full lineup:

Steven Furtick is on the ascent and you may also find it interesting that Twelve is put on by Saddleback Church. ((http://bit.ly/S5ETdI, 1-16-13.))
[mejsvideo src="https://www.apprising.org/wp-content/uploads/2013/01/TwelveSad.mov" width=640 height=360]
Further reading