By Ken Silva pastor-teacher on Aug 4, 2012 in AM Missives, Current Issues, Features, Word Faith
Apprising Ministries continues our coverage of the implosion of evangelicalism, which has gotten so bad now that Prophet-Leader Steven Furtick Descends Down To Word Faith Heretic Rod Parsley:


(source)
That's a picture of Rod Parsley, one of the most notorious of Word Faith prosperity hucksters, posing with Seeker Driven prophet-leader Steven Furtick in one of the more influential mainstream evangelical megachurches.
And there's Furtick, himself an influential young evangelical, calling this spiritual snake oil salesman "a preaching machine." That picture was taken just last week so I've no doubt we'll see more of the two together.
I wonder how long it'll be before Furtick also offers miracle prayer cloths like his WF hero Rod Parsley is doing right now: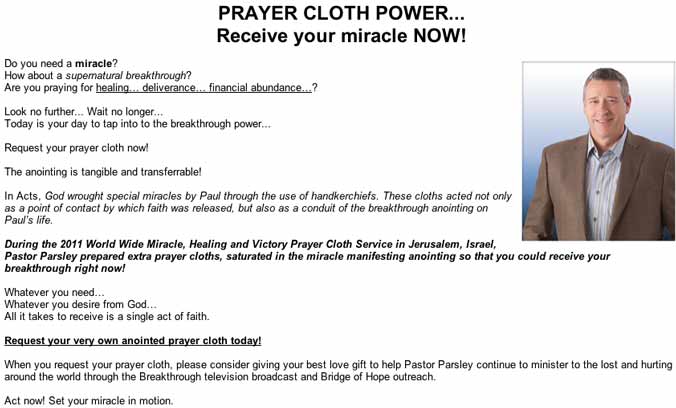 (source)
O my,  our very own handy dandy "anointed prayer cloth" even prepared in Jerusalem, so you just know "your miracle" is a-comin'! Below is a clip from one of his *cough* special Miracle, Healing and Prayer Cloth Services.
All you have to do to activate your miracle through preaching machine Rod Parsley is to sow your seed of faith. In Word Faith parlance that means: Show me the money! In other words, donate to Parsley:


(source)
Have a look at the absolute foolishness of Rod Parsley that Steven Furtick is so enamored with. Now consider that the 2-time Elephant Room veteran is part of the new magisterium in An Evangelical Gangsta's Paradise:
[mejsvideo src="https://www.apprising.org/wp-content/uploads/2012/08/ParsleyCloth.mov" width=640 height=360]