By Ken Silva pastor-teacher on Oct 4, 2011 in AM Missives, Current Issues, Features, Steven Furtick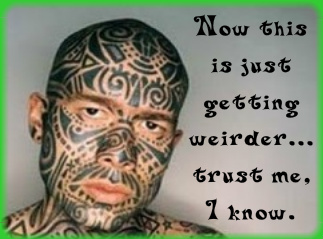 Among the issues Apprising Ministries covers is how even the heretical Word Faith movement continues heading toward acceptance within the mainstream of evangelicalism during this nauseating New Downgrade No-Controversy.
See for yourself e.g. in Steven Furtick Bringin' On Word Faith And The Pastrixes or Word Faith Heretic Cindy Trimm Receives Award From Billy Graham Evangelistic Association or James MacDonald, T.D. Jakes, And Postmodern Obfuscation.
Keep in mind with this last article, that MacDonald is associated with the Young, Restless, and Reformed crowd, as well as being a Gospel Coalition Council Member and caretaker of The Elephant Room discussions.
As you see below, we're gearing up now for ER2:
One of the common criticisms of online apologetics and discernment ministries like this one was recently expressed by MacDonald's fellow Gospel Coalition Council Member and ER host Mark Driscoll:
So called "discernment" bloggers who are usually not connected to any noteworthy or respected evangelical Christian theologians, schools, denominations, ministries, churches, or pastors make their living taking what people said wrongly, transcribing it, and then falsely—or at least wrongly—accusing them of heresy when it is untrue. (Online source)
Translation: Boo hoo, I don't want to be held accountable to answerring the facts of said criticism. What I'm going to do here, yet again, is systematically present the evidence—as would a lawyer—to further make the case that heretical Word Faith prosperity preachers are gaining evangelical acceptance. 
What is more, GC member James MacDonald is actually helping this to happen. Consider below that Seeker Driven Prophet-Pastor Steven Furtick, now an up and coming evangelical darling, will once again be at ER:
While this is basically Furtick's bio; but since MacDonald knows where Furtick stands, I offer that adding they "are privileged to again have," makes this now read rather like an endorsement.  Even more so when we consider "The Steven Furtick Show" Played At Harvest Bible Chapel Of James MacDonald.
As you can see, apparently MacDonald was returning the favor as he'd already preached for Furtick:
In addition, you should also know that MacDonald's also slated to close an upcoming conference for Furtick at his Elevation Church this coming January:
Be all this as it may, I've shown you again in Steven Furtick And Word Faith Heresy where P-P Furtick is headed. Being told GC member MacDonald feels privileged to discourse with Steven Furtick now gives us more than enough reason to call P-P Furtick to the stand as it were and examine him further.
For example, Furtick himself is already on record gushing Joel Osteen Is A Great Man Of God:
This truly brings Furtick's discernment into question because I've clearly shown in Smile When You Lie that Joel Osteen is a preacher of Word Faith heresy. That's hardly something a great man of God would do. We also know that Steven Furtick is a huge fan of another WF mogul, T.D. Jakes.
In fact, P-P Furtick has even invited Jakes to speak at the very same conference James MacDonald is to close for him. This is confirmed by T.D. Jakes himself as he tweets below:
Furtick then excitedly replies:
And to think, they'll all be in ER2 as well. Now that Steven Furtick has introduced T.D. Jakes into evidence let me point you again to the following video from the 9/1/11 edition of TBN's Praise the Lord program. The three WF pastrixes he introduces below are featured speakers at his Woman Thou Art Loosed 2011 next month.
The first is pastrix Paula White, whom Jakes calls "pastor extraordinaire." You'll hear her tell Jakes he's her "spiritual father." Next is pastrix Cindy Trimm, essentially a female version of himself, and amazingly Word Faith Heretic Cindy Trimm Receives Award From Billy Graham Evangelistic Association.
Pastrix Sheryl Brady of The Potter's House North, whom T.D. Jakes called personally, rounds out the apostate trio:
As you should be able to see Oneness Pentecostalism isn't the only baggage T.D. Jakes comes with. After Jakes is mainstream, how long do you think it'll be before he brings these WF flakes along for the ride? Below is the full slate of WTAL speakers:
Now where do you suppose this WTAL conference of T.D. Jakes is being held? Could it be, Steven Furtick's Elevation Church? Well, no; at least not this year. Take a look below:
Hey, who knows, perhaps James MacDonald will have Joel Osteen host Elephant Room 3…
See also:
GOSPEL COALITION COUNCIL MEMBER JAMES MACDONALD LOVES PERRY NOBLE
ELEVATION 'VIDEO' CHURCH – APPRISING VISIT TO THE EARLY SERVICE AT MATTHEWS, NC