By Ken Silva pastor-teacher on Oct 3, 2011 in Current Issues, Features, Steven Furtick, Word Faith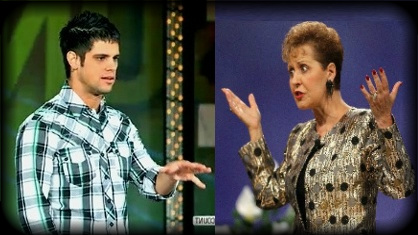 As this New Downgrade No-Controversy continues to pick up speed and size as it rolls down the hill toward the mainstream evangelicalism Apprising Ministries helps you get a better idea of who the major players are in spreading apostasy and opening the doors for heretics.
One of them is up-and-coming evangelical darling Prophet-Pastor Steven Furtick, who's set for Elephant Room 2 along with ostensibly reformed Gospel Coalition Council Members James MacDonald and Mark Driscoll and his fav preacher Word Faith heretic, T.D. Jakes.
P-P Furtick is author of Sun Stand Still, a book which begins laying out his hybrid Seeker Driven and Word Faith mythology. In fact, Word Faith supertar Eddie Long—who now Demands Return of Settlement Money From 'Rogue' Accusers—says of Furtick's Sun Stands Still fable:
"Sun Stand Still invokes the omnipotent power of God by challenging the reader to embrace God's will for our lives by strengthening our faith through prayer. This book is enthralling and moves you to believe in the impossible as you learn to live a life of boldness for the kingdom of God." —BISHOP EDDIE LONG, pastor, New Birth Missionary Baptist Church; author of 60 Seconds to Greatness and What a Man Wants, What a Woman Needs
I just told you in Richard Foster, T.D. Jakes, And Your Brain On Mysticism that there's good reason why P-P Furtick would seek the approval of blab it and grab it superstars like the disgraced Eddie Long. This is a theory I first heard talked about by Chris Rosebrough of Pirate Christian Radio.
Multi-site churches, with all of their Internet bells and whistles and massive video streams have huge technology bills to pay. Now consider the economy along with their "numbers are king" philosophy. They have no choice but to continue trying to expand their little self-grandiose kingdoms.
By their own philosophy dreamed up by the Church Growth Movement, from which this current cult of church-planters hatched, if they don't 1) they're considered failures, and 2) they'll go out of business. It may become a clearer for you now why we even find this now in the Reformed camp.
James MacDonald and Mark Driscoll are basically in the same boat as Prophet-Pastor Steven Furtick: They all have a real need of: M-O-N-E-Y. O yes, so now the revelation comes: Jesus would be pleased if we try and bring unity within the Body of Christ through embracing WF preachers like T.D. Jakes.
I've said it before, Jakes is among the very best in the business at begging for bucks; as I see it, a real master at manipulating the masses. As his centered on the self star rises I've shown you, e.g. in Steven Furtick Bringin' On Word Faith And The Pastrixes, it's also the direction that P-P Furtick's headed.
For example, in that piece I pointed out Furtick has been called up to the big show as he's slated to preach this coming July at Hillsong 2012 along with WF heretic Joyce Meyer:
I've shown you in Steven Furtick And "Prophet" Brian Carn that Furtick even aims to further mainstream such Word Faith spiritual flakes as this *cough* profit prophet (below) who's so spiritually dense that he actually thinks Benny Hinn is speaking for God.
Even worse, Carn actually brags that he has gotten a "double-portion" of Hinn's anointing. Who'd want a double dose of nothing:
You should know that in her post Steven Furtick is Lookin' for the Favor AM special correspondent Erin Benziger brought out P-P Furtick was scheduled to preach at Faith Church in Saint Louis yesterday. This WF outfit is headed up by Pastor David and Pastrix Nicole Crank:

There's pastor Dave with Joel Osteen:
Below is Osteen's commercial for his "good friends" pastor and pastrix Crank:
Prophet-Pastor Furtick himself is already on record gushing Joel Osteen Is A Great Man Of God:
Apparently things went well yesterday for P-P Furtick as pastrix Nicole tells us:
Looks like Furtick's made some new heretical friends as well in ol' St. Loo too because today Keith Craft, pastor of another WF establishment called Elevate Life Church along with his wife pastrix Sheila, tweeted:
Then later Furtick himself would make sure to tell us:
Just doing what I can to help you get ready for this new hybrid evangelical audacious Word Faith mythology pioneered by Prophet-Pastor Steven Furtick. And so, I leave you with the following spiritual monkey business from pastor Dave and pastrix Nicole Crank on Love and Marriage:
See also:
STEVEN FURTICK SENDS KEN SILVA MESSAGE
ELEVATION 'VIDEO' CHURCH – APPRISING VISIT TO THE EARLY SERVICE AT MATTHEWS, NC