By Ken Silva pastor-teacher on Sep 14, 2011 in Current Issues, Features, Steven Furtick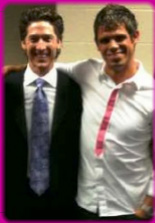 This online apologetics and discernment work Apprising Ministries has been blessed of Jesus to be used as one of His "go-to" ministries in the area of the ne0-Gnostic corruption called Contemplative Spirituality/Mysticism (CSM).
Unfortunately, it's now virtually pandemic within mainstream evangelicalism through its foolish embrace of the sinfully ecumenical neo-liberal cult of the Emerging Church aka Emergent Church with its quasi-universalism in a new version of Progressive Christian theology under their spiritual circus "big tent" Emergence Christianity.
As this spiritual filth seeps throughout the bloodstream of younger sectors of evangelicalism we're witnessing a blurring of doctrinal lines, and even a syncretism of sources we'd likely never imagined before.
One of these is the more mainstreaming of the spiritual lunacy of the Word Faith movement; seriously, a couple of years ago who would thought Oneness Pentecostal T.D. Jakes Goes Mainstream Evangelical. Against that backdrop I point you to Open Letter to Steven Furtick (1 of 2).
Let me make it clear: This is absolutely not a criticism of Frank Turk or Phil Johnson. The piece by Turk features Furtick's video below:
For reasons I'll elaborate on in a moment I refer to Steven Furtick and his mentor Perry Noble as the Popes of the Carolinas; and when I covered this video when it came out this past March I quipped it looked to me like this Bull from Carolina Pope Furtick might be an audition for next year's American Idol.
Pyro is a blog I'm pleased to recommend right now and from the comments section of Frank Turk's Open Letter post today, it's pretty clear—as of this writing—the commentors are largely unware of just who Steven Furtick is. So, with minimal comment, here I'll pull from previous posts to introduce you.
I begin with Steven Furtick And James MacDonald; there I told you Furtick is an up and coming new breed Seeker Driven prophet-pastor. The prophet-pastor uses the occultic "vision-casting." It starts as the prophet-pastor ardently studies the holy writings of like-minded prophet-pastors before him.
Then, filled with lofty dreams of megachurch church-planting stardom, the prophet-pastor meditates upon his hero's works until finally the delusion arrives; and the prophet-pastor receives his extra-biblical "vision," allegedly from God, as to how he's going to help make God's dream come true.
After that the prophet-pastor selects his hand-chosen yes men disciples and they accompany prophet-pastor before his followers congregation where prophet-pastor lays down the law casts said vision before this flock. Then they are do whatever it takes to make his delusion of grandeur come to pass.
In that prior post I told you Furtick's even blessed by Church Growth gurus, Purpose Driven Pope Rick Warren and Bill Hybels. First I give Rick Warren's blessing:
Then Furtick is fresh off speaking for Bill Hybels at his annual Global Leadership Summit this year:
Another concern about Steven Furtick is his distinct leaning toward the Word Faith movement. In 2010 Furtick was actually a featured speaker at the Forward 2010 Conference of Jentezen Franklin, a notorious WF preacher who often shills for the egregious honeycomb of heresy Trinity Broadcasting Network:
Furtick, who also calls Joel Osteen A Great Man Of God, has now preached for the ostensibly Reformed James MacDonald as well when a couple of weeks ago "The Steven Furtick Show" Played At Harvest Bible Chapel Of James MacDonald.
Apparently MacDonald was returning the favor as he'd already preached for Furtick:
You should also know that in addition MacDonald's slated to close an upcoming conference for Furtick at his Elevation Church this January:
One other speaker for Furtick's conference, Matt Chandler, should be of note for the young, restless & reformed camp as well:
This is the heart of the matter: Intel that I have leads me to be fearful that while James MacDonald may believe he's mentoring Steven Furtick, I'd say its much more probable he'll be played if not careful.
Furtick is quite possibly maneuvering to use MacDonald's credibility to make himself appear more legit; particularly with the lower end of the YRR demographic, which he'd likely skew very well within.
You need to know that Steven Furtick is very sharp; he's a real Leadership Network type who's been studying business leadership books for years; and one of his mentors is prosperity mogul T.D. Jakes.
In her well-researched post Steven Furtick is Lookin' for the Favor Erin Benziger shows that Furtick, who as I said, is real fan of WF properity preacher Joel Osteen, is also making a move into that camp.
To me, Furtick gives every appearance of having, shall we say, just a bit of an ego. After-all, as a prophet-pastor claiming direct revelation and "visions," he fits right in with spiritual flakes in the WF crowd.
Right now, with Osteen getting older and John Crowder too "out there," at least for now, it's pretty clear that the WF camp is very ripe for a young, and driven, charismatic (in both senses) leader.
A growing darling within evangelicalism, as I showed you in Steven Furtick And T.D. Jakes, he has enough clout already to even capture the attention of Word Faith superstar "Bishop" T. D. Jakes.
Prophet-pastor Furtick first tweets the marching order to his Elevators:
Jakes then responds:
Furtick excitedly replies:
And finally T.D. Jakes tells fellow prophet-pastor, Steven Furtick:
My guess is Steven Furtick is making a play to become the next big thing for the younger evangelicals:
See also:
 STEVEN FURTICK BRINGIN' ON WORD FAITH AND THE PASTRIXES
STEVEN FURTICK AND "PROPHET" BRIAN CARN