By Ken Silva pastor-teacher on Aug 19, 2011 in Current Issues, Features, Steven Furtick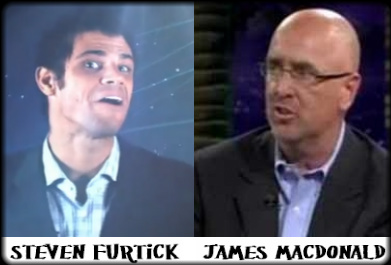 As Apprising Ministries surveys the evangelical landscape during a time, which appears to me of growing spiritual darkness and a New Downgrade No-Controversy, I find the following interesting and notewworthy.
Steven Furtick is an up and coming Seeker Driven/Purpose Driven prophet-pastor and one of the Popes of the Carolinas along with his friend Perry Noble.
Furtick's style is reminicent of one his heroes, Word Faith TBN shill Jentezen Franklin:
No, I don't; it seems to me enemy forces are laughing as they watch Word Faith Heretics Like Creflo Dollar Draw Nearer To Evangelical Acceptance. I'm not over-stating; consider Word Faith Heretic Cindy Trimm Receives Award From Billy Graham Evangelistic Association.
I've also shown you that Steven Furtick's even blessed by Church Growth gurus, Purpose Driven Pope Rick Warren and Bill Hybels. Then the other day I posted "The Steven Furtick Show" Played At Harvest Bible Chapel Of James MacDonald.
Therein I shared the eyewitness report of Erin Benziger, who incidentally, formerly attended MacDonald's ostensibly Reformed HBC. Erin went into much detail as she tells us that the sermon show was all about…well…prophet/pastor Steven Furtick.
Not all that surprising as you can see in Steven Furtick Documentary and Steven Furtick Sends Ken Silva Message. In fact, one of Furtick's favorite preachers, in addition to Joel Osteen whom he calls "a great man of God" is the bombastic Oneness Pentecotal prosperity mogul T.D. Jakes.
In the tweet above from Furtick you see him mention "our 12 night revival." Yesterday Steven Furtick was tweeting quite a bit about "2012 Code Orange Revival" this coming January 11-22, 2012 at his Elevation church:
As I looked at the people whom Furtick tweeted would be taking the platform I wasn't surprised to see Israel Houton, Joel Osteen's worship leader, or Craig Groeschel—whose a leading pragmatic SD/PD type and Furtick's "pastor."
Then I noticed Matt Chandler, who's not a SD/PD quasi-prosperity preacher like Furtick, but rather, is Acts 29 young, restless and reformed:
It brought to mind what I'd listened to earlier where Todd Friel had an excellent two hour long discussion with Phil Johnson of Grace to You and Pyromaniacs on his Wretched Radio program. I'll tell you it's well worth your time to get hold of that podcast.
Friel and Johnson discussed a number of topics, one of which was the YRR movement. Like any movement there are growing pains and finding a direction. Unfortunately, it looks to me as if Steven Furtick has set his sights upon a section of it.
Seems he gotten rather close with the aforementioned James MacDonald as evidenced by Furtick's tweet concerning the confernce Matt Chandler is to speak at:
MacDonald, despite taking some criticism for turning the pulpit of his Havest Bible Chapel over to Steven Furtick, is keynote speaker for Furtick and his upcoming conference, which is why I found this tweet from Jame MacDonald quite iteresting:
Hmm, reformed Nazis. Well, until next time: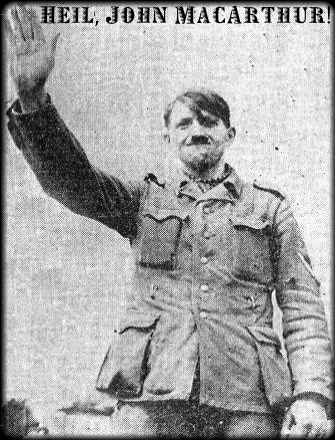 See also:
STEVEN FURTICK CALLS JOEL OSTEEN GREAT MAN OF GOD
RICK WARREN BRINGS LOVE FOR STEVEN FURTICK ON RECORD
PURPOSE DRIVEN/SEEKER DRIVEN POPES OF THE CAROLINAS HAVE SPOKEN