By Ken Silva pastor-teacher on Dec 14, 2012 in AM Missives, Current Issues, Features, Steven Furtick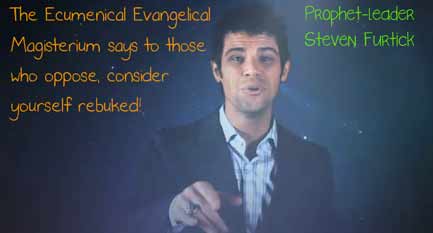 Just as long as funding will allow, Apprising Ministries continues on among those pioneering the still-developing mission field of online apologetics and discernment ministry (OADM).
Sadly, this path has now led to having to write posts like James MacDonald Was A Bit Late In Mainstreaming T.D. Jakes and Perry Noble, Jack Graham, And Quasi-Word Faith Preachers.
Where once the labors of OADM works were largely focused upon non-Christian cults we now find ourselves having to warn of growing apostasy spreading throughout the visible church.
Ever since the ignominious Elephant Room of James MacDonald, and his partner in spiritual crime Mark Driscoll, we've seen the participants—and their various comrades—uniting.
Let's first go back to April of 2010 and John Piper's curious decision to invite Purpose Driven pragmatist Rick Warren as keynote speaker at his Desiring God 2010 conference. ((http://bit.ly/12dTIOn, accessed 12-14-12.))
The exclusive Apprising Ministries video clip below gives you a full picture of Piper's announcement and his subsequent defense of his dubious decision to invite Warren to speak on The Battle for Your Mind:
[mejsvideo src="https://www.apprising.org/wp-content/uploads/2012/12/PiperOnWarren.mov" width=640 height=360]
Moving forward from there, as I document e.g. in Elephant Room Curator James MacDonald Points Us To A Couple Of Conferences Of Interest, we begin to see the same names working together.
As an example, consider New Calvinist Acts 29 Network, where Matt Chandler is now president, and the lineup for its recent Resurgence R12 conference:
As Christian Research Network Associate Editor Erin Benziger of Do Not Be Surprised… offered in her post The Resurgence Reminds Us Of The Piper-Warren Embrace:
it truly does appear as though a new, ecumenical evangelical magisterium is forming as these leaders continue to influence and promote one another. (source)
With this in mind then, let me now bring you back to the video below from magisterium member Steven Furtick, prophet-leader of the highly influential multi-site megachurch known as Elevation Church.
I covered it a year ago in Hey Haters By Steven Furtick (Max Holiday Dub) and Steven Furtick Performer Wannbe? Notice it was uploaded not long before his appearance in the Elephant Room 1:

(source)
Now you might also recall that after this video first came out, Steven Furtick received quite a bit of pushback and he apparently then felt the need to compare his work with Christ Jesus in A Response to "Hey Haters."
As I close this out, for now, looking back upon prophet-leader Furtick's Hey Haters with this fresher perspective we might be able to see his lyric/rant in a new light. First he explains:
this video [is] a little message to all the haters in the Body of Christ. (source, bold his)
Really; a bit bold for the prophet-leader to make that kind of accusation about members of the universal Church of our Lord, no? The only haters in Christ's Body are those who hate false doctrine as He does.
Actually, Furtick's post truly reveals his utter ignorance concerning the Body of Christ and the evil influence of the propaganda of the Emerging Church upon him:
I believe that there's very few things our world needs more desperately today than the restoration of the Biblical virtue of honor. And this is nowhere more true than in the Body of Christ at large.

I'm tired of people slinging hate at other churches and pastors, and for the Church being known more for what it stands against than for what it stands for. (source, bold his)
In his apparent need to seek friendship with the world (he may wish to peruse James 4:4) prophet-leader Steven Furtick has confused the visible Christian church with the invisible Body of Christ, His spotless Bride.
Yes, the professing Christian community that Furtick is holding court in is, right now, anything but honorable in its widespread apostasy. However, it borders on blasphemy to say Jesus has allowed dishonor into His Church.
Furtick slinging bile at the Body of Christ only shows how low such as these stoop to win the favor of unbelieving pagans. The Church will always be known for its worship of Jesus Christ and for the advance of His Gospel.
Through God the Holy Spirit, God the Father empowers us to pledge our allegiance to God the Son, Christ Jesus of Nazareth. Prophet-leader Furitck, this means the Church is for what He's for and against what He's against.
In closing this, for now, against this clearer backdrop let's listen again to what Furtick's fable is really saying. And as you do, now that you know what you know, ask yourself: Who is the we of whom he speaks so pridefully:
[mejsvideo src="https://www.apprising.org/wp-content/uploads/2012/12/FurtHayHat.mov" width=640 height=360]
Further reading