By Ken Silva pastor-teacher on Dec 9, 2012 in Current Issues, Features, Steven Furtick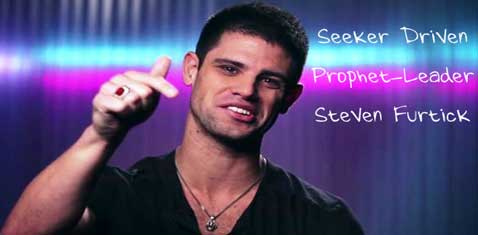 Apprising Ministries continues calling out what appears to be an emerging ecumenical magisterium growing up around the ill-fated Elephant Room of seriously drifting James MacDonald and New Calvinist Mark Driscoll.
Sadly, there's a progressive New Downgrade No-Controversy going on within broader evangelicalism; and, like the proverbial frog slowly boiling to death in a pot, over the past couple of decades people simply haven't noticed.
During this time the Gospel has been changed from repentance and forgiveness of sins in Jesus' Name into a supposed dream God has for everyone who professes to believe in Jesus to work together to "change the world."
Along with this we've seen the rise of the prophet-leader as head of multi-site megachurches. One of the most popular, and influential, among this Seeker Driven/quasi WF brood would be Steven Furtick of Elevation Church.
This is easily demonstrated e.g. in Praise For "Greater" By Prophet-Leader Steven Furtick when we consider some of the "names" who've lended their credibility to Furtick concerning his latest book of mythology entitled Greater: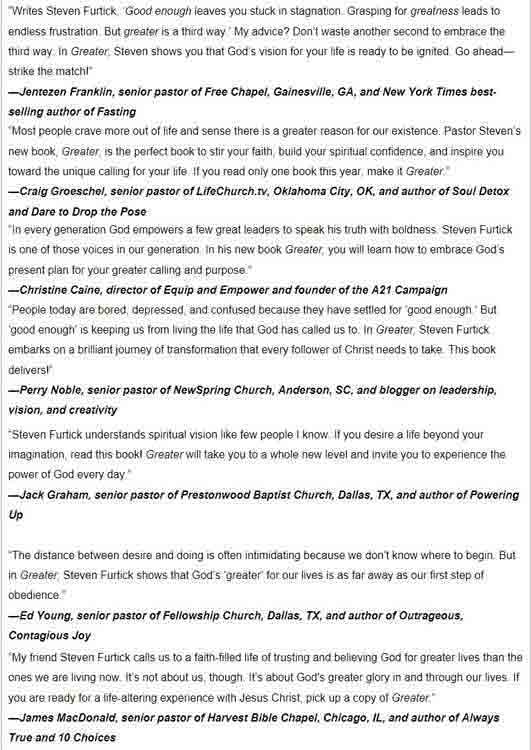 Now you have the proper vantage point on the current battlefield as I point you to the following clip from the Fighting for the Faith program of Christian apologist Chris Rosebrough of Pirate Christian Radio:
Chris Rosebrough of Fighting for the Faith (http://www.fightingforthefaith.com) discusses Steven Furtick's narcissistic Bible twisting in the book, Greater.

In this segment, you'll learn why God does NOT want you to burn plows, dig ditches or strike the water in order to activate "some dream" He has for your life. (source)
In closing this, for now, consider many people have told me personally, and I've seen well-known evangelical names say, that Steven Furtick is teaching false doctrine quite harmful to the visible Christian community. I agree.
Now ask yourself: If this is true, what does it say e.g. about men like former SBC president Dr. Jack Graham who proudly endorse Steven Furtick:
Further reading