By Ken Silva pastor-teacher on Dec 8, 2012 in AM Missives, Current Issues, Features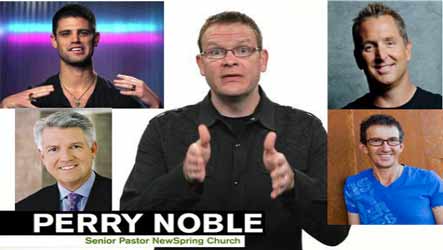 As an online apologetics and discernment ministry, it's part of my job here at Apprising Ministries to monitor Intel along the Internet and document for you the continued falling away of the evangelical community.
With this fall has come the rise of what is looking more and more like an evangelical ecumenical magisterium rooted in the ill-fated Elephant Room of seriously drifting James MacDonald and New Calvinist Mark Driscoll.
The following tweet the other day by Seeker Driven prophet-leader Perry Noble, whose disciple Steven Furtick has surpassed in influence, involves three ER vets. Noble and Furtick, along with former SBC president Jack Graham.
Stovall Weems and Kevin Gerald are still rather b-list Seeker Driven/quasi-Word Faith preachers who are now getting a push into the more mainstream of evangelicalism from Seeker Driven Major General Ed Young, Jr.
Weems and Gerald were featured at Young Jr.'s C3 2102 in February ((ED YOUNG, JR.'S C3 2012 CONFERENCE: ANOTHER SEEKER-DRIVEN AND WORD FAITH LINE-UP, accessed 12-8-12.)) and Steven Furtick is helping to promote that pair within the wider evangelical community as well through his Code Orange Revival earlier this year.
Now that you have this in mind, I'll show you Perry Noble would gush:

(source)
Here's the question you need to be asking because nothing good will come from this kind of syncretism and compromise apparently to curry favor with the world and build their little kingdoms:
"Do two walk together, unless they have agreed to meet?" (Amos 3:3)
Further reading