By Ken Silva pastor-teacher on Apr 5, 2014 in AM Missives, Current Issues, Features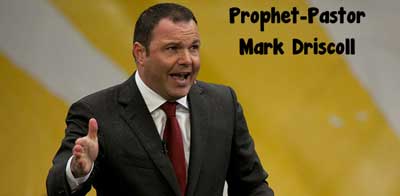 Since the first Elephant Room (ER) conference, I've been talking to you here at Apprising Ministries about a developing Evangelical Ecumenical Magisterium (EEM) growing up around Mark Driscoll and his ER co-host James MacDonald. This EEM of cult of celebrity megachurch pastors appears quite important to them.
It would seem that rather than abandon it, they even resigned from The Gospel Coalition when criticized for their desire to mainstream Word Faith prosperity preacher T.D. Jakes. ((See Mark Driscoll Resigns from the Gospel Coaliition and There's More to the Resignation of James MacDonald from Gospel Coalition.)) In fact. so broad has this EEM become we even see Mark Driscoll Defends His Christian Brother Joel Osteen.
Soon Joel Osteen is likely to be ushered into the EEM. As you'll see in Mark Driscoll, Acts 29 Network, & The Emerging Church, Driscoll's theology has always been off. With that in mind, consider that he's been working to develop an emerging postmodern form of Calvinism with mentors like Tim Keller and John Piper.
Unfortunately, this so-called New Calvinism is built upon the shifting sand of the charismania I discussed in On Contemplative Spirituality and Charismania, which I showed you e.g. in Acts 29 Pastor Matt Chandler on being a Reformed Charismatic and Mark Driscoll and Neo-Reformed New Calvinist Contemplative Spirituality.
The reason I remind you of this is because from where I stand, as evidenced by e.g. Mark Driscoll Vision-Casting Dead Bodies His Mars Hill Bus Will Roll Over, Driscoll is a leading figure in the EEM of multi-site megachurch prophet-pastors. Such as these have no real accountability because they claim direct revelation from God.
Perhaps this is the real reason behind the following from about a month ago Mark Driscoll Apologizes to Mars Hill Church Followers for Using Wrong Book Marketing Strategy; Radio Show Host Blasts His Letter as 'Mushy Church Talk'. Christian Post reporter Morgan Lee informed us:
Megachurch pastor Mark Driscoll recently apologized via an internal letter to his congregation for using a marketing company that promoted his book Real Marriage through what he now sees as a manipulative method to help place the book on top of the New York Times best seller list.

"My understanding of the ResultSource marketing strategy was to maximize book sales, so that we could reach more people with the message and help grow our church," Driscoll stated in the letter. "In retrospect, I no longer see it that way. Instead, I now see it as manipulating a book sales reporting system, which is wrong. I am sorry that I used this strategy, and will never use it again. I have also asked my publisher to not use the '#1 New York Times bestseller' status in future publications, and am working to remove this from past publications as well."

Earlier this month, after a report that the Seattle-based Mars Hill Church he pastors paid a promotional company $210,000 three years ago to make sure that Real Marriage, co-written by Driscoll's wife, Grace, made the New York Times best-seller list, the church released a "Note From Our Board of Advisors and Accountability." In addition to describing a shift in the way decisions made by the church administration are reviewed, the Board addressed the book promotion controversy.

However, the more personal letter from Driscoll, 43, was released on Mars Hill Church's internal social network on Sunday after the controversy did not seem to subside last week. (source)
Being that Driscoll was trained by the quasi-Christian business outfit Leadership Network, he'd be quite adept at double-speak and damage control. As a matter of fact, the same day the above report came out Religion News Service would reveal Pastor Mark Driscoll apologizes for missteps, quits social media:
Seattle megachurch pastor Mark Driscoll has written a letter to his congregation to explain recent controversies, including the marketing campaign intended to place the book, "Real Marriage," on The New York Times best-seller list…

In recent months, however, reports have emerged that Driscoll plagiarized some of the material in his books. And earlier this month, World magazine reported that Driscoll hired a firm to buy copies of the book he penned with his wife, Grace, so that it would top the best-seller lists.

In a letter posted on Reddit on Saturday (March 15), Driscoll apologized for using the marketing strategy…

The church's spokesman, Justin Dean, [also] confirmed that a letter from Driscoll to Mars Hill Church was posted to the church's internal network as "a private family communication."

"At this time we have chosen not to publicly release the letter," Dean said, adding that the pastor was not available for interviews.

Driscoll also apologized to his church in 2007 for lacking humility. In the new letter, Driscoll said he would quit social media for the rest of 2014 to "reset" his life. (source)
As you can see, Driscoll's come into quite a bit of controversy in the past few months; yet supposedly he has since repented of this actions. ((Driscoll's repentance is found wanting upon closer examination: http://bit.ly/1jPtISD, accessed 4/5/14.)) Now you have the proper backdrop from which to examine Mars Hill Church moves to destroy documents:  A group of former members asks for a delay, suggesting forthcoming lawsuits.
Warren Cole Smith begins his report by telling us that:
Mars Hill Church, the Seattle megachurch pastored by Mark Driscoll, has moved to destroy all staff emails more than three months old. According to the church's new email retention policy, announced this week, the email deletions would reduce technology costs. But a group of former staff, elders, and members say the new policy is a deliberate attempt to destroy documents that might be used in litigation against the church.

WORLD obtained an email from the church announcing the new policy, scheduled to go into effect by the close of business today. "We are now shifting to a new email retention policy, which will automatically retain emails only from the last 90 days on our machines, servers, and backups," the email read.

Reaction to the new policy was immediate, with some former staff members and elders saying that even though Driscoll issued a lengthy statement confessing to and repenting of behavior that has led to recent controversies, this action is not consistent with that statement.

"Mars Hill leaders say they are 'repenting,' yet their actions scream cover up and damage control," said former church staff member and elder Kyle Firstenberg "Sin that is repented of declares the glory of the gospel of Jesus. Sin that is covered up declares self-preservation and a lack of understanding of the gospel. Why don't their words and actions agree?" (source)
Firstenberg asks a good question; and based upon what I've seen I would have to agree with his assessment. Especially when you consider Mark Driscoll's piece Do You Trust Your Pilot? It sure seems to me, he's all but demanding cult-like obedience. All you need to do is substitute the words "I" for "they" and "my" for "their" below:
Working for an organization, including a church or ministry, is kind of like a plane in flight. The senior leaders are up front getting data from private channels and have a perspective out the windshield that no one else has…

Assume that they have way more data and training than you. Assume they see stuff out of their window you don't see out of yours. Assume they did the right thing, even if you are wearing your drink, your luggage came flying out of the overhead bin, and you need to buy new underwear to replace the ones you were wearing… (source)
Further reading