By Ken Silva pastor-teacher on Apr 3, 2014 in AM Missives, Current Issues, Features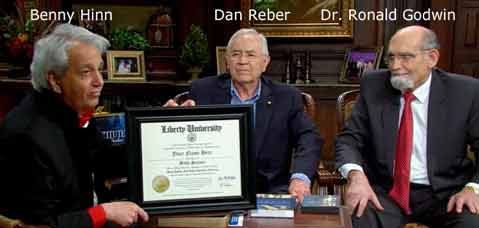 That's what well-respected Southern Baptist Tom Ascol, senior pastor of Grace Baptist Church and executive director of Founders Ministries, also thought based on his post Liberty University Partners with Benny Hinn.
Here's where it all begins as Apprising Ministries shows you below what Hinn has stated on his website concerning that possibility (click to enlarge):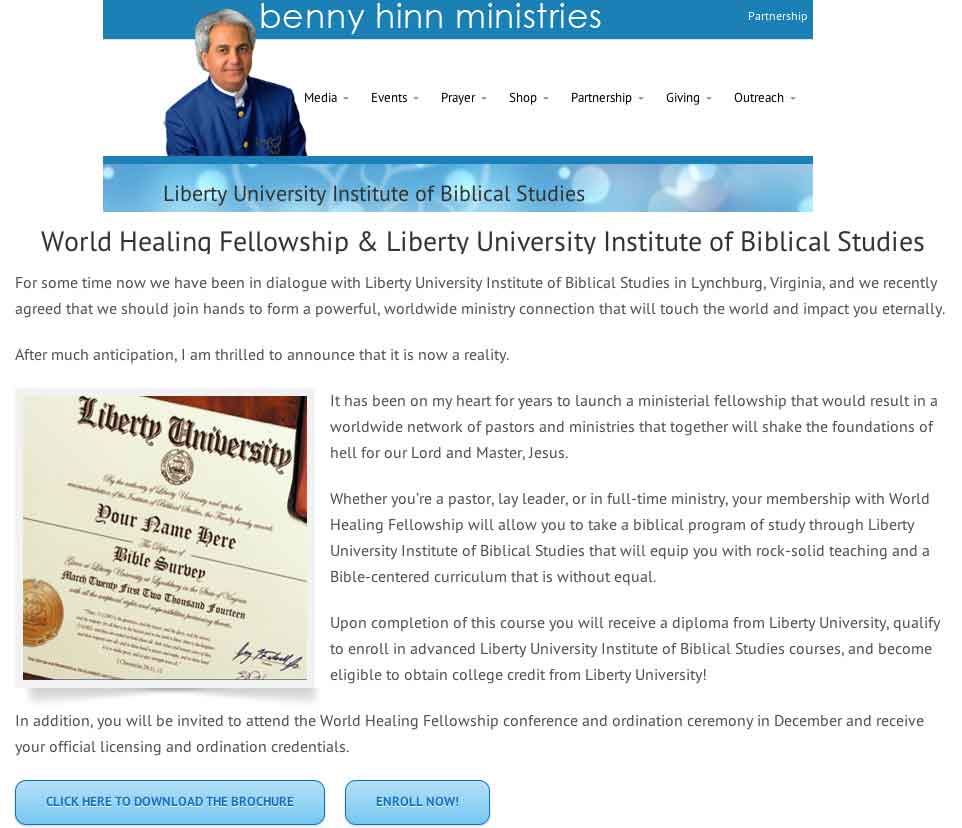 (source)
Word Faith "healer" Benny Hinn also provided a video promoting this supposed partnership with Liberty University, from which the exclusive video clips to follow below were taken.
Appearing with Hinn in the first clip are Dan Reber, Director of Liberty University Institute of Biblical Studies and Dr. Ronald Godwin, Senior Vice President for Academic Affairs/Provost for Liberty University.1
By holding up one of Liberty's diplomas, it would seem pretty clear below that Hinn is telling us those who complete the course would indeed receive a diploma from Liberty University:
Also notice that the following screen capture from the downloadable brochure from Hinn's website does say that the diploma would be from Liberty University:

(source)
Today however, Liberty University (LU) issued the following clarifying Statement: Liberty nor partnering with Hinn where we're told:


(source)
Now, later on in the video promoting this program of study, Dan Reber and Ronald Godwin do tell Benny Hinn that it isn't the University but the Institute that's providing the materials.
But at the same time, Dr. Godwin emphatically states that LU will be giving people credit for taking it should they wish to transfer it to LU:
So, if it is true that Liberty University is extending this diploma, then LU is in something of a partnership with Benny Hinn through his partnering with Reber's Liberty University Institute of Biblical Studies.
Further reading
Endnotes
https://www.liberty.edu/aboutliberty/?PID=11850, accessed 4/3/14. ↩