By Ken Silva pastor-teacher on Apr 14, 2014 in AM Missives, Current Issues, Features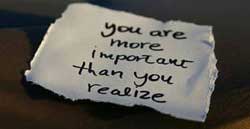 If you are a regular reader of Apprising Ministries, then you probably know about my battle with the osteomyelitis, which affected my spine. It was just over a year ago now that I would go into the hospital for nearly four full months. Unfortunately, we were without health insurance.
So, we have since ended up with a six figure debt. In regard to the spinal infection, I'm actually progressing a little better than some of the doctors expected. Still, I'm not even a year into my recovery; and no doubt you'll notice my that my posting is still no where near the volume as before.
To update you on the health problems I outlined for you a month ago in Request for Prayer and Support, there has been some over-all improvement. My eyes are starting to have a few more more good days than bad. As you might guess, back pain makes sleeping difficult as does all of the stress.
Even so, I do wish to encourage you that your financial support means AM is still here having effect along the Internet Front of this Truth War. For example, we were among the few who covered John Piper and Linger Conference with IHOP'S Stephen Venable and his Comtemplative Teaching.
The Lord be praised, this would help bring about The Master's College Withdraws as Exhibitor at Upcoming Linger Conference and Stephen Venable out of Linger Conference. In addition to issues like those, I also strive to bring balance as in On Contemplative Spirituality and Charismania.
God knows that I really hate talking about the subject of money; however, a work like this is entirely dependent upon the generosity of the Lord's people. As such, following the holiday and tax seasons, I do need to let you know that AM is currently in a really bad slump as far as donations go.
As always, we greatly appreciate those of you who have been faithfully giving all along. Without you we would never have lasted these nine years since AM went online in 2005. Still, we need help; and we do pray you'll join us in asking the Lord to raise up some new supporters to stand with the others.
Perhaps you've been blessed through the work here and maybe you'll consider helping to support this labor in the Lord. Please know that, at this time, a gift of any amount—whether one time or on a regular basis—goes a long way toward helping to keep AM available to serve the Christian church.
If you would like to help us out in this time of need, your prayer and financial support would be deeply appreciated. If you feel so led, you may donate via PayPal by clicking here.
Or, if you prefer, you can make your checks/money orders payable to Connecticut River Baptist Church with Apprising Ministries in the memo and send them to:
Connecticut River Baptist Church
P.O. Box 340
Claremont, NH 03743
Further reading