By Ken Silva pastor-teacher on Jan 23, 2014 in AM Missives, Current Issues, Features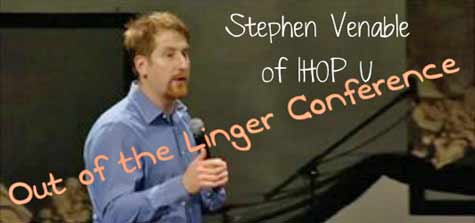 Apprising Ministries introduced you to the Linger Conference and Venable in posts like John Piper And Stephen Venable Of IHOP Together At Linger Conference and John Piper And Linger Conference With IHOP'S Stephen Venable And His Contemplative Teaching.
Then later I informed you that The Master's College Withdraws As Exhibitor At Upcoming Linger Conference with the following announcement:
TMC has officially withdrawn from the Linger conference. We would like to thank everyone for their feedback. When we were invited to be an exhibitor at the conference, we were not aware of the full lineup of speakers.

Our decision to attend was based on the keynote speakers and other exhibitors whom we have strong doctrinal agreements with concerning the Gospel. However, based on the addition of some non-keynote speakers, we have decided to withdraw from the conference. The college fully supports the ministry of our president, John MacArthur.
Since TMC wasn't specific, I can't say for sure who among these "non-keynote speakers" would lead to their withdrawal; however, it would appear IHOP University instructor Stephen Venable would be chief among them.
Now it seems, as of this writing, Venable—a teacher of straight-up Contemplative Spirituality/Mysticism—is missing from the Speakers list and no longer appears on the Schedule page. Originally we saw:

(source)
And the schedule for Saturday read:

(source)
Now when we click on this page Stephen Venable is nowhere to be found:

(source)
As you can see, Venable's Special Session is gone. In speaking with Watermark Community Church in Dallas TX today I was told that they only host LC and claim they don't have any knowledge concerning who may be currently scheduled or not.
However,we do know that pastor Todd Wagner tweeted today concerning LC:

(source)
You should also know that my attempts to contact LC directly have not been successful. So at this time we do not know why IHOP's Stephen Venable is out of the Linger Conference.
Further reading