By Ken Silva pastor-teacher on Dec 29, 2013 in AM Missives, Current Issues, Features, Steven Furtick, Word Faith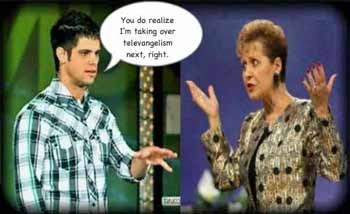 Apprising Ministries has long been warning you concerning the formation of what looks to be a new ecumenical evangelical magisterium (EEM), e.g. Familiar Names Rick Warren, James MacDonald & Others To Headline At Mark Driscoll's 2013 Resurgence Conference.
Unfortunately, at the same time—as ridiculous as it may seem—the apostasy within mainstream evangelicalism has become so widespread that Word Faith Heretics Like Creflo Dollar Draw Nearer To Evangelical Acceptance. We even saw that Word Faith Heretic Cindy Trimm Receives Award From Billy Graham Evangelistic Association.
Sadly, as I discussed in Emerging Ecumenical Evangelephants And The Word Faith Movement, such as these in the EEM are now even lending their considerable credibility to prosperity preachers. As an example, you may consider James MacDonald Was A Bit Late In Mainstreaming T.D. Jakes.
Against this backdrop, I'll remind you that in Rick Warren Brings Love On Record I showed you one of those being championed by Rick Warren into this EEM is the popular evangelical prophet-pastor Steven Furtick. Furtick is one of the leading purveyors of a new hybrid kind of theology.
You may also remember I told you in Stven Furtick Bringin" On Word Faith And The Pastrixes that Furtick has combined the self-esteem Seeker Driven message with a lite version of Word Faith prosperity preaching, which I referred to as  Furtickism. He's already had the notorious T.D. Jakes in to preach to his Elevation Church.
Furtick's introduction of Jakes that night is quite revealing as you may recall from Steven Furtick: T.D. Jakes Is My Favorite Preacher In The World. We've also seen Furtick develop a close working relationship with Word Faith mogul Joel Osteen as well, e.g. Steven Furtick As Televangelist At Lakewood Church Of Joel Osteen.
Now Furtick would appear to be doing the same with Word Faith queen Joyce Meyer. So when he proudly sent out the following yesterday, we're really not surprised. Especially when we think back to Ravi Zacharias: Word Faith Preacher Joyce Meyer "Such A Great Bible Teacher" God Is Using:

(source)


(source)
Evangelical leaders, such as they are, ignore this syncretism of Word Faith and mainstream evangelicalism to the peril of their younger sectors who're blindly following their new self-appointed ecumenical evangelical magisterium. I'll leave you with a few examples of Joyce Meyer's theology, which she has never repudiated.
In his article Joyce Meyer Matt Slick of CARM presents many of her heretical teachings that are absolutely classic Word Faith mythology. Not the least of which are:
Next, below is an audio clip where you can listen to Joyce Meyer teaching "positive confession," i.e. spoken words supposedly have creative power, which is a cornerstone of man-centered WF mythology:
[mejsvideo src="https://www.apprising.org/wp-content/uploads/2012/05/Joyce-Meyer-Teaching-Positive-Confession.mp4″ width=640 height=360]
Finally, the audio clip following has Joyce Meyer teaching, a la reigning Word Faith king Kenneth Copeland, the central WF fable that human beings, created in the image of God, are then "little gods" by nature:
[mejsvideo src=" https://www.apprising.org/wp-content/uploads/2012/05/Joyce-Meyer-Teaching-Humans-Are-Little-Gods.mp4″ width=640 height=360]
Quite obviously the Bible knows nothing of this kind of Star Trek mythology. However, long ago, the Lord already had informed us in His Word:
For the time is coming when people will not endure sound[a] teaching, but having itching ears they will accumulate for themselves teachers to suit their own passions, 4 and will turn away from listening to the truth and wander off into myths. (2 Timothy 4:3-4)
Well, guess what; we're here…
Further reading