By Ken Silva pastor-teacher on Mar 11, 2010 in AM Missives, Current Issues, Emergence Christianity, Emergent Church, Features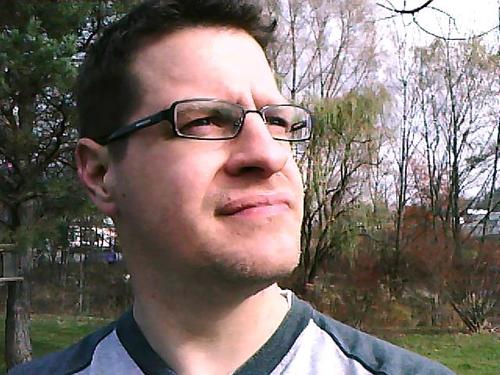 The man without the Spirit does not accept the things that come from the Spirit of God, for they are foolishness to him, and he cannot understand them, because they are spiritually discerned. (1 Corinthians 2:14)
The Results Of Loving The Reasoning Of Fallen Mankind
You may recall the name Drew Tatusko from Apprising Ministries pieces such as Outlaw Preachers Are Wrong Concerning Sola Scriptura and Jay Bakker, Radical Love, And Homosexuality when Tatusko made the following stupid statement:
trying to pick a fight with ken silva: http://bit.ly/16pSkB (Online source)
Tatusko is by no means a big name within the neo-liberal cult of the Emergent Church; however, he is hooked into the Emerging Church network TransFORM along with the major players like the Emergent trinity of Brian McLaren, Doug Pagitt, and Tony Jones. As you might gather from the above tweet from Tatusko wishing "fight" me we do have a bit of a history with him coming after me in a couple of articles, referring to me as "the comical anti-everything-but-the-sound-of-my-own-conviction Ken Silva," and possibly considering me among those crazy f**kamentalists.
As far as I know I do believe that Tatusko later said he shouldn't have tried to pick a fight with me; and I really don't take these kinds of things personally. From our chat on the phone even Khad Young, the most influential Outlaw Preacher next to gay affirming "pastor" Jay Bakker himself, could corroborate that I often say that, if all I knew of me was my writings here at AM, I'd probably think those kinds of things of "Ken Silva" myself. It all just goes with the turf for those of us defending the faith along this still developing mission field of online apologetics and discernment ministry.
However all of this is why, when I was made aware of Tatusko's tweet today, I found it most interesting: 
irony?: the deeper i get into church, the more agnostic i become. http://bit.ly/aKXZGo (Online source)
The link above brings us to functional agnosticism: a confession of sorts the latest post from Tatusko at his Notes From Off Center blog. In this piece today Tatusko is confessing that he's essentially a functional agnostic, who's not even really sure whether there is a God or not:
All we can know about God is what we can know about our own experience and the experience of others. God is otherwise utterly unknowable. If you believe that God is utterly unknowable, this is the heart of what it means to be agnostic…

 If God exists, that's favorable. If God does not exist, it's [being loving] still the best way to live. (Online source)
Very sad, but I'm afraid the above from Drew Tatusko is yet another example of the fruit produced by this non-gospel preached today in the so-called new reformation of Emergence Christianity, which is all about
supposedly following "the way of God in Jesus." Just the same as the non-gospel of "the changed life preached over in another sector of the Druckerite movement, the Purpose Driven/Seeker Driven camp, it produces a mere human decision—what I'm calling mental Christians—to try to do the impossible; trying to follow Jesus and live out the historic, orthodox, Christian faith without ever having been regenerated.
Drew Tatusko gives every impression of being a very sharp and well-educated man. His about section tells us he's:
a graduate of Princeton Theological Seminary (1999, 2000) from which he earned an M.Div. and Th.M. There he focused on philosophical theology, philosophy of education, and postmodern theory. (Online source)
Likely we're seeing a fulfillment of those who are always learning and never able to arrive at a knowledge of the truth (2 Timothy 3:7, ESV). As evidenced in pieces like Philip Clayton With "Big Tent" Christianity In The Emerging Church and from monitoring Theology After Google, the latest big EC heresy-fest underway right now, I've no doubt there are many in the EC coming under the spell of progressive/liberal theologians like Philip Clayton and friend Brian McLaren as they attempt to warp the younger generation with their new form of old Progressive Christianity.
And what makes this all even sadder is that Drew Tatusko is, or at least has been, an elder in the PSUSA church he attends; however, only in the postmodern progressive/liberal world of Emerging Church Humpty Dumpty language would the following even remotely be in line with the qualifications of an elder:
I function like an agnostic. I am not a big fan of prayer and don't do it since it does not do anything at all for me. I don't "look for God" anywhere in the world. I don't really "sense" God anywhere and I am not sure if I ever have. Worship does absolutely nothing for me other than a stop along the way for church which is really a social outlet and nothing more. (Online source)
O thank you Druckerites for these kinds of "Christians" who have been birthed through your Leadership Network to help make "God's dreams" for the world come to pass. Ah, apparently their god wants believers who…um, well…don't even know whether or not they er, even believe. Let's be praying that Drew Tatusko, and others following these Emergent Church Apostles of Unbelief, come to understand the Good News of repentance and forgiveness of sins in the Name of Jesus Christ. Remember He has already told us — "the one who comes to Me I will certainly not cast out" (John 6:37, NASB). Won't you come…
See also:
THE NEW CHRISTIANITY OF BRIAN MCLAREN AND THE EMERGING CHURCH 
BRIAN MCLAREN INVITES YOU ON HIS QUEST TO DESTROY CHRISTIANITY
THE EMERGING CHURCH, A LAVA LAMP, AND LEAVEN
APPRISING MINISTRIES WITH A PEEK AT THE COMING SOTERIOLOGY OF EMERGENCE CHRISTIANITY
MARCUS BORG AND CHRISTIANS WHO DON'T BELIEVE IN JESUS
RADIO INTERVIEW WITH JEREMY BOUMA THE INSIDER WHO JUST LEFT THE EMERGING CHURCH
IF YOU TRULY LOVE "JESUS" THERE ARE NO BOUNDARIES FOR THE "CHRIST-FOLLOWERS"