By Ken Silva pastor-teacher on Nov 3, 2009 in Current Issues, Emergence Christianity, Emergent Church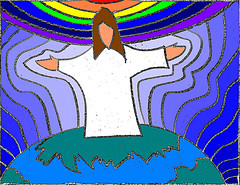 Tony Jones, a leading voice within the egregiously ecumenical Emerging Church aka Emergent Church de-formation of the Christian faith—now morphing into Emergence Christianity (EC), is "theologian in residence" at the EC church of his equally heretical quasi-universalist Doug Pagitt.
Apprising Ministries readers remember that Jones and Pagitt are the dubious duo behind the recent EC apostasia-palooza Christianity 21 (c 21). Yesterday Jones wanted to make sure we knew about TransFORM as he tweeted:
 Launching today – TransFORM : an international, trans-denominational missional community formation network: http://ow.ly/yE8z (Online source)
Turns out it was "Kingdom Journalist" Steve Knight aka "Steve K. [who] created this social network." For those who don't know, these are simply more of the usual suspects working closely with Emergent Village., a key cog in this Emerging/ent/ence takeover of apostatizing evangelicalism.
I'm also pleased to point you to 5 pt. Salt as well because Joel Taylor has done us a real service as he's gone into more detail turning over some more rocks. In his fine post TransFORM: The Devil & His Emergent Church In Your Neighborhood Taylor shares what his own research shows scurried out into the light concerning this TransFORM .
If you're at all familiar with this postliberal cult of Emergence Christianity then you'll recognize many of the names on the Leadership Team of this TransFORM, as well as the people in the following video, e.g. gay affirming "pastor" Jay Bakker, as well as C 21 "Voices" pastrix Nanette Sawyer, Makeesha Fisher, Julie Clawson, and ELCA pastrix Nadia Bolz-Weber, shown below:
TransFORM: Missional Community Formation from TransFORM on Vimeo.
See also:
THE EMERGING CHURCH HIGHJACKING EVANGELICALISM
CHRISTIANITY 21 AND ALLEGED INNOVATIVE VOICES IN THE FAITH: PHYLLIS TICKLE
ROB BELL, PETER ROLLINS AND PHYLLIS TICKLE TOGETHER ADVANCING EMERGENCE CHRISTIANITY
CHRISTIANITY 21 AND ALLEGED INNOVATIVE VOICES IN THE FAITH: NADIA BOLZ-WEBER
THE NEW CHRISTIANS WITH CHRISTIANITY WORTH BELIEVING—NO SOLA SCRIPTURA: YES, WOMEN PASTORS AND QUEER CHRISTIANS
ROB BELL, PETER ROLLINS, AND QUEERMERGENT'S ADELE SAKLER