By Ken Silva pastor-teacher on Nov 2, 2009 in Current Issues, Emergence Christianity, Emergent Church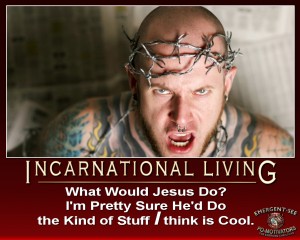 Quasi-universalist Doug Pagitt, a leader within the egregiously ecumenical Emerging Church aka Emergent Church de-formation of the Christian faith—now morphing into Emergence Christianity (EC)—has been sending a series of tweets promoting his book A Christianity Worth Believing. For example, the other day Pagitt he says:
Video promo 4 for my book, A Christianity Worth Believing. This one on sin – http://is.gd/4GsxR Order here… (Online source)
That link takes you to the You Tube video below, for which Pagitt provides the following intro:
For anyone looking for a hopeful faith but feel put off by the versions of faith they have heard, Doug Pagitt offers the book A Christianity Worth believing.
Hmm, "the versions of faith"; in rather typical fashion of those in the EC—this is a bit vague. But presuming Pagitt means of the Christian faith, then based on what you hear below, his "Christianity Worth believing" might be better described the way a friend of mine likes to put it: The Christianity I Cobbled Together In My Basement.
See also:
EMERGING CHURCH PASTOR DOUG PAGITT
BOB DEWAAY AND CHRIS ROSEBROUGH ON THE EMERGING CHURCH
THE EMERGING CHURCH HIGHJACKING EVANGELICALISM
THE NEW CHRISTIANS WITH CHRISTIANITY WORTH BELIEVING—NO SOLA SCRIPTURA: YES, WOMEN PASTORS AND QUEER CHRISTIANS
THE EMERGING CHURCH SOWING ITS NEO-ORTHODOX CONFUSION ON SCRIPTURE
THE EMERGING CHURCH HATES THE LIGHT