By Ken Silva pastor-teacher on Feb 13, 2010 in AM Missives, Current Issues, Emergence Christianity, Emergent Church, Features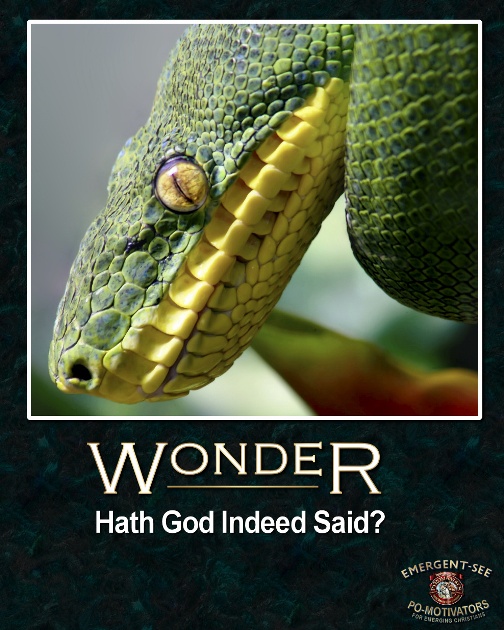 In Dissention Growing Around The Emerging Church here at Apprising Ministries I told you that there are those who are beginning to look harder through the postmodern fog of the sinfully ecumenical Emerging Church aka Emergent Church—that morphed into Emergence Christianity—(EC).
I also brought to your attention a young man by the name of Jeremy Bouma, author of the (un)offensive gospel of Jesus, who wrote a post last Monday where he said Goodbye Emergent: Why I'm Taking The Theology of the Emerging Church To Task.
Like I said before, in the post referenced above Bouma gives the reasons why he's leaving the EC while writing "as one who has been on the inside of and involved with this conversation for half a decade." It's also important to note that Bouma says his piece should not be viewed as a "heresy hunt," and further, that he's not "wounded" nor has he been "let down" by anyone.
Instead Bouma, who used to refer to himself as an "emerging- missional follower of Jesus," tells us that:
As my relationship with Emergent progressed, though, I began to wonder why it was cool and trendy to disregard Paul, pity the fool who believed in real judgment, ignore the cross, and downplay individual participation in rebellion/sin. In short: I became uncomfortable and have grown downright tired of the theology that has bubbled-up out of the emerging church. (Online source)
Below you now have the chance to listen to an interview with Jeremy Bouma which was conducted yesterday by Christian apologist Chris Rosebrough on his Fighting for the Faith program that airs weekdays at 6EST on the Pirate Christian Radio network.
I certainly encourage you to pay close attention in the beginning as Bouma talks about growing up with a conservative "fundamentalist" evangelical background "rooted in the faith of our fathers" and then shares how he would go on to become involved with the Emerging Church.
Among other things Bouma talks about attending Brian McLaren's church with its absence of Bibles, the very low view of the Apostle Paul inside EC circles, and its universalism. This is an excellent opportunity for you to hear for yourself an insider's perspective concerning what EC theology is really all about.
Bouma tells us:
The fascinating thing about Emergent theology is that, on the one hand, it's so a-historical that it is not rooted—there's this effort to, both be beyond history, in the sense that—they don't recognize what we have now in terms of historic Christian orthodoxy has been handed to us by both history and the Spirit… And so on the one hand, it's fascinating how [leaders in the EC] seem to ignore what we have been handed, and what we have been given, by history and the Spirit, right.

But on the other hand, and this is where I get at the whole "other" form of Christianity, Doug [Pagitt] and others desire a different—a new, a fresh—version of what we've had, right. But what's fascinating is it's not different, it's just other. It's a repackaging of other forms of the Christian faith that have existed before.

In this one sense, what we see in Doug's book [A Christianity Worth Believing], the theology of Pelagius. This is a form of faith that existed that is now being repackaged and sold. You also see, and I hate to throw out these sort of loaded terms, but theological liberalism is being repackaged and handed, and distributed, and billed as this new fresh form of the Christian faith; which is not true, it's so not true, it is—it's laughable. And for me, deeply saddening; and disheartening…
See also:
THE EMERGING CHURCH SOWING ITS NEO-ORTHODOX CONFUSION ON SCRIPTURE
PHIL JOHNSON ON THEOLOGICAL LIBERALISM
TONY JONES, THE EMERGING CHURCH AND PROGRESSIVE CHRISTIANITY
SOUTHERN BAPTIST CONVENTION AND "INSIGHTFUL" EMERGING CHURCH HERETIC TONY JONES
IN THE EMERGING CHURCH OOZE CONVERSION IS OUT 
APPRISING MINISTRIES WITH A PEEK AT THE COMING SOTERIOLOGY OF EMERGENCE CHRISTIANITY