By Ken Silva pastor-teacher on Feb 2, 2010 in AM Missives, Current Issues, Emergence Christianity, Emergent Church, Features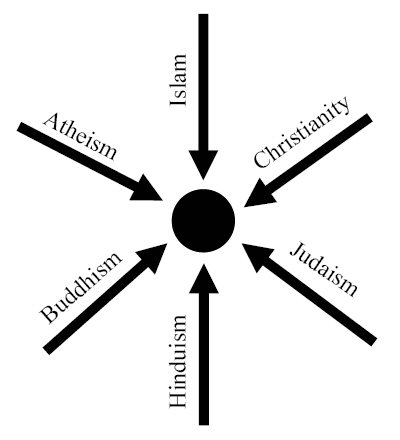 Professing to be wise, they became fools… (Romans 1:22, NASB)
Meeting In The Deception Of Mystery
Apprising Ministries has pointed out e.g. Tony Jones, The Emerging Church And Progressive Christianity that the term to watch for now 'round the circles of the sinfully ecumenical Emerging Church de-formation of the Christian faith aka Emergent Church—that's now morphed into Emergence Christianity (EC)—is "progressive."
You see men like  Tony Jones, heretical "theologian in residence" at the EC church of his equally heretical pastor Doug Pagitt, have been able to muddy the waters through their pushing of corrupt Contemplative Spirituality/Mysticism (CSM), which is romanticized Roman Catholic mysticism, into your evangelical Young Adult and Youth ministries for years now.
For CSM to flourish it must kick out the proper Christian spirituality, and certainty, of Sola Scriptura in favor of highly subjective i.e. existential experiences one "feels" are from God. This is the background you need to de-code the neo-liberal i.e. progressive speak you'll hear below from TheOoze.tv in Tim King – Conversion or Contribution.
Now first, within this EC pseudo-Christianity interfaith/interspiritual "dialogue" has exactly zero to do with evangelism as we know it; no, it's all about "contribution" as we supposedly find out what God is doing in "the Other" religions. And secondly, note that straight out of CSM King starts off by talking about "shadow self," which thought to be "the ego, the false self."
But King, quasi-universalist Spencer Burke, and all EC adherents who believe the doctrines of demons which are espoused in the video below from seducing spirits, have already jumped the track in following fools like CSM Golden Buddha Thomas Merton whom I showed you in Tim Keller Also Promoting Mystic Guru Peter Scazzero mused:
Then it was as if I suddenly saw the secret beauty of their hearts, the depths of their hearts where neither sin nor desire nor self-knowledge can reach, the core of their reality, the person that each one is in God's eyes. If only they could see themselves as they really are… I suppose the big problem would be that we would fall down and worship each other…

Again, that expression, le point vierge, (I cannot translate it) comes in here. At the center of our being is a point of nothingness which is untouched by sin and by illusion, a point of pure truth, a point or spark which belongs entirely to God,… (Conjectures Of A Guilty Bystander, 158)
In closing this for now,  1) you need to understand that the above is a repudiation of the doctrine of original sin; and 2) if one believes at the center of all of mankind is "a point" that's "untouched by sin," which mystics call "a spark of the divine," then now you'll why they haven't any need for the vicarious penal substitutionary atonement of Jesus Christ on the Cross for our sins.
However, consistent with what Jesus—God the Son—told us in Matthew 7:11, God the Holy Spirit tells quite clearly us thorough His inspired Apostle Paul that nothing good dwells in our flesh (see—Romans 7:18). I suggest the wise will now make the time to compare the fruit of the Apostle Paul with the nauseating idolatry of Thomas Merton And The Buddhas.
See also:
MYSTICISM: WHEN GOD SENDS AN EVIL SPIRIT
APPRISING MINISTRIES WITH A PEEK AT THE COMING SOTERIOLOGY OF EMERGENCE CHRISTIANITY
SAMIR SELMANOVIC AND BEING UNABLE TO FOLLOW JESUS WITHOUT ISLAM
BOB ROBERTS, JR: CHRISTIAN, JEW AND MUSLIM "TRIALOGUE"
PASTOR KEN SILVA—THE HIJACKING OF EVANGELICAL CHRISTIANITY
"INWARD JOURNEY" ESPOUSED BY RICHARD FOSTER IS A FORM OF DIVINATION