By Ken Silva pastor-teacher on Jan 29, 2010 in Emergence Christianity, Emergent Church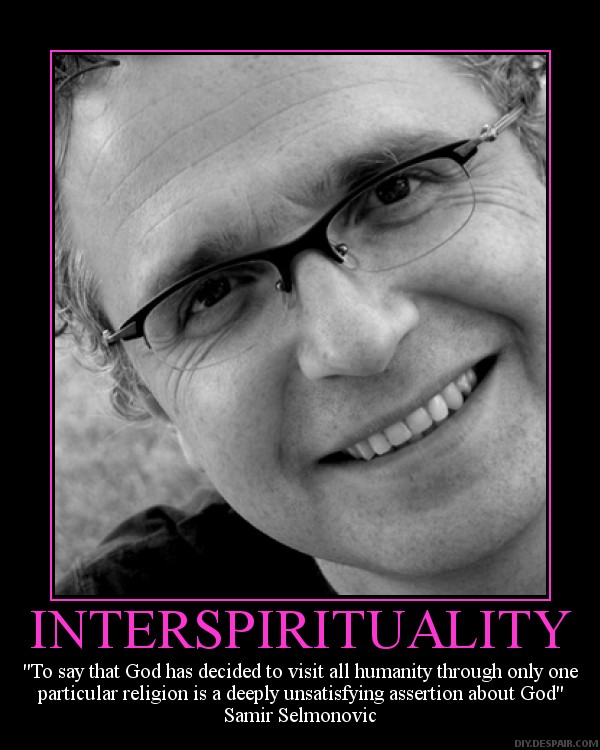 Apprising Ministries has introduced you  e.g. in Christian Agnostic Adele Sakler And Samir Selmanovic Discuss Christian Atheism to Samir Selamnovic, one of the up-and-coming ear-ticklers of the sinfully ecumenical Emerging Church aka Emergent Church—which morphed into Emergence Christianity (EC).
Last night Emerging Church And TransFORM's Steve Knight Re-tweeted the following, which he wanted to make sure we'd know:
RT @natewig @SamirSelmanovic on Finding God Outside our Faith Traditions http://bit.ly/ciA8uZ (Online source)
That link takes us to Q&A: Finding God outside our faith tradition, which is an interview with Selmanovic posted at something called The United Methodist Portal.
There Robin Russell informs us:
Samir Selmanovic, whose efforts have been praised by key voices in the emerging church movement, is passionate about his Christian faith but believes that Christians must learn to respect other religions and even find God outside their own religion's boundaries. (Online source) 
In Emerging/ent/ence Christianity-speak you'll often hear this referred to as "finding God in the Other." Russell asks Selmanovic why do "you call yourself a 'Muslim Atheist Jewish Christian'"? And Selmanovic explains:
I use those words as adjectives simply to say that without Islam, Judaism and Christianity, I don't know if I would still be a Christian. (Online source)
Reading his work I wonder if he is a Christian. That aside, as you'll see in  Tony Jones, The Emerging Church And Progressive Christianity, many in the EC are moving toward what they call "progressive theology," which is becoming a reimagined form of Progressive Christianity. It's especially appealing to those who want a form of godliness without its power—the genuine Gospel of Jesus Christ.
An inevitable result of prolonged practice of the Contemplative/Centering Prayer of this Contemplative Spirituality/Mysticism (CSM) as advanced by Living Spiritual Teacher and Quaker mystic Richard Foster, along with his spiritual twin Dallas Willard, is interfaith/interspiritual "dialogue." One need only look at the nearly dead mainline denominations to see this progression, and its rotten fruit.
So last night Selmanovic tweeted:
"I believe Islam is a dangerous religion." 21% Protestant pastors agree, 45% strongly agree (LifeWay, RNS). Oh, Jesus! (Online source)
No, Jesus has absolutely nothing to do with the false religion of Islam. And we agree: Rapid fundamentalists of any religion are dangerous; however in actuality, Christianity is more a relationship with the one true and living God by His grace alone, through faith alone, in the finished work on the Cross by Jesus Christ alone, than it is a religion per se.
But compromisers seeking the world's friendship like Samir Selmanovic have their interspiritual ax to grind, and know this, they are every bit as fundamental with that belief re. God being found in other religions as a Fred Phelps-type is that God hates [insert hot button topic here]. I can tell you from studying such as these, the truth is, they are only tolerant of those who agree with them.
But here's what should be of growing concern to the more mainstream of evangelicalism as this CSM continues spreading its leaven even into the Reformed camp; see Tim Keller Also Promoting Mystic Guru Peter Scazzero? Yesterday AM's sister outreach Christian Research Network ran a short piece called Bob Roberts, Jr: Christian, Jew and Muslim "Trialogue".
There we're told that "Missiologist" and President of the SBC's Lifeway Research Ed Stetzer, who also works closely with Reformed Emerging Church pastor Mark Driscoll, wrote a post about his "friend" Bob Roberts, Jr who "worked with local Jewish and Muslim leadership to pull off a three day 'trialogue'." Stetzer talks via email with Roberts in his post Christian, Jew and Muslim "Trialogue".
And of course this caught the attention of Selmanovic as today he tweets:
Evangelical pastor @bobrobertsjr gets authentic and constructive with his Muslim and Jewish neighbors http://is.gd/7iCHB (Online source)
Selmanovic shows the lines are blurring even more within the church visible as he comments over at Stetzer's blog post:
Admittedly, I am more evangelicalish than evangelical, and have been writing about these dynamics in my book "It's Really All About God: Reflections of a Muslim Atheist Jewish Christian." These are adjectives to word Christian. Without Islam, Atheism, and Judaism, I would not survive or thrive as a follower of Jesus Christ. The other is there to bless me, and not only to be blessed by what I have to offer.

I very much appreciate and have learned from your perspective and actions. What you is very authentic, Christ-honoring and fun!

Thank you, thank you, thank you,

Samir Selmanovic (Online source, emphasis mine)
No, false religion is not there to bless us; it is there to lead people away from saving faith in Jesus Christ (e.g. see—2 Corinthians 11:14-15 ). However, this does not give us excuse to mistreat others, etc., which is the straw man erected by those who are lovers of self (2 Timothy 3:2) i.e. in love with mankind and who are actually seeking approval from other men.
But this is the grave danger in listening to fools like Samir Selmanovic who muse the following kind of myth gleaned from their neo-Gnostic mysticism:
Meister Eckhart said that our religions are like houses. Each house has a trap door somewhere down in the basement, and if we go deep enough, we will fall through the trap door into a river that flows beneath all of us. Beautiful, I thought. (It's Really All About God, 262)
Translation: Eckhart is talking about what's commonly called "a spark of the divine" that is supposedly within all of mankind, and the "river" is God. Mystics teach that through the spiritual discipline of Contemplative/Centering Prayer, which is really a form of meditation in an altered state of consciousness, we go down inside ourselves to our "authentic" or "true self."
And therein lies the answer to what Selmanovic asks re. this alleged river of God within us all: "Why is this truth of mutual belonging accessible to those who hang out in the basement? Why do we need to be tricked into finding it?" There is no "mutual belonging" (see—Romans 8:5-14) and this demonic deception is eventually received in the "transformation" of prolonged practice of CSM/CCP.
See also:
SAMIR SELMANOVIC HAS LEFT THE BUILDING
"INWARD JOURNEY" ESPOUSED BY RICHARD FOSTER IS A FORM OF DIVINATION
CONTEMPLATIVE SPIRITUALITY OF RICHARD FOSTER ROOTED IN THE EASTERN DESERT AND THOMAS MERTON
RICK WARREN AND PETER SCAZZERO WITH MESSED-UP MONK-EE BIZNESS
CALVINIST CONTEMPLATIVE SPIRITUALITY/MYSTICISM?
9 MARKS: INTERVARSITY PRESS SEEMS ADRIFT